2016 Ram 1500 Tradesman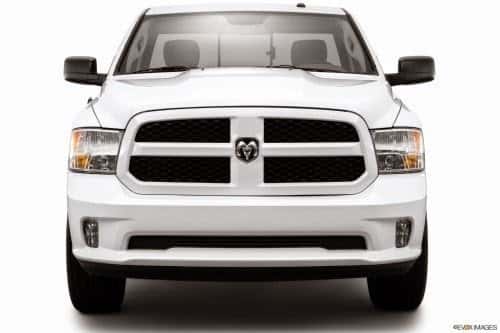 After separating from Dodge in 2010, Ram Trucks became an American manufacturer that exclusively produces light-, heavy-duty, and commercial trucks and cargo vans. Their vehicles are the top choice among people that need or want a heavy-duty vehicle for work or for personal needs like towing a boat or camper.While all of the Ram truck and van models offer durability and power, the Ram 1500 is a popular buy and has won several awards for its capabilities and comfort.
Capabilities
Powered by a 3.6-liter, 6-cylinder engine, the Ram 1500 Tradesman generates a powerful force of 305-horsepower and 269 lb-ft of torque. It has 8-speed transmission, and dolls out an average of 17/25 MPG city/highway. Compared to other pickup trucks on the road, the Ram 1500 is more economically feasible in cost and fuel economy.
As a pickup truck, the Ram 1500 Tradesman is built to tow. The truck is capable of towing up to 10,840 pounds, and it comes standard with a Class IV receiver hitch already installed. Moreover, to aid in getting heavy loads moving, the truck's equipment features hill start assistance to reduce the chances of an automobile rolling backwards once the truck is in motion.
Built with adjustable air springs, drivers are able to situate the truck at various heights. The 1500 Tradesman also comes with easily accessible controls on the dashboard, allowing drivers to make the proper height adjustments needed when additional clearance is required. When traveling at high speeds, smart sensors engage to lower the truck so that MPG is increased and drag is reduced while on the road.
Exterior
Designed as a crew, regular or mega cab, the Tradesman has three available sizes for its truck bed: 5'7", 6'4", and 8'. The 17" steel wheels are standard for the Ram 1500, and a full-size spare comes included if a flat tire were to occur while on the road. Drivers have over 15 color designs to choose from to stylize their truck based on personal preference and/or business needs. For additional lighting, automatic halogen quad headlamps can be lit up in the front and incandescent tail lamps are in the rear.
Interior
Several standard features can be found in the Ram 1500 Tradesman, including a stereo system with six speakers and AM/FM radio, an electronic vehicle information console, a 12-volt power outlet and an auxiliary outlet to plug in your personal devices. The truck's interior won't suffer from jobs and assignments that may incur dirt, as it is fitted with easy-to-clean, heavy-duty vinyl.
Safety
Safety features are always a must, and the Tradesman does not fall far from its siblings. Automatic features such as the headlamps turning on once darkness falls are a standard feature, as are fog lamps for illuminating hard-to-see roads in less-than-favorable weather conditions. If impact were to occur, crumple-zones have been implemented into the truck's frame on the front bumper, and the side doors have impact door beams to increase the protection of one's passengers.
Depending on the speed and severity of impact, an advanced air bag system will engage and deploy the appropriate safety measures, such as curtain airbags if side-impact were to occur. In addition, anti-lock braking has been installed, along with traction control and electronic stability to minimize the trailer-sway drivers may experience when towing large parcels and vehicles.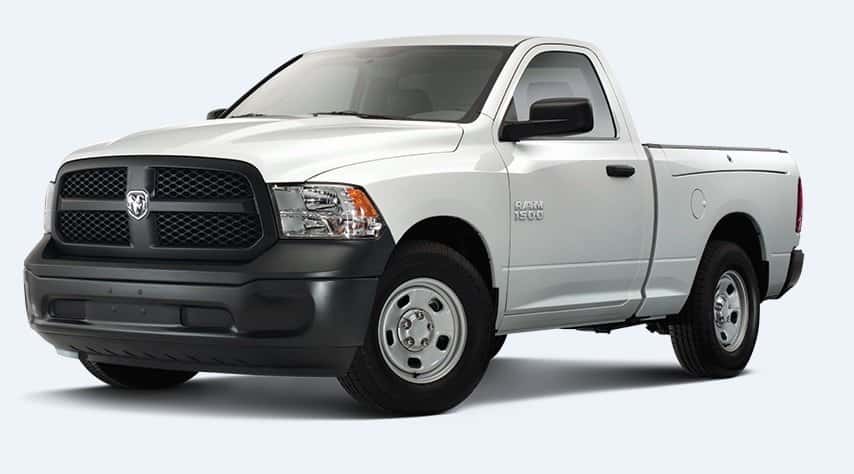 Price and Warranty
The Ram 1500 Tradesman is the base model, safe and efficient, with an MSRP of $26,045. Like many other vehicles in its class, Ram trucks are covered by a 3-year or 36,000-mile basic limited warranty. Ram's with gas engines are backed by a 5-year or 60,000-mile powertrain warranty and diesel-powered vehicles and Ram diesel engines are backed by a 5-year or 100,000-mile powertrain limited warranty.