2019 Jeep Cherokee Trailhawk v. 2019 Jeep Cherokee Latitude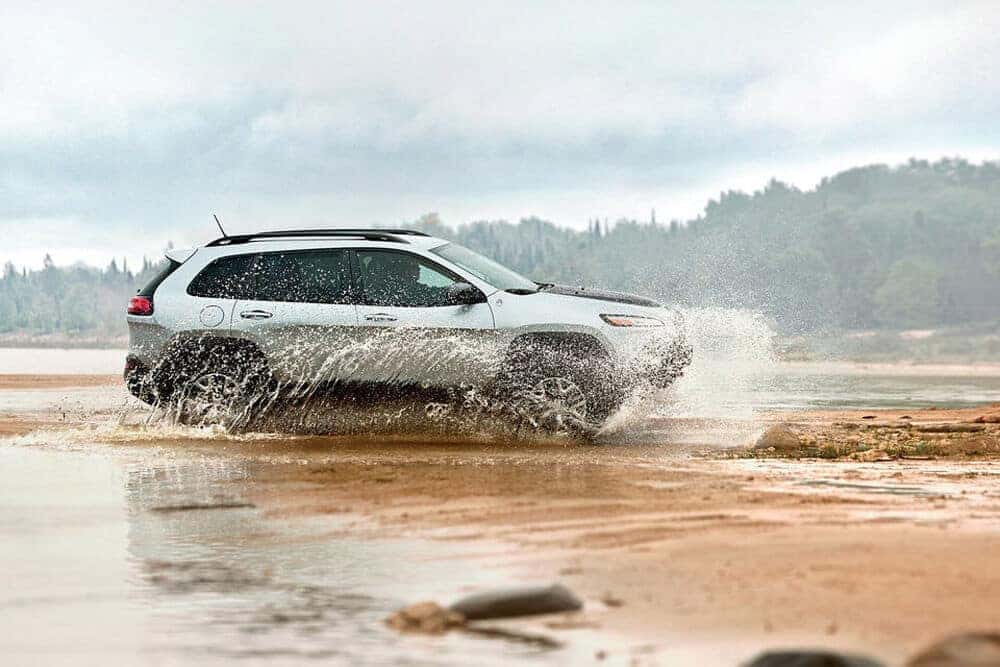 You know you want a Jeep Cherokee. We can help you find the right one, but which one IS the right choice? That's where we can help you decide between two trims, the Jeep Cherokee Latitude and Jeep Cherokee Trailhawk, that are offered on the 2019 Jeep Cherokee.
Refreshed 2019 Jeep Cherokee
The new 2019 Jeep Cherokee is a powerful SUV that received a total refresh with new additions to both its interior technology and engine. The exterior of the vehicle underwent some small cosmetic upgrades to smooth out the look in the rear of the vehicle and the 2019 Cherokee also has an additional 1.2 cubic feet of storage space in the rear cargo area. A quiet ride that keeps your cabin space enjoyable and takes you almost anywhere you want to go, that's what you'll find in any new 2019 Jeep Cherokee.
2019 Jeep Cherokee Latitude vs 2019 Jeep Trailhawk Differences
For starters, the price point is the first major difference. In the base model, the 2019 Jeep Cherokee Latitude is a mere $23,995 MSRP (plus destination fee). This is more than a reasonable price and provides owners with a modern, sleek ride that provides power when needed and comfortable for drivers and passengers alike.
The price of a 2019 Jeep Cherokee Trailhawk model has superior offroading abilities that far outreach the abilities of the base model, simply due to additional features like a higher ground clearance (6" higher) that make the Cherokee Trailhawk ready to go from purchase. A 4×4 drivetrain and off-road systems built with skid plates underneath and undercarriage protection. With additional luxury features to enjoy adventurous trips, the 2018 Jeep Cherokee Trailhawk is fitted with a Jeep Trail Rated badge that identifies its off-road capabilities and superb Jeep craftsmanship.
Starting at $33,195 MSRP (Plus destination fees) you can own this brand new engine and remarkable mid-tier Jeep Cherokee. From the prominent ground clearance that provides drivers the ability to take their Jeep over all kinds of obstacles, to the helpful terrain modes that only require the press of a button to activate – there's convenience from top to bottom provided by the 2019 Jeep Cherokee Trailhawk.
Engine and Fuel Economy Differences
The new 2.0-liter turbocharged inline 4-cylinder engine option, which is rated at 271 horsepower and 294 lb-ft of torque, helps keep the Jeep Cherokee powerful and is the engine inside the Jeep Cherokee Trailhawk.
One deciding factor is how you plan to use your Jeep Cherokee. If you want a Jeep with better gas mileage, the 2019 Jeep Cherokee Latitude has a combined 25 MPG versus the Trailhawk that only offers a combined city/highway fuel economy of 21 MPG. However, if you're looking for a stronger vehicle, the Latitude's 180 horsepower 2.4-liter I4 engine might not make you as happy as the strength and capabilities the new engine powering the Jeep Cherokee Trailhawk provides.
Interior Differences
The 2019 Jeep Cherokee Trailhawk is equipped with an 8.4-inch touchscreen with Uconnect 4C, which provides access to Jeep's Off-Road Pages. Innovative engineering has led to the creation of the ParkSense rear backup warning system, along with blind spot monitoring, lane-departure warning and cross path detection.
However, the 2019 Jeep Cherokee Latitude comes with a 7-inch touchscreen with Uconnect 4C by comparison. While the Latitude has available safety tech features like rear cross-traffic alert and blind-spot monitoring, those are standard for the Trailhawk.
Drive Your Own Jeep Cherokee Today
If you're curious to step into a new Jeep all your own, there's no better place than Hollywood Chrysler Jeep and seek with our professional team to get started. We know how to help you find what you want and we have great prices to match our impressive selection.
We're also open seven days a week with a full service team that can handle any maintenance and repairs you might need done. Even if you haven't shopped with us before, we can help you get your vehicle back to running smoothly. Just make an appointment here with us.