2019 Jeep Cherokee vs 2018 Toyota RAV4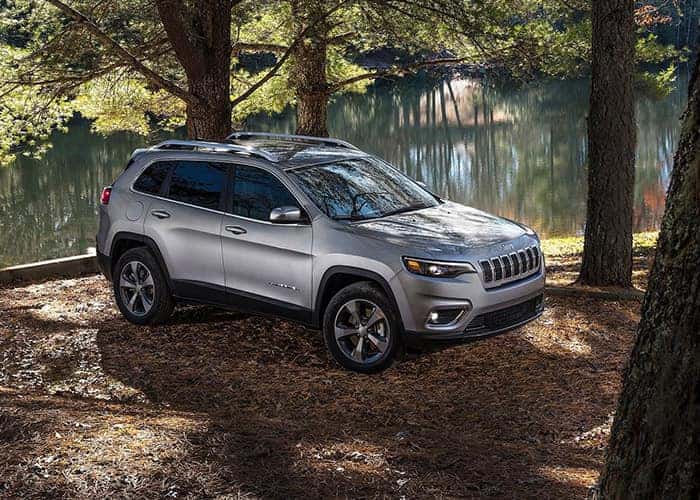 Shoppers unsure about which vehicle to choose when it comes to buying or leasing their next SUV may find themselves in spending way to much time researching SUVs. There are a ton of SUVs on the market right now, so the options may feel overwhelming. Two of the most popular midsize SUVs on the market are the Jeep Cherokee and the Toyota RAV4, and they both offer consumers some great features. To help you find out which SUV is best for you, we'll take a look at all of the trims available on the Jeep Cherokee and Toyota RAV4 and compare their available features.
Which SUV has a better chance of earning your money? Let's find out what you can gain.
Base Trim Comparisons
From the crop of SUVs, there's few 2019 models as popular as the Jeep Cherokee. The 2019 Jeep Cherokee is a sleek SUV that received a complete refresh with new additions to the interior technology and provides an a new 2.0-liter turbocharged inline 4-cylinder engine option, which is rated at 270 horsepower and 294 lb-ft of torque. The starting MSRP for the base 2019 Jeep Cherokee the Cherokee Sport, is $24,690 (plus destination fee), which is a relatively inexpensive price for a powerful SUV.
The base model for the 2018 Toyota RAV4 costs $24,510 RSVP and has 23 city and 30 highway MPG. However, the 2019 Jeep Cherokee costs less and has better highway MPG at 31 MPG. There's really no comparison between these two models.
However, the 2018 Toyota RAV4 does provide a Hybrid model, which has MPG perks that no model of the 2019 Jeep Cherokee can provide. With an estimated 34 city and estimated 30 highway MPG, but stumbles when compared to the luxury and strength of the 2019 Jeep Cherokee. The 2018 Toyota RAV4 comes with a 2.5L 4-cylinder engine and 6-speed automatic transmission, putting out 176 horsepower and 172 lb-f of torque.
Higher Trim Comparisons
While the highest trim for both offer luxurious upgrades and well-packaged interiors, Jeep really comes away looking like the nicer of the two brands. The cabin trim of the Jeep Cherokee Overland has more attention to detail and very good front seats with stylish leather trim, a better infotainment system set up and sound system. Not to mention, the Jeep Cherokee Trailhawk model with offroading abilities that far outreach the abilities of the Toyota RAV4. From luxury features to adventurous trips you'd have to trust Jeep over Toyota.
The highest trim available on the 2019 Cherokee lineup is the Jeep Cherokee Overland 4×4 and it has a starting MSRP of $36,275 (plus destination fee) and averages 19 mpg in the city and 27 mpg on the highway. The highest trim on the Toyota RAV4 lineup is the RAV4 Platinum AWD and it averages 22 mpg in the city and 28 mpg on the highway and has a starting MSRP of $36,250 (plus destination fee).
The 2018 Toyota RAV4 also comes with an available Dynamic Torque-Control AWD, which enhances its engine power distribution from the front to the rear. It also manages the vehicle's braking system to allow for optimal control.
Not every brand is capable of making a quality SUV, while Toyota has quality mid-size sedans, they're no match for the bread and butter of SUV market against stalwarts like the Jeep Cherokee.
Overall, the new 2019 Jeep Cherokee is lighter than previous years and has upgraded the interior to add maximum luxury. The 2018 Toyota RAV4 continued its momentum built by having good cargo space, but only provides 176 horsepower and waivers in comparison to the new 2019 Jeep Cherokee. You can see for yourself the difference when you visit us.
Find Your Path With A New Jeep
To get your hands on the latest 2019 Jeep Cherokee, come see your friends at Hollywood Chrysler Jeep. We're proud to be open seven days a week with a full service team that can handle any maintenance and repairs you might need done. Even if you haven't shopped with us before, we can help you get your vehicle back to running smoothly. Just make an appointment here with us.
If you're looking to buy, sell, trade-in your current vehicle, we're the place for all things new and used with Jeep vehicles. See for yourself what we have available and we'll see you soon.