2019 Jeep Easter Safari
It's that time of the year again – Jeep is making its annual pilgrimage to the yearly Easter Safari and this time around it's all about the all-new Gladiator pickup. The brand will be presenting six impressive Gladiator concepts to celebrate bringing a truck back into its lineup as the pickups range from throwback aesthetics to some interesting lifestyle-themed examples that highlight the brand's upfitting capabilities. Let's break down the six different concepts.
JT Scrambler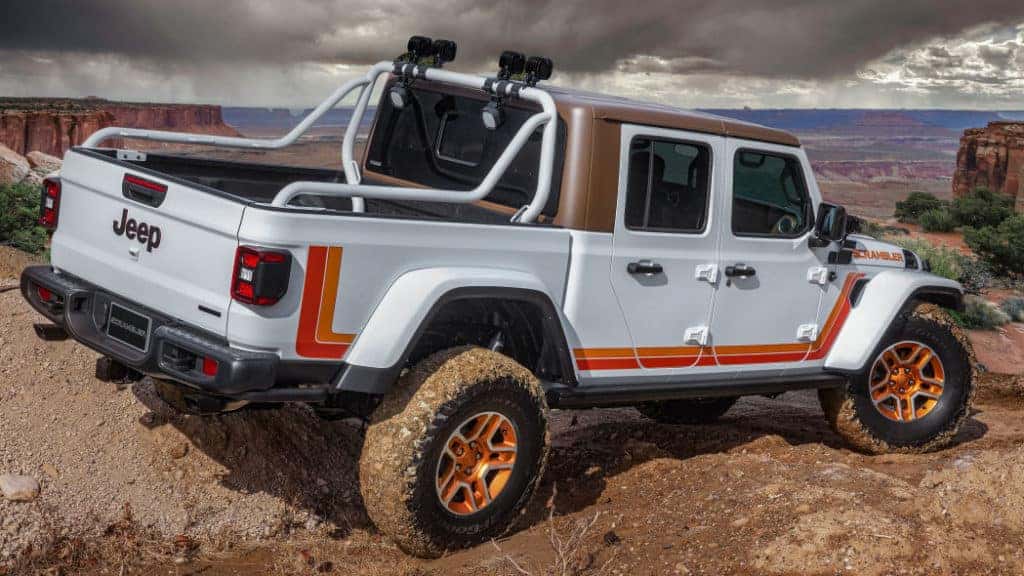 Jeep went retro with this one as the JT Scrambler is a callback to the 1982 CJ8 Scrambler in this Gladiator-based concept. A Punk'N Metallic Orange and Nacho set of stripes adorn the truck's body. While the appearance is to remain a concept for now, the Jeep brand has not ruled out that something in this style may one day go into production. Just like the 1982 Scrambler that served as inspiration, this concept has a brown roof, and just like the other concepts presented at this year's Easter Safari, this JT Scrambler has a 2-inch lift kit, 37-inch tires, and 17-inch bronze wheels.
Jeep Five-Quarter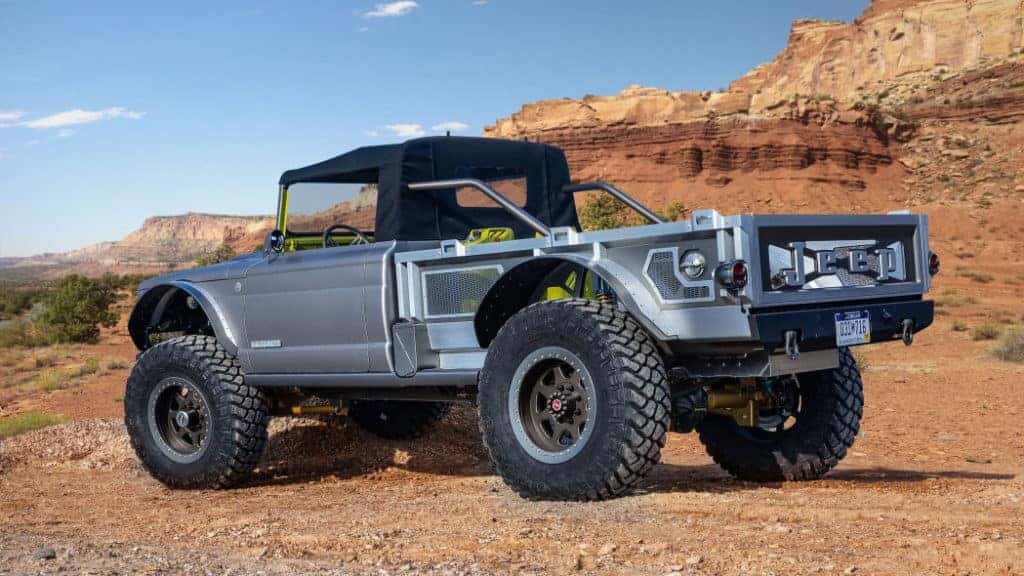 One of Jeep's best is a truck that started out as a 1968 M-715 – a military version of the civilian Gladiator truck. Initially purchased by Jeep on Craigslist, the brand went above and beyond with the refurbishment – complete with the inclusion of a modified Hellcrate engine. That's right, this old off-road Jeep has a 6.2-liter supercharged V8 engine with over 700 horsepower under the hood. The truck stayed with some of its original frame, but Jeep reinforced and modified it – complete with a heavy duty coil suspension system. Additionally, all the sheet metal on the front was removed and traded for fiberglass and carbon fiber that's painted in a brushed metal style. Additionally, Jeep also fabricated an aluminum bed complete with wood slats on the bed floor, a removable soft top, and a cabin that's loaded with color and aluminum accents that complement the exterior. There's even a  "Hellcrated" badge as the perfect finishing touch.
Gladiator Gravity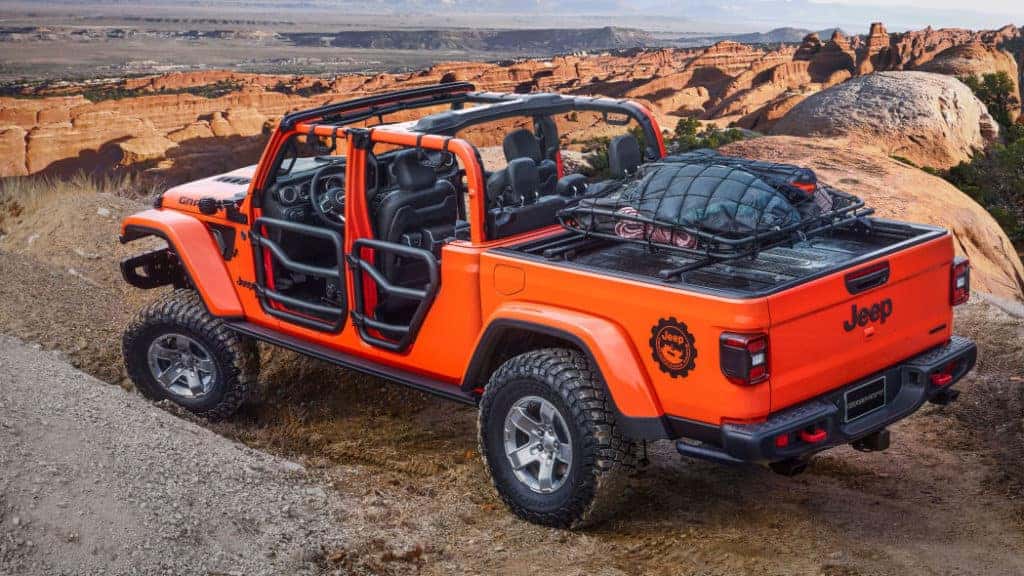 The most down-to-earth concept among the bunch in the Gladiator Gravity. Its purpose is to show off the Mopar parts so that future Gladiator buyers are inspired to beef up their pickups. Mopar included $8,000 worth aftermarket parts on this Gladiator Gravity. Parts  include 35-inch tires, a cat-back exhaust, 17-inch off-road wheels, cold-air intake, heavy-gauge steel rock rails, and plenty of LED lights to light up the trail. There's also a Mopar cross rails and cargo carrier that serve as storage solutions on any adventure.
Jeep Flatbill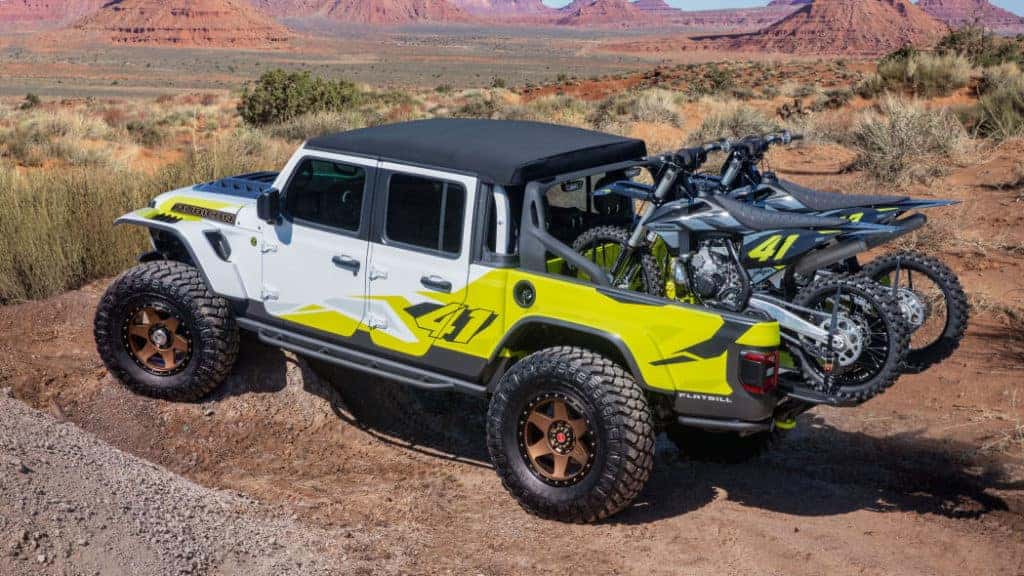 Designed to mimic a Motocross support vehicle, the Jeep brand presents the Flatbill, complete with  a few motorbikes on the truck bed. Jeep wished to embody the motocross attitude and it accomplished it by stitching things like "brah" on the seats and stickers in the door jamb that read "Don't bro me if you don't know me." The Flatbill pickup features 40-inch tires, 20-inch off-road wheels, upgraded shocks, and Dynatrac Pro-Rock 60 axles that back its loud appearance with exceptionally rough performance on the rocks.
Jeep Wayout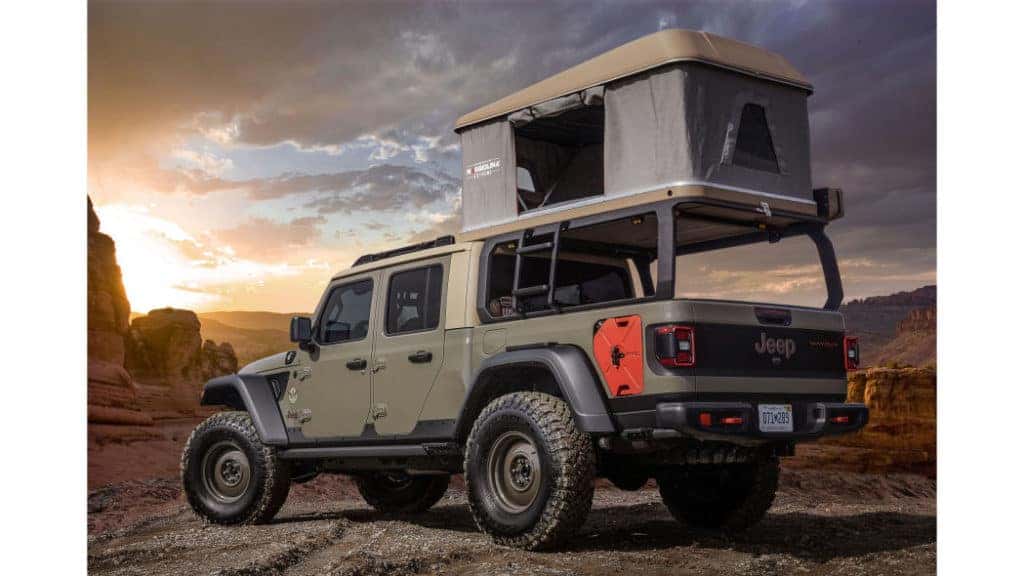 Adventure enthusiasts will love this one that's meant to go "Wayout" into the wilderness. An added rooftop tent sleeps two was added to the Gladiator's roof. That's right, this concept is actually Gladiator-based unlike the previous two we just mentioned. Jeep added 37-inch tires, 17-inch painted steel wheels, and a two-inch lift kit. A snorkel for water fording purposes is and a 12,000 pound Warn winch. All of the camping gear used to outfit this concept is actually available from quite a few aftermarket retailers for the Gladiator. In addition to the rooftop tent, there's also a camper awning, a bed-drawer system with lockable dry storage, and auxiliary fuel tanks. This Jeep is ready to get away from it all.
Follow Hollywood Chrysler Jeep on social media to stay up to date with the latest Jeep news, including footage of the upcoming Easter Safari and to be notified when the Jeep Gladiator finally arrives on our dealer lot.
Photo Source/Copyright: Jeep