2021 Chrysler Pacifica vs 2022 Kia Carnival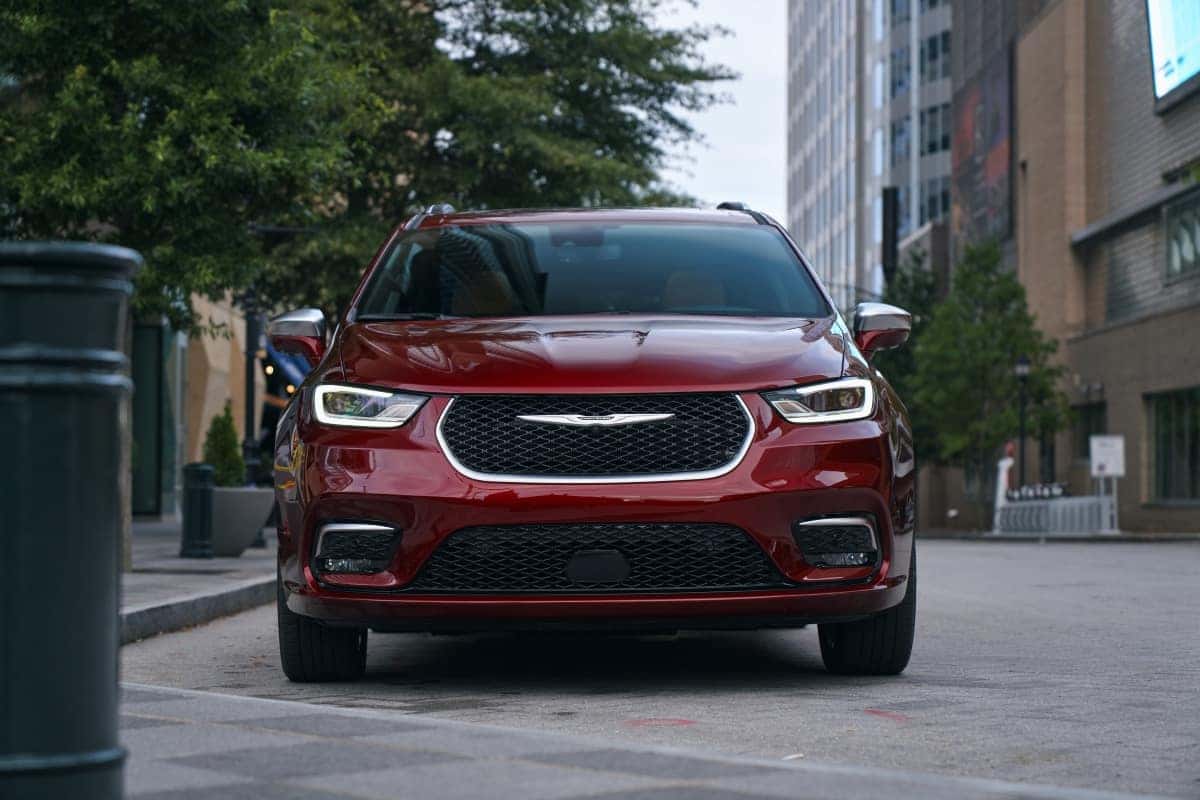 New minivans rarely make a splash in their segment, and while the 2022 Kia Carnival is the latest to garner attention, it's no match for the ever-present Chrysler Pacifica. With the outgoing Kia Sedona replaced by the Carnival, the Pacifica has some new competition — but it turns out it's no match for the standard-bearer Pacifica. Chrysler, credited with inventing the minivan, has perfected the vehicle so intently that it holds almost all minivan benchmarks in the current market. Many publications have continuously deemed the Pacifica the Best Minivan to Buy since the latest generation debuted in 2017. Since then, Chrysler has made even more strides to improve the minivan, with the latest refresh on the 2021 Pacifica model.
Styling
According to automotive experts, styling isn't one of the heavyweight factors when it comes to comparing these two minivans. Both the Kia Carnival and Chrysler Pacifica have eye-pleasing bodies and aesthetic design lines borrowed from the booming SUV segment. Chrysler's design is more suave thanks to its upturned rear pillars, along with its gently curved roofline and more aggressive front grille. Just like its impressive exterior, the Chrysler Pacifica goes all-in with open-pore wood interior accents in its top trims.
Powertrain Options
Unlike styling, powertrains are a different topic altogether and Chrysler goes above and beyond. Handling and steering is par for the course, but Chrysler takes the lead with its plug-in hybrid powertrain on the Pacifica Hybrid. Both the Pacifica and Pacifica Hybrid are powered by an efficient 3.6-liter V6, with its 287 horsepower and eight-speed automatic transmission — and Atkinson Cycle-tuned engine aided by batteries in the case of the hybrid, while the Kia features a somewhat similar 290-horsepower V6 mated to an eight-speed automatic transmission. With traditional combustion engines taking a backseat to the current EV boom, we can safely say the Pacifica Hybrid is already ahead of the game with its 32 all-electric driving miles and an overall range of 520 miles. Another distinction to be made between the two models is the fact that Chrysler also offers all-wheel-drive, while the Carnival's front-drive only. Even if the engines are more or less equal, the Pacifica takes the lead thanks to its powertrain variety.
Interior & Safety
When it comes to interior cabin space and design Chrysler wins again because both models max out interior space differently. Kia takes a page from the luxury book with its available second-row airline seats with heating, cooling, and power-up footrests, but Chrysler keeps it efficient with its highly-lauded Stow 'n Go system. Airplane-like seats can surely appeal to adults, but minivans are geared towards families and efficiency takes priority. Chrysler also doesn't skimp when it comes to safety as every Pacifica comes standard with Automatic Emergency Braking. Adaptive cruise control and a surround-view camera system are available as an upgrade for both models.
Visit us at Hollywood Chrysler Jeep and explore the latest Chrysler Pacifica and Pacifica Hybrid inventory. Those interested in an entry-level can also check out the Chrysler Voyager as an option. Follow Hollywood Chrysler Jeep on social media to stay up to date with the latest news and offers from Chrysler.
Photo Source/Copyright: Stellantis