Award Highlights for 2018 Jeep Wrangler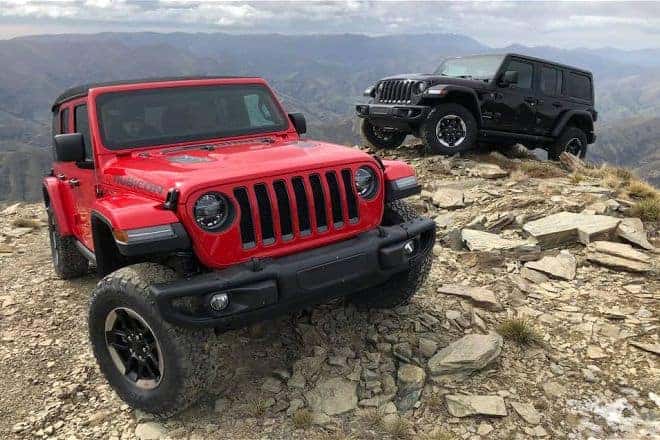 2017 was a busy year for the Jeep brand especially with their much anticipated reveal of the all-new 2018 Jeep Wrangler JL. Here's a look back at what Jeep accomplished in late 2017.
The Most Capable SUV Ever
It's no secret that the 2018 Jeep Wrangler is the most capable and recognized vehicle in the world. Combined with its legendary rugged design, off-road capabilities, and fuel-efficient powertrains – this baby can take on just about anything thrown in its path.
"Jeep has always represented the ultimate in capability and open-air freedom, and our all-new 2018 Wrangler protects that important legacy and takes it into the future," said Mike Manley, Head of Jeep Brand – FCA Global.  "The all-new Wrangler is instantly recognizable as a Jeep, staying true to the original, yet it is better in every way – delivering even more rugged capability, more ride comfort, more fuel efficiency courtesy of several advanced powertrain options, more interior comfort, more safety and more technology."
Mopar Showcases Over 200 Personalized Parts and Accessories for 2018 Jeep Wrangler
The Mopar brand's new lineup of performance parts for the all-new Jeep Wrangler which was first teased in late October during the 2017 Specialty Equipment Market Association (SEMA) Show in Las Vegas, was created after more than 100,000 hours of development, validation and testing. Most of the 200+ new Jeep performance parts and accessories from Mopar for the all-new 2018 Jeep Wrangler will be available when the vehicle arrives in dealerships.
Mopar modified the four-door 2018 Jeep Wrangler Rubicon and Jeep Wrangler Sport. While enhancing the Rubicons off-road capabilities, the interior customizations include an upgraded Mopar Roadside Assistance and First Aid Kits. On the rear of the seatbacks, Molle bags were put it for added storage while combined with all-new Mopar grab handles offer a better grip because of the hard-secured fasteners to the sport bars.
The Jeep Wrangler Sport was the first ever Wrangler to receive a Mopar roof rack which is mounted on the hardtop and includes a cargo carrier that offers additional gear and equipment to fit any lifestyle. According to FCA, BFGoodrich KO2 35-inch tires feature Mopar 17-inch "Gear" rims inspired by the shape and design of the all-new Jeep Performance Parts logo. Jeep Performance Parts tube steps and a 2-inch lift kit add off-road touches, and like its four-door counterpart, the two-door all-new Wrangler is also customized with the new spare tire tailgate hinge reinforcement, CHMSL light relocation kit and off-road LED lights.
Congrats to the Jeep Brand on all their achievement and we look forward for what's to come in 2018. Follow us on social media for all Jeep Updates or visit our website for all available Jeep 2018 inventory.
Photocred: fourwheeler.com