Camp Jeep Returns to the 2022 New York Auto Show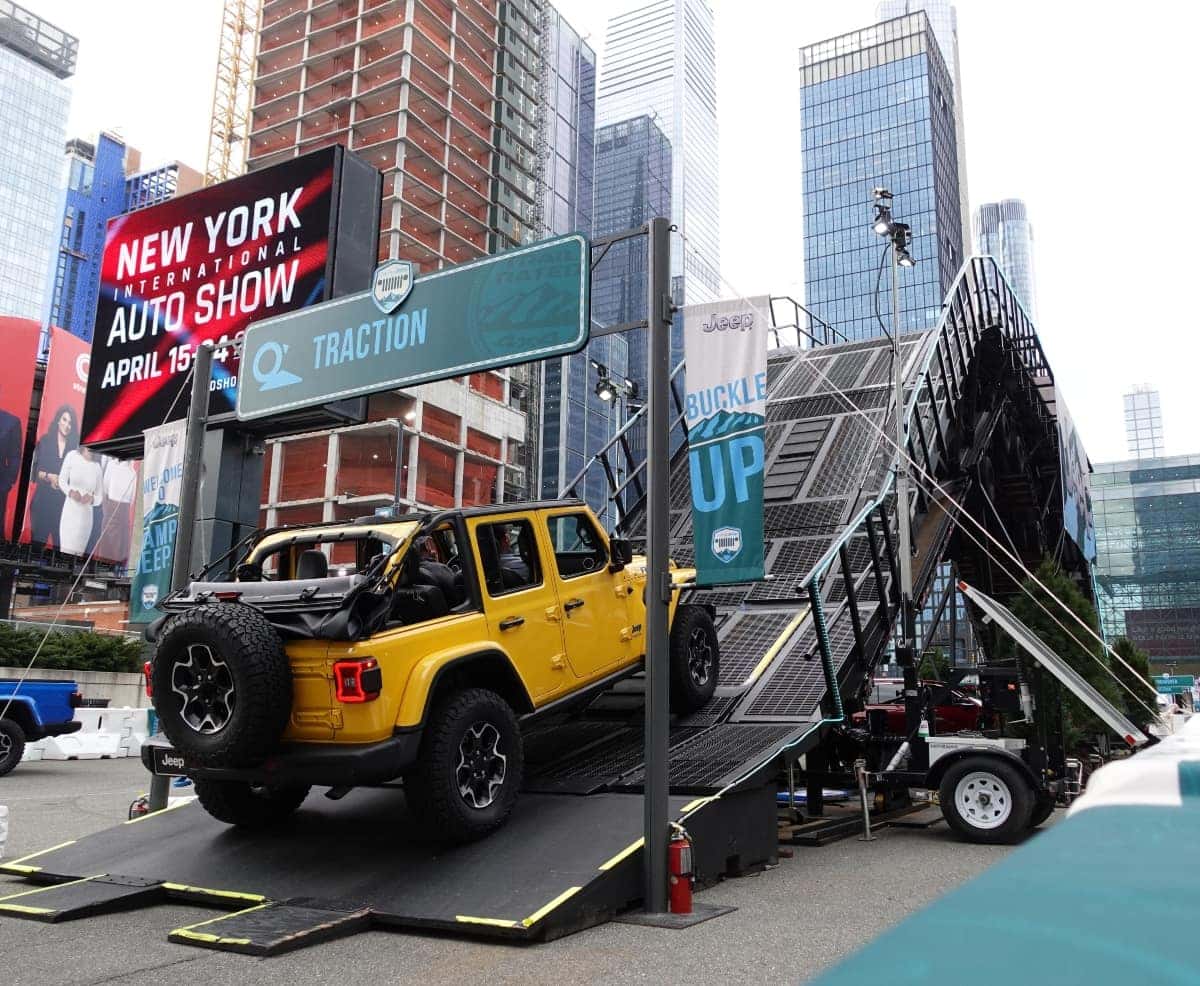 Jeep has yet another reason to celebrate since Camp Jeep returned to the 2022 New York Auto Show. Since 2004, more than 425,000 auto show attendees have taken Camp Jeep for a spin, offering them a ride on the ultimate off-road driving course. Show-goers can get a taste of Jeep's rigorous 4×4 systems when experiencing Camp Jeep as the course is designed with all kinds of obstacles that mimic some of the rugged tests Jeep vehicles endure before they ever reach enthusiasts. Enthusiasts at the New York Auto Show can get a firsthand look at Jeep's capability when it comes to ground clearance, articulation, traction, breakover, off-chamber, stability, and suspension. Product specialists are tasked with driving attendees over the course behind the wheel of one of the following: Wrangler Rubicon 4xe, Wrangler Rubicon 392, Gladiator Mojave, Gladiator Rubicon, Grand Cherokee 4xe, and Grand Cherokee L.
"New York is the biggest SUV market in the world, as well as the Jeep brand's biggest market, so the New York International Auto Show is the perfect place to go even bigger with Camp Jeep. The mountain is 10 feet higher this year. This year, our Jeep customers can see what it's like to travel 28 feet up a mountain, at 45 degrees, in complete silence, thanks to our new Wrangler 4xe and Grand Cherokee 4xe electrified Jeep SUVs," said Jim Morrison, senior vice president and head of Jeep brand North America.
In addition to experiencing the Jeep Mountain, attendees can also experience a ground clearance stair climb that's designed to demonstrate Jeep vehicles' ground clearance and traction ability as they conquer a 5-foot staircase. Another fun function is the Trail Rated Pass, dedicated to show how Jeep vehicles navigate over a 50-foot long, 8-foot tall obstacle course as vehicles articulate side-to-side. As a final touch, Camp Jeep offers attendees the Extreme Breakover obstacle course as well, keeping them on the edge of their seats as a Jeep vehicle navigates a 25-degree uneven plane until one of the wheels loses contact with the ground. The Jeep vehicle will then continue to climb until it hits the apex, leaving occupants with a rush of adrenaline.
Additional obstacles that are part of Camp Jeep include a 30-degree articulation wedge that raises the excitement factor, as well as Maneuverability Moguls that are designed to test a Jeep vehicle's suspension and low crawl capabilities. All enthusiasts who partake in Camp Jeep activities will automatically be entered into the Stellantis U.S. National Giveaway to earn a chance to win $100,000 toward any eligible Stellantis U.S. vehicle. Camp Jeep participants younger than 17 need to be accompanied by a parent or guardian and be at least 44 inches tall in order to participate. The New York Auto Show kicks off April 13 (2022) and runs until April 24 (2022).
Get up close and personal with Jeep's latest models here at Hollywood Chrysler Jeep. Let The Jeep Experts guide you as you search for your next vehicle. Whether you're looking for an efficient commuter like the iconic Jeep Wrangler 4xe, or something more luxurious along the lines of the Grand Cherokee, you can find it here at Hollywood Chrysler Jeep. Follow The Jeep Experts on Hollywood Chrysler Jeep social media to stay up to date on the latest Jeep news and offers.
Photo Source/Copyright: Stellantis