FCA Bids on the Future – Electrification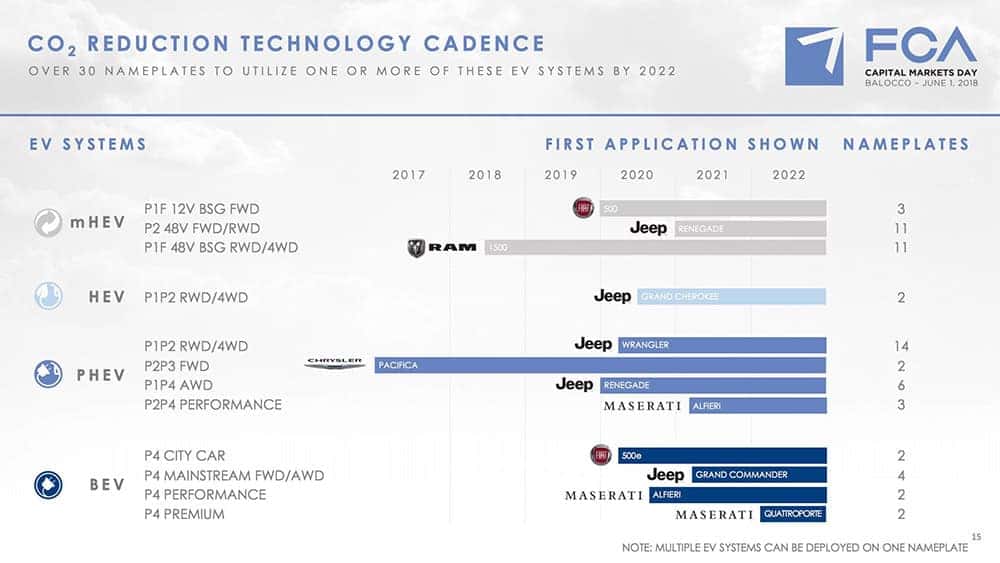 Fiat Chrysler Automobiles (FCA) recently unveiled their ambitious five-year, $10.5 billion investment plan slated to take place between 2018 and 2022 in an effort to expand the electrification of their lineup. FCA is looking to offer four options in their EV lineup – mild hybrid, hybrid, plug-in hybrid, and battery electric vehicle. These electrification options are expected to be widely spread among 30 of FCA's nameplates by 2022.
This announcement marks a departure from FCA's past strategy, one of avoidance of electric cars by all means necessary. Sergio Marchionne, FCA's CEO, is not shy about his lack of faith in the electric market. As new 2020 regulations loom in Europe, and around the world, it is clear that Marchionne has finally realized that electric options are the future and it's time FCA starts acting like it.
The Plan
FCA's business plan is one that will be specifically tailored to each global region, each aiming to meet various emission standards, hence the four different electrification options they're planning to provide. Each market around the world, depending on the region, will be receiving a mix of gas, hybrid, and flat out battery electric vehicles as a result of the brand's electrification project. The Chrysler Pacifica Hybrid, introduced in 2018, will serve as the blueprint to follow for upgrading the following models to PHEV – Jeep, Ram, Maserati, and Fiat.
An area that FCA was sorely losing the EV race in? Production of high-end luxury automobiles like Maserati. Ever since the Tesla revolution began in the electric luxury market, Maserati has lagged behind the Model S, a fully electric vehicle. Unveiled in this electrification plan is the fact that by the year 2022, Maserati will have four all-electric vehicles and electric options for all models, a fact that reinforces the company's desire to "go after Tesla" as several executives have mentioned. The "Maserati Blue" program as it's called will include the iconic Quattroporte, the full-sized SUV Levante, the all-new Alfieri – a fully electric coupe with Maserati's inimitable style – and a sedan.
Jeep: An Electrified Future
Out of all the changes planned, Jeep is set to benefit the most from electrification, with a whopping introduction of 14 electrified vehicles – four that will be entirely battery powered. Jeep is expected to offer an electrified version of every Jeep model by 2021 – not bad for a company with a delayed reaction as many critics have said. The most interesting part of all this is that FCA is aiming for this evolution of theirs to be performance-based, they're not counting on selling cars because of economy or ecology as their strategy is a very rugged idea of meeting basic regulatory standards. It will be FCA's focus on performance that in the end will help them outpace the competition as they deliver not only on economy/ecology but in strength and style too.
Intrigued by FCA's plans for the future? Come by Hollywood Chrysler Jeep and check out the existing inventory so you can get a glimpse of their current lineup. Our friendly staff will be more than happy to answer any questions. Schedule a test drive today!
Photo Source/Copyright: Fiat Chrysler Automobiles