Jeep Renegade Turned Comanche Pickup Truck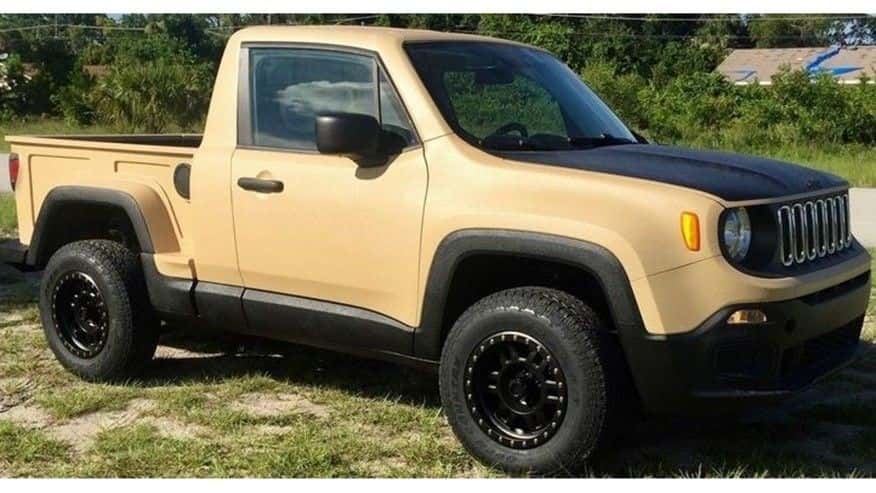 Do you remember the Jeep Comanche concept truck from Easter Jeep Safari in 2016? It was a small pickup truck concept built from the Jeep Renegade platform. Although many people loved the concept, Jeep is sticking to their plan to transform the Wrangler into a pickup truck in the next few years, but that didn't stop one Florida man from making his own version of the the Jeep Comanche concept.
The Jeep Comanche concept at the 2016 Easter Jeep Safari was a diesel truck with a two-inch lift and BF Goodrich tires. The 2.0-liter diesel under the hood is paired with a nine-speed automatic transmission and Active Drive Lock terrain. Obviously, this mini truck is and off-road beast which was proven at the Easter Jeep Safari.
In addition to the truck being capable, it is good looking. It comes in an off-road compatible beige color known as "Beige Against the Machine" (great name, right?). The truck bed is plastic with a steel plate for reinforcements and the hood is matte black with the Comanche name engraved in the decal. The Renegade's original wheelbase was stretched out six-inches to allow for the large wheels and tires.
Anyways, a man named Alan Ensor who works with Boar Customs in Florida decided to make a Comanche look-alike. Although many of the features are different, the vehicle still looks very similar to one of our favorite Jeep concepts, the Comanche. Alan made this Jeep out of an crashed and damaged Renegade with a useless fourth quarter panel.
The biggest difference is Alan and his team stuck with the stock Renegade engine rather than giving it a diesel engine. Other features of this look-alike include a 1.5-inch lift, a rear window that came from a Ford Ranger, exterior steel tubing and body panels and a beige color that is very similar to "Beige Against the Machine."
Interested in a Jeep Renegade to make it into your own pickup truck like Alan did? Check out our inventory at Hollywood Chrysler Jeep.
Photo source: Fox News