Meet the Jeep Grand Cherokee Trackhawk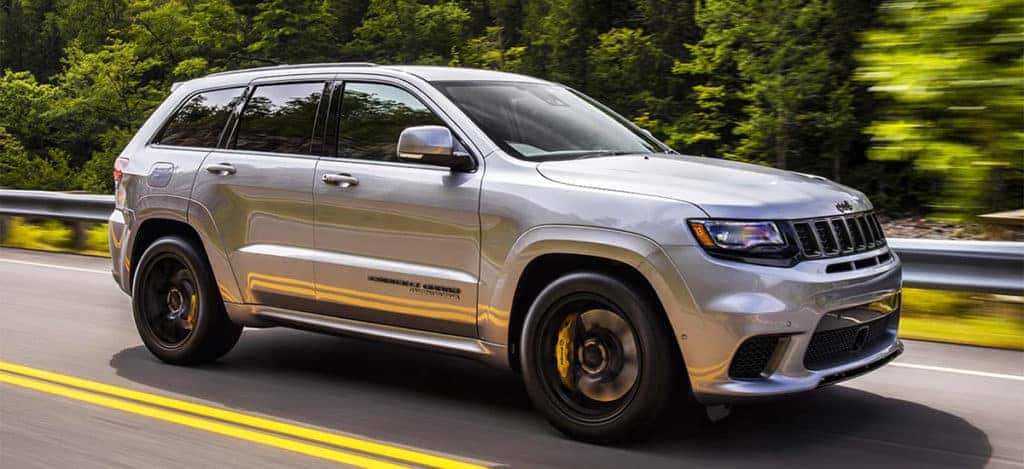 With the new year comes new models and this year, Grand Cherokee can add faster models to the list thanks to the 2019 Jeep Grand Cherokee Trackhawk. What makes the Trackhawk faster than other Grand Cherokee models? One of it's most impressive attributes is its power. It can go from 0 to 60 mph in 3.5 seconds. Seconds! That's fast. It'll take you from point A to point B in no time.
A faster model equals a higher price. This baby is a whopping $86,000 (plus destination fee). According to autoevolution.com, this is by far Jeeps most expensive jeep on the market, and for good reason.
With the name Tracehawk, you could only imagine the overall size of the vehicle. And it makes sense because Jeep Grand Cherokee Trackhawk is considered one of Jeeps Performance Luxury SUV. Here's why it has one of Jeep's higher priced models: It has a 6.2 L V8 707 horsepower Hellcat engine with a sleek interior including leather-wrapped seating. Some may think the pricing is too much but adrenaline junkies won't even think twice about purchasing it.
This Jeep model is the Transformers of the Jeep family. With its capability of being driven in various modes, such as sport, snow, track, auto and tow mode this is a one-in-all vehicle. You can switch between modes without having to unbuckle your seatbelt.
Getting behind the wheel of this Jeep is an experience to be reckoned with. Seriously, come see us and experience this state-of-the-art vehicle with performance tracking gauges for the engine, g-force, and race option. Being the latest of its kind, this Jeep offers a touch screen for the tech enthusiast. Something else that is impressive is its ability to tow up to 7,200 pounds. Talk about the vehicle doing all of the heavy liftings.
As for MPG, the Trackhawk gets 11 MPG in the city / 17 MPG on the highway.
Standard Launch Control on Trackhawk optimizes track performance by coordinating the engine, transmission, driveline, and suspension for a consistent straight-line acceleration.
A high-performance Brembo brake system with two-piece 15.75-inch slotted rotors and six-piston yellow front rotors provides superb stopping power.
When it comes to safety it's all about redirecting the impact away from the passengers. With seven airbags included, a multistage and front passenger airbag, side-curtain airbag, front seat-mounted side airbags and a driver side inflatable knee bolster airbag, this car makes sure the driver and passengers are covered and protected from all angles.
One of the many advantages is the vehicles drivers assistant system alert. This Jeep will detect danger before it evens happens. The Jeep Grand Cherokee Trackhawk offers Forward Collision Warning with Active Braking and Adaptive Cruise Control with Stop. Jeep Grand Cherokee Trackhawk also features a full-time active transfer case and it uses steel chain sprockets and wider chains for added strength and durability.
Do you think parking is a hassle? Don't worry so does Jeep, which is why the Grand Cherokee Trackhawk has a self-park assist. It can park, perpendicular and parallel by itself. Talk about taking the hassle of rear-ending your new car or that other car who parked terribly.
This is the perfect car for people who want to have a sleek model with high performance and a quality finish that'll last. The Jeep Grand Cherokee Trackhawk is the fastest-moving gas-powered SUV you can buy in today's market.
Word on the street is that this model is over-the-top, but that's why it's on everyone's list. It's one of its kind.
The reviews are in for this model and this what caranddriver.com has to say:
"Highs: Out-of-this-world acceleration, intimidating appearance, more practical than the Hellcat cars.
Not all new additions can be a hit out of the park but it's sure nice to look at. Come see The Jeep Experts and find the Trackhawk of your dreams. If super horsepower isn't your thing, there are plenty of others to choose from in our extensive Jeep inventory.
Photo Source/Copyright: Jeep