The Jeep Wrangler Rubicon 392 Sets the Brand's Tone for 2021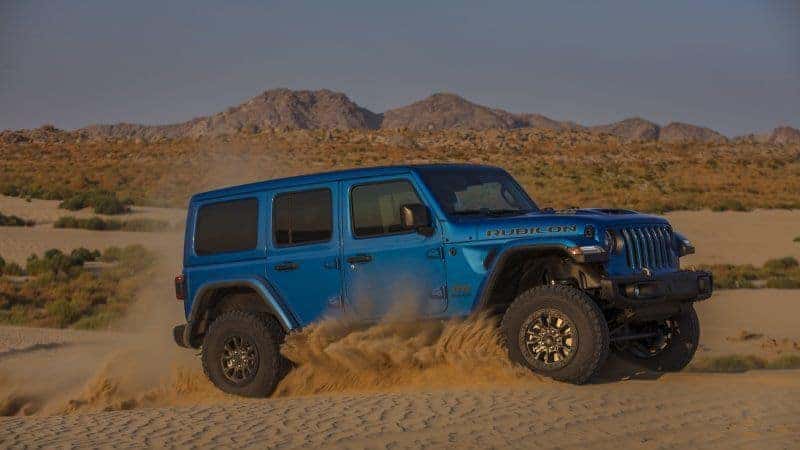 There's a new unmistakable Jeep Wrangler Rubicon 392 coming in 2021 that Jeep fans are going to appreciate. The 2021 Jeep Wrangler Rubicon 392 is powered by a 6.4-liter V8 engine, marking this the first time a V8 has rested beneath the hood of a modem Wrangler in decades. The production variant of this hotly-anticipated Wrangler was initially shown in a virtual unveiling. Jeepers take their Wrangler vehicles to new heights, Jeep itself wasn't going to miss out on that opportunity as well.
"So many modified Jeep Wranglers are out there in the world that we were able to hide in plain sight during all of our testing adventures," said Jaime Standring, Jeep's Chief Engineer of Performance SUVs. Standring alleges that the Wrangler 392 has been out on the road since May 2019, traversing challenging trails in Arizona, Utah, California, and also in the mud of Michigan's Drummond Island. Jeepers have been clamoring for a HEMI-powered Wrangler variant for years and the brand is finally committing to delivering. Micky Bly, Head of Propulsion Systems for Fiat Chrysler Automobiles (FCA), said: "That's what our customers want. That's what the Wrangler gans have been asking for over and over probably as much as they want bigger tires on these vehicles."
The engine is mated to an eight-speed automatic transmission, generates 470 horsepower, and delivers 470 lb-ft of torque. The Wrangler Rubicon 392 can manage a 0-60 mph time in only 4.5 seconds and can make the quarter-mile in just 13 seconds according to FCA. Yes, that's right, the all-new 2021 Wrangler Rubicon 392 has been on the drag strip. Like we mentioned earlier, a V8 engine has not been under the hood of a production Wrangler variant in decades. In fact, the modern Wrangler that first launched in the mid-80s has never been powered by a V8 — until now! Jeep phased out V8 engines by 1981, with the CJ7 model being the last one to be powered by a V8. It's an intriguing tidbit, but there's no comparison. The CJ7 barely managed 125 horsepower and 220 lb-ft of torque — two figures that are dismal by today's standards.
Jeep knows that clients willing to splurge on a V8 want the rumble of a V8, thus the 392 has the rumble covered with its tuned exhaust. Since it is an active dual exhaust system, its standard mode is quiet, but once performance mode is switched on everyone will know there's a V8 on the way. Jeep also modified the frame so the Wrangler could handle all the extra torque. Additional changes include a 2-inch factory lift, specially-tuned high-performance Fox aluminum monotube shocks, and thicker axle tubes for the heavy-duty Dana 44 front and rear axles. The 392 is unique with its bronze-colored accents, Jeep and Trail Rated badges, a Rubicon decal on its hood, and bronze-colored front and rear tow hooks.
Follow The Jeep Experts on Hollywood Chrysler Jeep social media to stay up to date with the latest Jeep news, including the announcement of upcoming vehicles. In the meantime, check out the rest of the Jeep lineup here at Hollywood Chrysler Jeep — including the iconic Jeep Wrangler, the all-new Jeep Gladiator, and the classic Jeep Grand Cherokee among others. Schedule your test drive today!
Photo Source/Copyright: Jeep