The Pacifica Hybrid is Rewriting the Rules for Minivans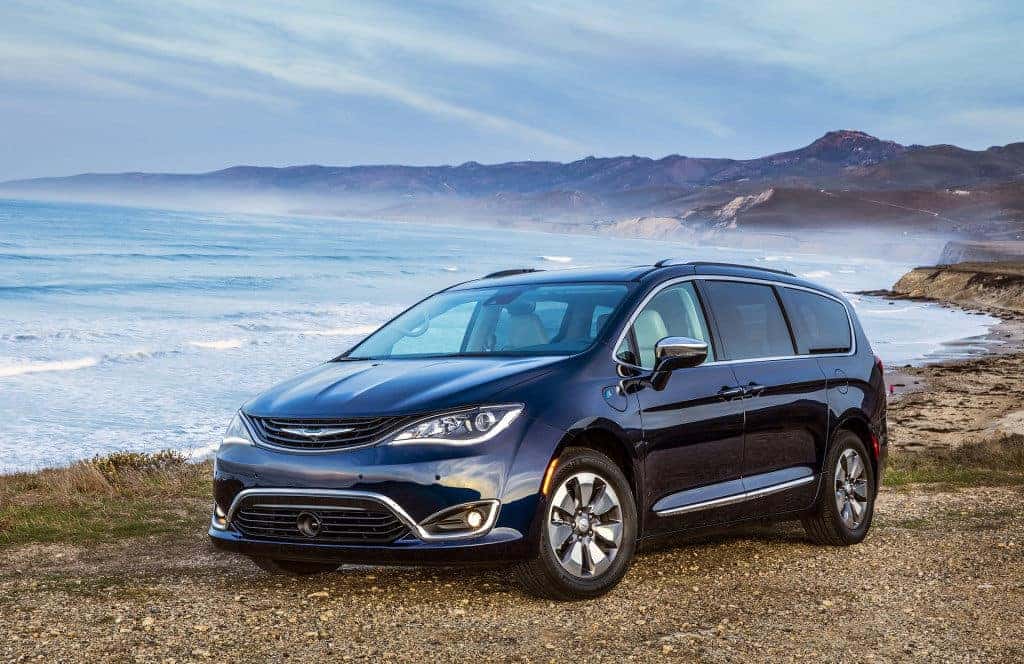 Not only was the minivan revolutionary when Chrysler first introduced it over 35 years ago, but the current Chrysler Pacifica Hybrid is making waves thanks to its hybrid powertrain – the first in its segment. As the first electrified vehicle in the minivan segment, the Pacifica Hybrid offers 84 miles per gallon equivalent (MPGe) in hybrid mode, while offering 33 miles of all-electric range – zero emissions! Regardless of traffic conditions, the Pacifica Hybrid has a combined fuel economy of 34 miles to the gallon. Daily errands such as trips to the grocery store, school and shopping can be completed without using any gasoline at all! Although 33 all-electric miles may feel numerically low, the truth of the matter is that it's the type of range that can definitely extend the lifespan of a tank of gas, saving owners money in the long run.
Owners can plug their Pacifica Hybrid into any 120-volt socket and the battery will recharge completely in about 12 hours. Those who have access to a 240-volt current and charger and complete a full charge in about two hours instead. Such upgrade chargers are available from the manufacturer through dealerships. Those who travel less than 33 miles per day would hardly ever have to stop for gas, but the Pacifica Hybrid is so intelligent that it can detect when a tank of gasoline is more than 90 days old and automatically run the engine on gasoline only to avoid a tainted fuel situation. Wondering what happens once the battery is depleted? The Pacifica Hybrid seamlessly switches to the gasoline engine without pause.
Featured upgrades of the 2019 Pacifica Hybrid include a premium Harman Kardon sound system, an auto-dimming rearview mirror, a revised center console, and a universal garage door opener. Standard features on the high-tier trims (such as the Limited) offer owners every safety and comfort available complete with front collision mitigation, one-touch power side doors, blind-spot monitoring with cross-traffic alert, tri-zone automatic climate control, lane departure assist adaptive cruise control, and a panoramic sunroof. Chrysler offers parents of burgeoning drivers peace of mind with its innovative Chrysler KeySense fob, which allows parents to set limits on radio channels, volume, and driving speed, and other emergency thresholds.
When it comes to power the hybrid powertrain delivers a total of 260 horsepower, more than enough for what's traditionally labeled a family car that weighs nearly 5,000 pounds. Thanks to the fact that electric motors deliver maximum torque the minute the accelerator is pressed, the Pacifica Hybrid doesn't take much input from the driver to robustly take off. The overall use of aluminum also helps with the minivan's prowess and makes for reduced weight and improved fuel economy. Other minivan "firsts" found on the Pacifica Hybrid include a rotary shift knob, wireless connectivity, 10-inch touchscreen displays for second-row passengers and an electric parking brake.
Get to know the Pacifica Hybrid up close and personal- check out the 2019 Pacifica Hybrid inventory at Hollywood Chrysler Jeep. Follow Hollywood Chrysler Jeep on social media to stay up to date with the latest automotive news.
Photo Source/Copyright: Chrysler