2016 Jeep Compass
Jeep has embraced the growing trend of smaller SUVs, also known as crossovers, that offer improved fuel economy, that still have the space versatility of a SUV. In addition to the Jeep Renegade, a CUV that was introduced to the market in 2015, there is also a Jeep Compass, that is a compact crossover introduced in 2007.
Whether for a growing family or a rising professional, the 2016 Jeep Compass is an excellent vehicle for those looking for fuel economy, style and off-roading capabilities. The 2016 Compass is not only affordable, but it was also listed on Insure.com as being one of the most affordable vehicles to insure, which is great for those shopping on a budget.
Engines and Trims
Five Jeep Compass Trims
The 2016 Jeep Compass lineup consists of five trims, and they are all available with front-wheel drive or four-wheel drive (4×4). The base trim is the Compass Sport, and the top-level trims are the Compass High Altitude and the special-edition Compass 75th Anniversary Edition. Both of the upper-level trims are equipped with many of the same interior features, the 75th Anniversary Edition is a special-edition model that has a couple unique aesthetic features that won't be available for long.
Standard Engine
The standard engine on the Jeep Compass with front-wheel drive is a 158-horsepower 2.0-liter four-cylinder engine. The Compass Sport comes standard with a five-speed manual transmission, but buyers can upgrade to a six-speed automatic engine if they prefer. The other Compass trims are standard with the AutoStick automatic transmission, which is a driver-interactive transaxle shifter that provides clutchless manual shifting. When the engine is paired to the manual transmission the Compass has an average fuel economy of 23 mpg in the city and 30 mpg on the highway, and with the AutoStick transmission, it has a fuel economy of 22 mpg in the city and 26 mpg on the highway.
Available Engine
Jeep Compass 4×4 models are equipped with a 2.4-liter four-cylinder engine. This engine is paired to a six-speed automatic transmission and buyers have the option of upgrading to the AutoStick automatic transmission. When paired to the six-speed automatic engine, the 2.4-liter engine generates 172 horsepower and gets an average of 21 mpg in the city and 28 mpg on the highway.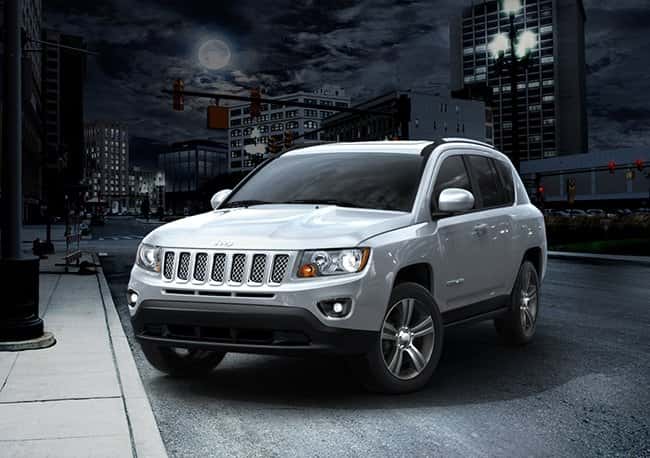 Interior and Exterior
Exterior Features
The 2016 Jeep Compass is a four-door five-passenger compact crossover that has similar exterior features as the larger Jeep Grand Cherokee. The Compass comes standard with 16-inch aluminum wheels wrapped in Goodyear all-season tires. The vehicle is equipped with black headlamp bezels, halogen front lights and fog lights. Buyers have the option of seven different exterior colors.
Comfortable Interior
The Jeep Compass offers drivers a lot of modern conveniences and room for storage. The Compass has 101.3 cubic feet of passenger interior volume and the back-row seats can fold flat, which opens up to 53.6 cubic feet when folded down. There is also a full-length floor console for extra storage as well. The Compass comes standard with cloth seating, but there are options for leather seating and a 6.5-inch touchscreen display.
Off-Roading Extras
Buyers of the Jeep Compass 4×4 models have a variety of options to upgrade their Compass to suit their off-roading needs. The Compass is available with the Freedom Drive II Off-Road package, which upgrades the Compass to a "Trail Rated" vehicle.
The "Trail Rated" Compass with the Freedom Drive II Off-Road package includes extra interior and exterior equipment that help improve the vehicle's performance on tough terrain. This package includes a fuel tank skid plate shield, brake lock differential and a full-size spare tire in case of a flat from rocks or other objects when off-roading. The package also includes all-terrain tires and tow hooks.
The special package also includes two unique features, Hill Descent Control2 and Hill Start Assist.
Hill Descent Control2 helps drivers maintain a safe vehicle speed (when traveling under 30 mph) while descending hills during off-roading. The system can sense terrain conditions and will automatically adjust to a slightly slower set speed than normal when the terrain is rough. Hill Start Assist helps the car begin to move forward without rolling back when on a hill that has a grade of eight percent or more.
Pricing and Warranty
The 2016 Jeep Compass is affordably priced at $19,695 and all Jeep vehicles are backed by a three-year or 36,000-mile basic warranty and a five-year or 60,000-mile limited powertrain warranty.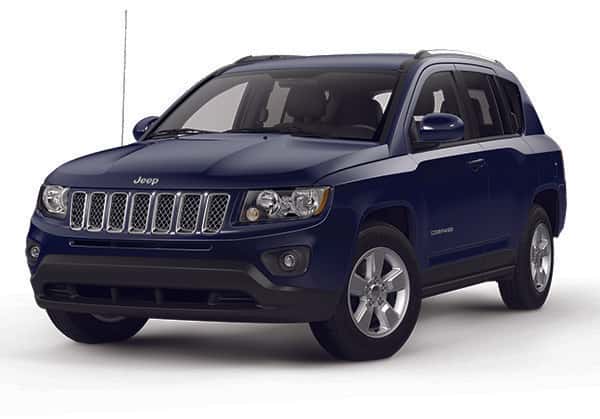 Interested in a Jeep Compass?
Hollywood Chrysler Jeep has a variety of Jeep Compass models available. You can view our inventory online here, or you can come test drive a new Compass today!