Lifted Jeeps
Hollywood Chrysler Jeep Specializes in Jeep Lifts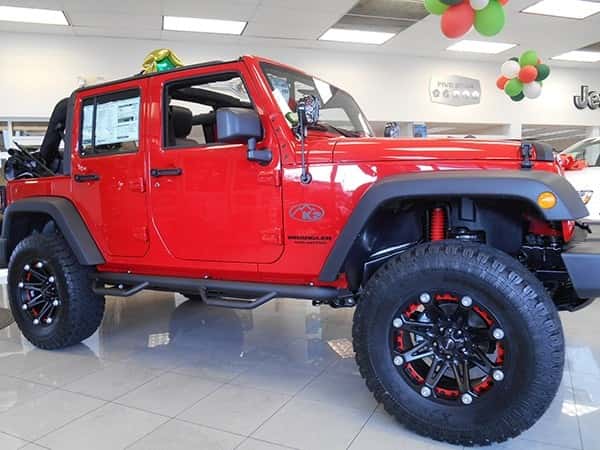 The service and parts departments at Hollywood Chrysler Jeep specialize in modifying and adding lifts to all Jeep models.There is no lift that is too small or too big and Hollywood Chrysler Jeep handles all types of service work including installing new lift kits, upgrading existing lift kits and replacing wheels and tires.
As a Jeep dealer and service provider for several decades, Hollywood Chrysler Jeep has extensive knowledge and experience with Jeep lifts and we help all of our customers get the best lift kit for their Jeep model, whether old or new. We use a variety of name brand lift kits and two of our most popular lift kit brands are Mopar and Pro Comp. Some of the most common wheel brands we use are Rock Stars, Ballistic, XD Monsters and Dropstar. Hollywood Chrysler Jeep primarily uses Nitto tires because they are a Jeepers "go-to" tire. Nitto tires are high quality tires known for their durability and excellent balancing.
There are two common reasons people lift their vehicle and that's to improve its off-road performance and looks. Increasing a vehicle's lift increases the distance from the lowest part of the vehicle's body and mechanical components from the ground (ground clearance), and that makes it much easier and safer for a vehicle to go through mud, water and rocky terrain. Increased ground clearance also increases the vehicle's departure angle, approach angle, and breakover angle, and that is also helpful when traveling over rocks, obstacles and challenging terrains.
New Vehicle, New Lift, No Worries
Knowing that Jeep drivers love to add lifts and modify their vehicles, Hollywood Chrysler Jeep also has a variety of brand new Jeep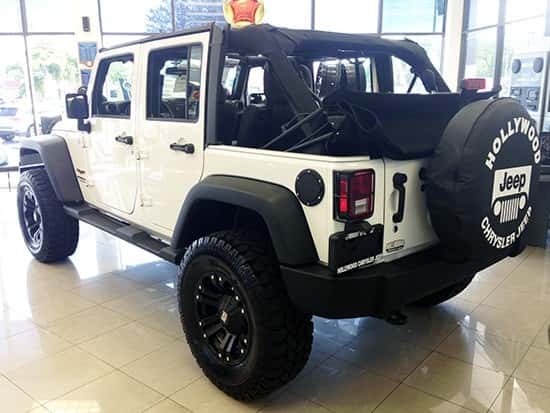 models that have already been modified with a 3-inch lift. This is a convenient way for customers to know exactly what they are getting and to pay one price for the vehicle, the lift and any other mods we may have already done to it. Almost all shoppers prefer taking the guess work out of figuring out the best lift, best lift brand and cost of getting a lift, and if that's the kind of shopper you are, Hollywood Chrysler Jeep is the place for you.
Important Things to Know About Adding a Lift
Just as there are with any vehicle modification, there are some things to keep in mind when adding a lift to your vehicle.
Some lift kits may void a vehicle's original warranty, so make sure to double check your lift kit with your warranty before installation, but most lift kit manufacturers offer a warranty on the lift kit.
The higher the lift, the higher the cost.
Lifting a vehicle decreases its fuel economy.
Unless you know what you are doing, installing a lift kit on your own is not advised. The work is very involved and if you do it incorrectly, you could damage your vehicle. Also, once a lift kit has been added to a vehicle, it's computer has to be re-programmed.
Pro Comp Lift Kits
Pro Comp suspensions are high quality products that use advanced manufacturing processes and their products are known for performance and reliability that handle all obstacles. Pro Comp uses cast and CNC-machined knuckles as well as laser-cut, CNC-formed, robotically welded cross members, which are key to making a durable suspension kit. Pro Comp is meticulous about the smaller suspension kit parts like brake line extensions, longer bump stops and sway bar drop brackets. Pro Comp backs over 260 kits with the Lift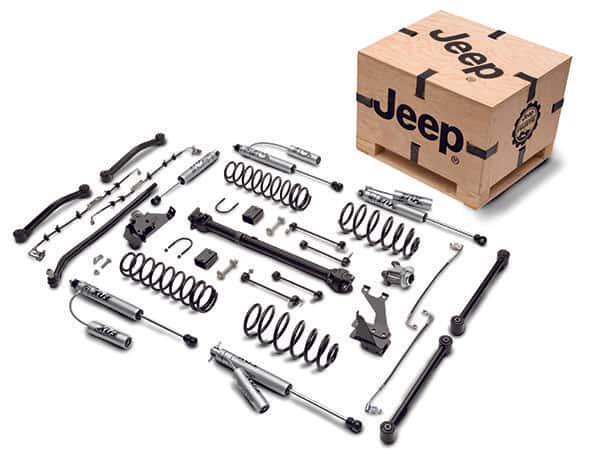 Shield five-year or 60,000-mile powertrain warranty and all products are covered by the Pro Comp Promise Lifetime Warranty.
Mopar Lift Kits
Mopar is the parts, service and customer care organization within Fiat Chrysler Automobiles, and they have specialized in making aftermarket parts for decades. Mopar makes several different types of lift kits and the available lift kit heights are two or four inches and customers have the option of a Mopar lift kit that has performance shocks, FOX shocks or Bilstein shocks.