2016 Jeep Compass

The Jeep Compass holds the distinction as a compact SUV, also known as CUV, over all other Jeeps. With the looks of a compact Grand Cherokee, the Compass offers an affordable alternative in a smaller package. Whether drivers need a vehicle to take their kids to extracurricular activities, a vehicle that can safely navigate through bad weather, or needs to be able to transport large loads, the Jeep Compass is more than capable.
Engine
All of the Compass models, the Sport, Latitude and High Altitude have a 2.0-liter, four-cylinder, engine that generates 158-horsepower. The Compass comes standard with a 5-speed manual transmission. However, all Compass trims have the option of an automatic six-speed transmission. When purchasers opt for four-wheel drive Compass, the engine is upgraded to a 2.4-liter, 4-cylinder engine that turns out 172-horsepower. The Compass has a maximum towing capacity of 2,000 pounds.
As a compact SUV, the Jeep Compass gets 23 MPG city and 30 MPG highway.
Interior
With seating for five passengers, the CUV's interior is comfortable. The vehicle's bucket seats are height adjustable and the rear seating has 60/40 split for larger items that can't fit in the truck. All of the upholstery is made from quality materials and have accent stitching for a distinctive look.
To keep the Compass Sport affordable, the Compass Sport has forgone some of the automatic features that other cars have. The Compass Sport has roll-down windows and manual locks. For entertainment UConnect voice command with Bluetooth and a 12-volt power outlet are included. Buyers have the option of adding on a 6.5-inch infotainment touch screen.
Exterior
A little rounder than older Jeeps, the Jeep Compass has the distinctive Jeep look of the Grand Cherokee, but in a smaller form. The vehicle's wheels are composed of 16.5-inch aluminum rims and all-season touring tires. Car buyers have the choice of eight different exterior colors.
Safety
Safety features include traction and stability control, anti-lock brakes and is outfitted with several airbags that are located throughout the car. Since Jeeps are built for all types of conditions and off-roading, the Compass is equipped with hill start assist, a rear stabilizer bar and electronic roll mitigation. Buyers also have the option of purchasing a rearview backup camera for added safety.
Price
With a starting MSRP of $19,595, the Jeep Compass Sport is affordable to most buyers who are looking for a smaller and easy-to-handle SUV.
Additional Packages and Other Models
All models are available for an off-road package. This package adds skid plates, an upgraded all-wheel drive system, locking differential, tow hooks and a full size spare in case of an emergency.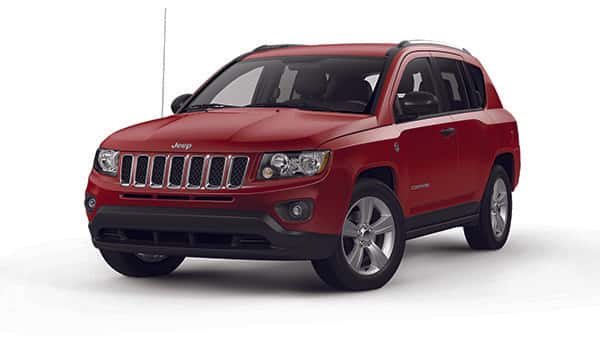 Warranty
Jeeps are backed by a 36,000-mile or 3-year limited warranty, 60,000-mile or 5-year powertrain warranty and 5 years or 100,000 miles of roadside assistance.
Jeep, the Legend
Producing capable vehicles since 1941, the Jeep brand of vehicles are legendary for their off road capabilities and utilitarian usefulness. A new breed of Jeep, the Compass may not be to slog through the trails of a decked out Wrangler but for around town, in the rain and snow while hauling your precious cargo, it is the most affordable way to buy into the legendary brand.