2016 Jeep Patriot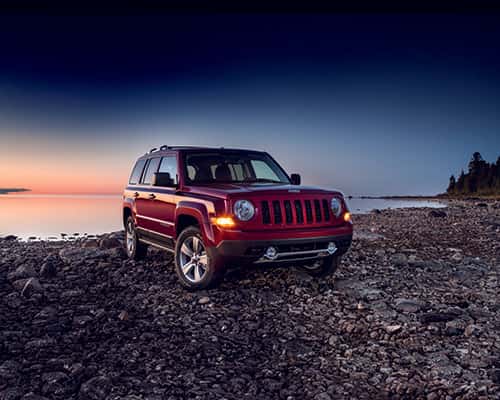 The 2016 Jeep Patriot Sport exemplifies an adventurous spirit. While the Patriot may lack the polish of more popular models like the Cherokee or its competitors, it is a Jeep nonetheless, and promises to be a vehicle synonymous with family legends.Starting with a base price of $17,595, the 2016 Jeep Patriot Sport is an affordable choice for buyers.
Engine Specs
The vehicle is powered by a 2.0-liter DOHC 16 valve four-cylinder engine. In action, the engine produces 158 horsepower at 141 lbs of foot torque. In comparison, that's almost the same amount of horsepower as the Subaru Forester's 2.5-liter engine. For buyers looking for something with a little more power, the Patriot is also available with a peppier 2.4-liter engine.
Buyers have a couple options when purchasing a new Patriot. The Patriot Sport's standard transmission is a manual five-speed, but they can choose a six-speed automatic transmission instead. Additionally, the Patriot Sport comes as a standard front-wheel drive vehicle, but for an additional $2,000, buyers can opt for the vehicle to be outfitted with four-wheel drive.
Drivers can expect around 23 MPG city and 30 MPG on the highway and the vehicle has a standard towing capacity of 1,000 lbs. and maxes out at 2,000 lbs.
Interior
While there aren't many bells or whistles on the Sport trim, its utilitarian design gives buyers their money's worth. For starters, the Patriot is a roomy five passenger CUV. It provides sufficient passenger and cargo space, and its high ceilings means it's comfortable for tall people and easy to get in and out. The rear seats are 60/40 recline and split fold seats which can provide extra trunk space when needed. The standard upholstery is gray or black cloth.
Buyers of the Patriot get a complimentary 1-year subscription to Sirius XM radio. Other entertainment features include Uconnect voice command with Bluetooth, a USB port and Audio jack so drivers or passengers can play music or audiobooks from their smartphones or other mobile devices.
Exterior
The exterior of the Patriot is reminiscent of Jeep's classic lines, and will appeal to anyone looking for a crossover. The Patriot Sport is outfitted with with 16" steel wheels and all season tires. The Sport comes with fog lights, solar control glass and comes in eight different exterior colors.
Additional Options
The 2016 Jeep Patriot Sport should appeal to true Jeep enthusiasts, as it mirrors the Jeep ideal–economy, utility, and affordability. The great thing about the Patriot, however, is its buildability. Trim options are plentiful, and added easily at reasonable prices.
For those looking to add a little extra off-road capabilities to their car, the Freedom Drive II package, available with four-wheel drive trims, transforms the Sport into a little off road beast.
Freedom Drive II provides the Sport with full time, 4×4 traction, LOCK mode selection, and electronically controlled coupling that monitors and controls traction. Additionally, there is HDC (hill descent control), a grade-sensing feature, as well as gear ratio advantages for rugged terrain.
These upgrades will boost the price, of course, but thrifty consumers will enjoy the affordability of the advantages Jeep Patriot Sport offers, particularly when compared to more expensive Jeep models, as well as the higher priced competition. The Sport exemplifies value. Rugged, reliable, and inexpensive, it's perfect for economically conscious consumers who would like to own a Jeep.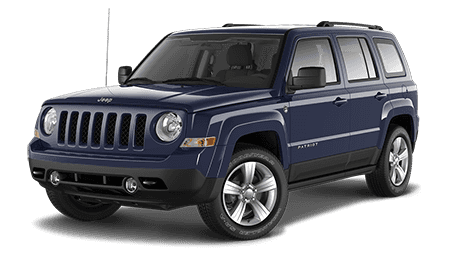 Warranty
All Jeeps come with a 3-year or 36,000-mile basic warranty, 5-year or 60,000-mile powertrain warranty and limited roadside assistance. And to stay true to the Jeep's roots as an all-season, off-roading vehicle, all Jeeps have a 5-year or 100,000-mile rust-through warranty.
Where can you get a 2016 Jeep Patriot?
Hollywood Chrysler Jeep is a certified Jeep dealership in South Florida and we have several 2016 Jeep Patriots on the lot. We are conveniently located between Fort Lauderdale and Miami and we have convenient hours. You can schedule a test drive here or you can visit us any time and test drive a vehicle.