2016 Jeep Renegade Off-Road Specs
The Jeep Renegade brand is a relatively new subcompact crossover to consumers, but it has been a great selling and highly ranked vehicle. The Jeep Renegade offers Jeep lovers the best of both worlds because it is an equipped off-road vehicle, but is a smaller more fuel efficient Jeep option.
Engine and Trims
The standard engine on the 2016 Renegade is a 1.4-Liter 4-cylinder engine. This engine produces up to 160 horsepower and 184 lb-ft of torque. The 1.4-Liter engine has great fuel economy or 24 mpg in the city and 31 mpg when on the highway.
A 2.4-liter 4-cylinder engine comes standard on the Limited and Trailhawk trims, but is an upgraded option for all trims. This engine can tow up to 2,000 pounds, and produces up to 180 horsepower, and 175 lb-ft of torque. The fuel economy on this engine is slightly less than the standard engine because it is a larger engine, but with an average of 22 mpg city and 31 mpg highway, its fuel economy is still very good.
Jeep Renegade Off-Roading Systems and Specs
Active Drive: Jeep active drive is a system available on the Sport, Latitude, and Limited trims. The active drive system has a rear axle disconnect system that switches between two and four-wheel drive to help efficiency when 4×4 capability isn't needed.
SelecTerrain System: To ensure the safest and most fun off roading experience, every Renegade comes equipped with the SelecTerrain system. This is a dial in the center console to the left of the aux input that allows drivers to switch into different drive modes — mud, sand and snow. The Renegade Trailhawk model has a fourth drive mode, rock mode, that makes climbing through rocky terrains much easier.
Ground Clearance: Ground clearance for the Renegade is Ground 6.7 inches for front-drivers, and 7.9 inches for four-wheel-drive models.The 7.9 inches on the four-wheel drive models in great, because it provides more room to climb over rocks, and go through mud, without getting stuck.
Hill descent: Hill descent sends the transmission into a lower gear to slow the vehicle down. This feature is helpful for off-roaders, because if the driver accidently begins to generate too much speed coming down a hill it can be very dangerous, so this system helps to alleviate that safety concern.
Jeep Renegade Trailhawk
Active Drive Low: The active drive low system is exclusive to the Renegade Trailhawk trim. Its an off-roading system that allows drivers to switch between two and four-wheel drive, however, it also a more advanced crawl ratio. The Active Drive Low 20:1 crawl ratio provides superior climbing capabilities.
Ground Clearance: Since the Renegade Trailhawk is a Renegade trim built with enhanced off-roading features its ground clearance has been increased to 8.7 inches. It's just one other element that helps the Renegade Trailhawk earn its "Trail Rated" badge.
Interior
There are three interior upholstery options, leather, cloth or premium cloth. The regular cloth comes in three different color schemes, the premium cloth comes available in four different trim options, and the leather comes in three different options.
Many awesome features come standard with the 2016 Jeep Renegade like a rear 40/60 folding seat to allow for cargo space, low-back cloth bucket seats, and a manual 6-way driver's seat. In addition, Jeep offers several interior options. Some of these options are heated front seats, leather trimmed bucket seats, and a heated steering wheel.
The Renegade comes standard with a 6-speaker audio system. However there are several technology upgrades drivers are loving. Some of these features include: a nine-speaker beats audio system, a beats audio subwoofer, a 506-watt audio amplifier, and a UConnect system with hands-free dialing and navigation options. Jeep Renegade interior MySky panels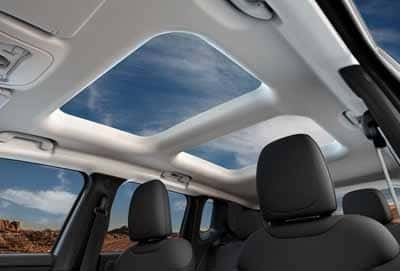 Exterior
The exterior is boxy, has a fierce stance, yet still encompasses the Jeep look with the seven slot grille and rugged appearance.
Some features such as: 16-inch x 6.5-inch styled steel wheels, 215 / 65R16 LBL all season tires, and a tire service kit come standard on the Jeep Renegade. Extra exterior styling options include roof rails, MySky (a open-air dual-panel sunroof, 16-inch, 17-inch, and 18-inch aluminum wheels, as well as 18-inch bronze or black wheels.
Safety
The NHTSA has given the Renegade a 4-star overall safety rating. Available safety features include: a back-up camera, 9-1-1 call and assist call, brake assist, blind-spot monitoring, park assist, and keyless entry.
Price and Warranty
Base price for the Renegade begins at $17,995, and goes up to and over $25,450 for the Trailhawk model and extra safety options.
Warranties include a three year or 36,000 mile basic warranty, and a five year or 60,000 mile powertrain warranty.
Additionally, new car buyers can purchase the Mopar "Complete 360" plan. The Mopar Complete 360 plan is a hassle free offer which provides owners 5-year or 60,000-mile or 6-year or 75,000-mile protection plan. The plan also has an all-in option which includes Road Hazard Tire & Wheel protection, which is an awesome protection plan for those that plan on taking their Renegade off-roading.