2017 Chrysler Pacifica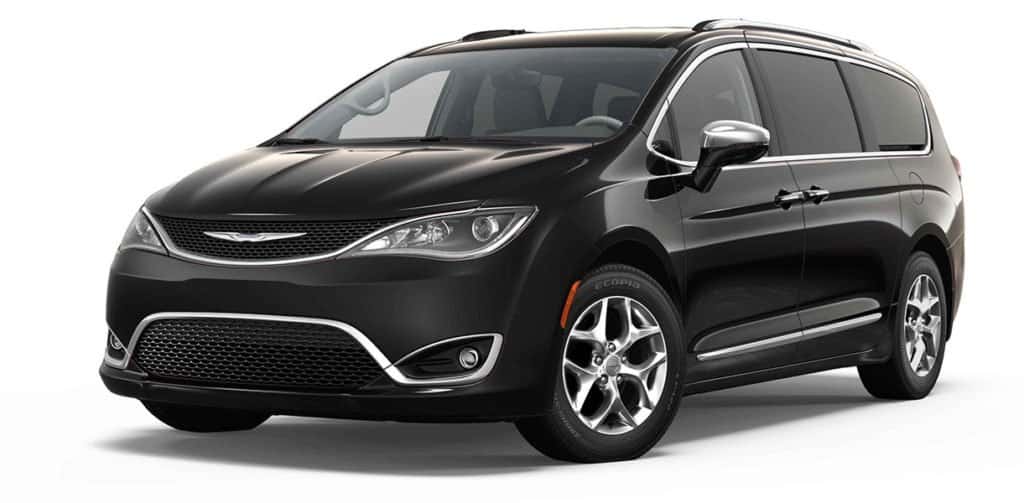 Starting around
$28,595
287
max. horsepower
19/28
city/hwy mpg
3.6L
Pentastar V6 engine
The 2017 Chrysler Pacifica is an award-winning, overachieving, good looking minivan. Yes, good looking. Chrysler was able to restore humanity's love for minivans and defy the common reputation of a ugly and boring vehicle. Moms, dads, children, and professional car reviewers are all falling in love with the Pacifica.
The Chrysler Pacifica is rated a perfect five out of five by Car and Driver, and an impressive 4.2 out of five by Edmunds. Additionally, the Pacifica won the Affordable Panoramic Sunroof award at Topless in Miami, was listed on the WardsAuto list for Top 10 User Experience Vehicles, and it is also an IIHS Top Safety Pick+. If that doesn't have you wanting a Pacifica yet, the minivan's specs certainly will. Check it out.

Engine + Performance
Trims
The Pacifica lineup currently consists of five trims ranging from base to the fully loaded trim and soon there will be a sixth trim that is a hybrid. Even the base trim, the Pacifica LX is equipped with a strong engine and tons of modern convenience features. The other four trims include the Pacifica Touring, Pacifica Touring L, Pacifica Touring L Plus and Pacifica Limited.
Engine
There is only one engine on the Pacifica lineup and it is a powerful engine that helps to make the Pacifica one of the most fuel efficient minivans. The engine is a 3.6-liter V6 engine that gets 18 MPG in the city and an impressive 28 MPG on the highway. The fuel economy isn't the only impressive aspect of the engine, it can also produce up to 287 horsepower and delivers 262 lb-ft of torque.
Hybrid Coming Soon
Coming in 2016 is the 2017 Chrysler Pacifica Hybrid, the first hybrid minivan ever. The Pacifica Hybrid will be equipped with a dual-motor electrically variable transmission (EVT, a specially modified version of the upgraded 3.6-liter Pentastar V6 gasoline engine and a 16 kWh lithium-ion battery. The Hybrid Pacifica will be able to travel 30 miles on pure electricity and will get 80 MPGe in the city.

Modern Style
Elegant Exterior
Unlike most minivans on the market, the Pacifica has a luxurious and modern look. It has sleek wrap-around headlights that have halogen headlamps and high beam density running daylights. The Pacifica's front grille is the same elegant black front grille as the one on the Chrysler 200. The minivan has two sliding glass doors and both of them can be opened or closed by pressing a button on the key fob or gently lifting door handles.
Exterior Upgrades
Buyers have the option of nine different exterior colors ranging from plain to bright and there are a variety of exterior upgrades. Optional exterior choices are 20-inch aluminum wheels, an automatic handsfree liftgate and automatic folding exterior mirrors. Buyers who want a minivan that has a more open feel to it can opt for a Pacifica model that has the award-winning tri-panel panoramic sunroof.

Spacious + Convienent Interior
Comfortable Interior
The Pacifica's interior is just as impressive as the exterior. The Pacifica comes standard with seven premium cloth seats in two color options, but eight seats and leather trimmed seats are available options. The minivan is equipped with a variety of auxiliary power outlets so multiple passengers can charge their mobile devices at the same time. To keep all passengers comfortable, the Pacifica comes standard with a three-zone temperature control, so no one will ever be too hot or cold. For those who are serious about a clean van, the Pacifica Limited is available with the Stow 'n Vac, which is a built-in vacuum cleaner.
Stow 'n Go + Storage
The Pacifica is a very spacious vehicle as it is best-in-class for passenger space in the third row and overall cargo volume. The cargo volume for the Pacifica is 140.5 cubic feet and the interior can be arranged in a number of ways due to the minivan's innovative Stow 'n Go seating. Stow 'n Go seating makes it possible the second- and third-row seats to actually fold down and be stored in a floor storage compartment, allowing for flat storage space when needed. When the seats are not folded into the floor, the floor storage compartments can be used to store other things as well.

Safety, Price + Warranty
Excellent Standard Safety
Safety is the highest priority for many, especially those searching for a family-friendly vehicle. The 2017 Pacifica an IIHS Top Safety Pick+ and it is full of a variety of standard safety features like emergency braking assist, stability control, traction control, passenger airbag sensing detection technology.
Preventative Safety Tech
Standard safety is just the beginning. The Pacifica is available with some of the most advanced preventative tech safety features like collision warning, parking assist and adaptive cruise control with stop and go technology, and a 360-degree SurroundView system. All of these systems use sensors around the vehicle to provide warnings to the driver when there's a risk of danger.
Price + Warranty
The all-new 2017 Chrysler Pacifica is starts at $28,595 and the upper trim, the Pacifica Limited starts at $42,495.
All Chrysler vehicles are backed by a three-year or 36,000-mile basic warranty and a five-year or 60,000-mile powertrain warranty.