2017 Chrysler Pacifica & Pacifica Hybrid

Whether summer break or the school year, families always have a lot of running around to do. From summer camp to family road trips or rides to school and sports practice, life with children is never dull. One way parents can get a little helping hand with all of the running around is with a vehicle built for parents, children and the busy lifestyle, and that vehicle is the Chrysler Pacifica, a minivan available with a gas or hybrid powertrain.
Since its debut in early 2016, the Chrysler Pacifica has racked up awards for everything from its interior design to its efficient and capable engine to its convenience features for parents and children. Among some of its top honors are Highest Ranked Minivan in Initial Quality in the 2017 J.D. Power Initial Quality Study as well as its Top Safety Pick+ rating from the I.I.H.S.
Engine
The Pacifica lineup includes two powertrain options, one is a gas powertrain, which is standard on the Chrysler Pacifica and the other is an award-winning hybrid powertrain, which is standard on the Pacifica Hybrid. The gas engine is a powerful 3.6-liter Pentastar V6 engine that generates 287 horsepower and 262 lb-ft of torque. This engine helps to make the Pacifica one of the most fuel efficient in its class as it averages 19 mpg in the city and 28 mpg on the highway. Additionally, the powerful engine gives the Pacifica a maximum towing capacity of 3,600 pounds, which is as much and in some cases more than some CUVs and SUVs on the market.
Buyers looking for a more fuel efficient family vehicle will want to check out the Chrysler Pacifica Hybrid, the first plug-in hybrid electric minivan in the U.S. Included in WardsAuto's 2017 Top 10 Engines List, the powertrain in the Pacifica Hybrid includes a modified version of the 3.6-liter Pentastar V6 engine as well as a 16 kWh lithium-ion battery that powers its dual motors. The innovative PHEV system can be powered in one of three ways – the gas engine, the battery, or a combination of the gas engine and battery working together.
The Pacifica Hybrid can travel up to 33 miles when only powered by electricity, and for each of those 33 miles, the minivan releases zero tailpipe greenhouse gas emissions. When operating in hybrid mode, the Pacifica Hybrid has an average fuel economy of 84 MPGe of combined city and highway driving. With a full tank of gas and a fully charged battery, the Pacifica Hybrid can travel more than 530 miles before needing to refuel.
Interior
Everyone is happy in the Chrysler Pacifica. Driver, front seat passenger and back seat passengers all have plenty of space and modern amenities to keep them comfortable on any car ride. Several of the Chrysler Pacifica trims come standard with a 5-inch touchscreen and the Pacifica Touring L Plus, Hybrid Premium, Limited and Hybrid Platinum all come standard with an 8.4-inch touchscreen. The standard sound system in the Pacifica is a six-speaker system, and the Pacifica Touring L Plus and Limited trims comes standard with a 13-speaker system, and buyers can opt to upgrade their vehicle with a 20-speaker Harmon Kardon sound system. All Pacifica trims come standard with a complimentary one-year subscription to SiriusXM radio.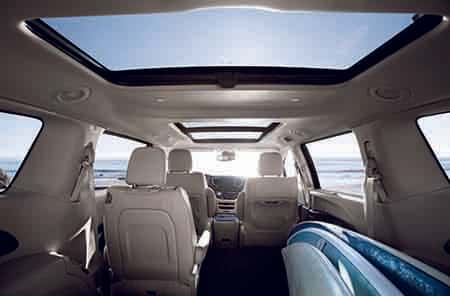 The Pacifica comes standard with seating for seven passengers, but buyers can upgrade to eight-passenger seating as well. All Pacifica trims are equipped with active noise cancellation, automatic sliding doors and a 3-zone automatic air conditioning system for the front and rear seats, but the star feature of the Pacifica is the Stow 'n Go seating system. The Stow 'n Go seating system includes built-in floor storage compartments, which make it easy and convenient for users to fold the second- and third-row seats into the compartments to make extra room for large cargo. But, if all of the vehicle's seats are in use, users can use the floor storage compartments to store cargo as well. Due to the Pacifica Hybrid's large battery, the Pacifica Hybrid is only equipped with Stow 'n Go seats in the third row.
Exterior
The Pacifica and Pacifica Hybrid are equipped with convenient exterior features as well as convenient interior features. All Pacifica trims are equipped with automatic halogen quad projector headlamps, chrome accent fog lamps and LED tail lamps. Power mirrors come standard on the Pacifica Hybrid Platinum and buyers can opt to add Mopar splash guards on all Pacifica trims.
Safety
The Chrysler Pacifica is the only minivan to get a Top Safety Pick+ rating from the I.I.H.S. It is available with more than 100 safety features. In addition to supplemental side curtain airbags in all rows, supplemental front seat-mounted side airbags and advanced multistage front airbags, the Pacifica's frame is 72 percent high strength steel, which is extremely protective in case of an accident.
Additionally, the Chrysler Pacifica is also available with a slew of advanced safety features including Forward Collision Warning, a 360-degree surround view camera system and self-parking features. These features not only make the Pacifica safer, but they also make driving more convenient.
Pricing
The 2017 Chrysler Pacifica LX has a starting MSRP of $28,995. The 2017 Chrysler Pacifica Hybrid Premium has a starting price of $41,995 and it also qualifies for a $7,500 federal tax credit.