2017 Jeep Trailhawk Models
Jeep vehicles are known for their endurance and capability when off roading. Each Jeep model has a unique style and capability, but there
are a group of trims, known as the Trailhawk trims, and they all have a unique selection of features that are not on other Jeep models or trims. There are currently four Trailhawk trims, but as Jeep continues to make changes to their lineup in the next few years, we expect to see some new Trailhawk trims join the pack.
4 Jeep Trailhawk Trims
The 2017 Jeep lineup includes four Trailhawk trims, the Grand Cherokee Trailhawk, Cherokee Trailhawk, Renegade Trailhawk and the new Compass Trailhawk. All Trailhawk trims are Trail Rated, come standard with four wheel drive, as well as some signature Trailhawk features.
Trail Rated
Every Jeep vehicle that has a Trail Rated badge is a vehicle that has met certain levels in five areas, and each Jeep Trailhawk model has a Trail Rated badge. The five areas a vehicle is tested include traction, ground clearance, maneuverability, articulation, and water fording.
Trailhawk Features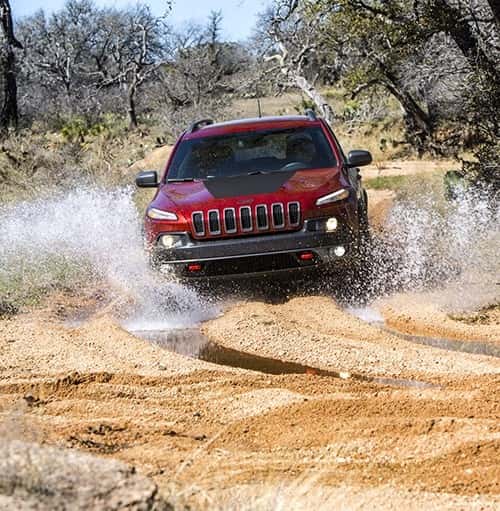 Since off roading and venturing off the beaten path comes with challenges and sometimes risks, all Trailhawk trims comes with some extra safety features that help protect the vehicle in a variety of situations. Trailhawk trims have a couple different skid plates (transfer case skid plate, front suspension skid plate, and underbody skid plate) and these plates protect some of the vehicle's most important components from being damaged by debris, rocks and water.
In case the Jeep or anyone else finds themselves stuck while off-roading all Trailhawk trims are equipped with two red front tow hooks and 1 rear red tow hook. These allow the driver to attach to another vehicle to pull that vehicle back to safety.
Finally, all Trailhawk models have higher ground clearances than standard trims. This makes the vehicle even more capable when it comes to going through water, mud, climbing over obstacles and riding on uneven terrain.
Here's an example of the differences between ground clearance approach angle, departure angle and breakover angle for all the Grand Cherokee and Renegade Trailhawk trims versus the standard Grand Cherokee and Renegade trims.
Jeep Grand Cherokee Sport / Trailhawk
Ground Clearance – 8.6 inches / 10.8 inches

Approach Angle – 26.2 degrees / 36.1 inches
Breakover Angle – 19 degrees / 22.8 degress
Departure Angle – 24 degrees / 27.1 degrees
Jeep Renegade Sport / Trailhawk
Ground Clearance – 6.7 inches / 8.7 inches
Approach Angle – 17.9 degrees / 30.5 inches
Breakover Angle – 21.2 degrees / 25.7 inches
Departure Angle – 29.7 degrees / 34.3 inches
Interested in a Jeep Trailhawk trim? Hollywood Chrysler Jeep has a large selection of Trailhawk trims. Come by and see us today to test drive one!