2018 Chrysler Pacifica + 2018 Chrysler Pacifica Hybrid Differences
Two Versatile Minivans
The 2018 Chrysler Pacifica and Pacifica Hybrid both provide seating for seven or eight (depending on seating configuration) passengers and entertainment for long drives; perfect for large families and road trips. But what are some of the differences between the two? Is it just fuel economy? Nope! Let's go inside and out with these two vehicles to show off their similarities and differences.
In every 2018 Chrysler Pacifica model (excluding the Pacifica Hybrid) there's a strong 287-horsepower 3.6-liter V6 engine included that's paired to a nine-speed automatic transmission. Fuel economy matters when going on a road trip and the Pacifica's 28 mpg on the highway is one of the best highway fuel economies for its class. One of the best parts about the 2018 Chrysler Pacifica Hybrid is the powertrain. Pacifica Hybrid trims are equipped with the powerful 3.6-liter V6 eHybrid engine and two dual electric motors that are powered by a 16 kWh lithium-ion battery. The Pacifica Hybrid can be powered by one of three ways — battery, engine or a combination of both.
Storage
The 2018 Chrysler Pacifica Hybrid includes third-row fold-in-floor 60/40 bench seats with available easy entry slide second-row seating. With standard Cloth seats on the Pacifica Hybrid Touring Plus, gain standard leather-trimmed seats (perforated or premium) on the Pacifica Hybrid Touring L and Limited trims.
However, the 2018 Pacifica Hybrid does not offer the second-row Stow 'n Go storage seats because the space that would be used to store the seats is used to store the vehicle's battery. The third-row Stow 'n Go seats still exist, which makes everything easier for storage capacity. In addition to cargo space, the Chrysler Pacifica Hybrid provides an unmatched 243 different seating configurations that allow all kinds of items to fit inside and be stored safely.
Seating
Inside the 2018 Chrysler Pacifica, there are standard second-row bucket seats and a standard third-row bench seat, but buyers can opt for three passenger seats in the second-row to make the vehicle an eight passenger vehicle. The Chrysler Pacifica is equipped with Stow 'n Go seating which makes it easy for users to fold the vehicle's seats into built-in storage compartments to make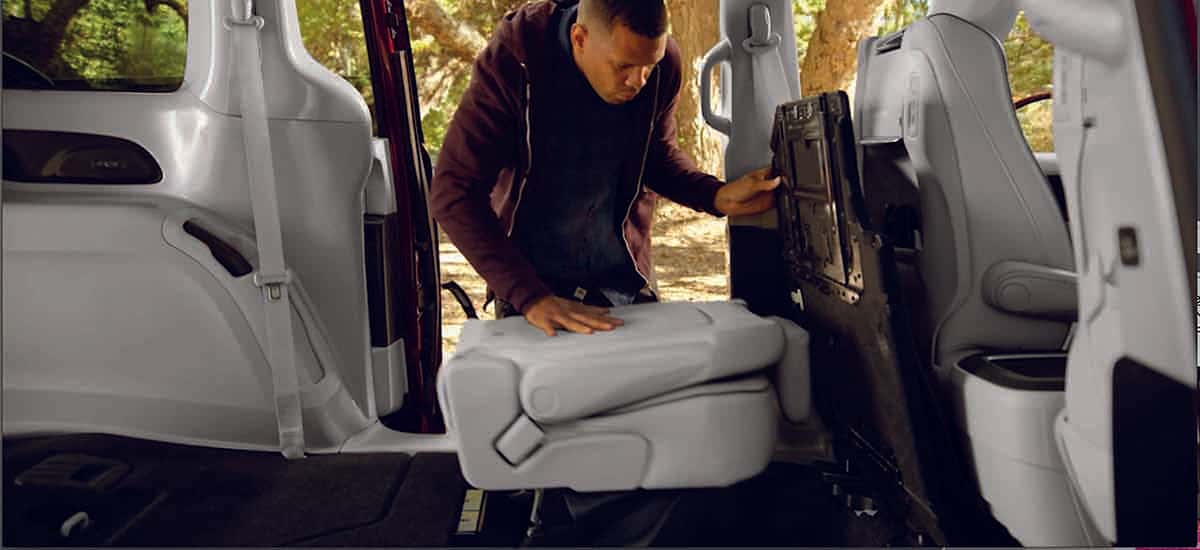 room for cargo when needed. The Pacifica has 32.3 cubic-feet of storage in the trunk, 87.5 cubic-feet of cargo space when the third-row seats are folded down, and when the second- and third-row seats are folded down there's 140.5 cubic feet of cargo space. When the seats are not stowed away in the compartments, there's ample space for guests to store all of their belongings and luggage in the trunk or in the empty Stow 'n Go compartments.
Uconnect Theatre Package
A wonderful sound experience for everyone is available from the 20-speaker Harman Kardon Premium Surround Sound System. Music sounds richer with the impressive 20-speaker set up provided by the available Uconnect Theater that includes wireless streaming; no longer a need to get tangled with aux cables or searching for Wi-Fi to play your music. The Uconnect Theater Package also includes two high quality 10.1-inch HD touch screens with Blu-Ray players and wireless headphones that let users listen to what is playing on the HD touchscreens and other passengers to listen the radio. Standard Dual HDMI inputs, wireless streaming and the games that anyone in the back seats can play are remarkable features that can entertain for hours on end.
Fuel Efficiency + Pricing Differences
Unmatched fuel efficiency provided in the 2018 Chrysler Pacifica Hybrid includes a total driving range of 566 miles and a combined city/highway hybrid fuel economy of 84 MPGe. When the Pacifica Hybrid is only powered by its battery, it has a total driving range of 33 miles. The best part? No tailpipe emissions are released during those 33 miles of driving range. When powered solely by the 3.6-liter V6 engine, the Chrysler Pacifica Hybrid has a combined fuel economy of 32 mpg. The 2018 Chrysler Pacifica provides drivers with a fuel economy of 19 mpg in the city and 28 mpg on the highway. Though the Pacifica doesn't quite compare to the Pacifica Hybrid in terms of fuel economy, it is one of the most fuel efficient non-PHEV minivans available. The 2018 Chrysler Pacifica has a starting MSRP of $26,995 (plus destination fee) while the 2018 Chrysler Pacifica Hybrid begins at $39,995 MSRP (plus destination fee.) Additionally, the Chrysler Pacifica Hybrid qualifies for a $7,500 federal tax credit, so that helps reduce the cost of the vehicle for eligible taxpayers.
More Awards for the Chrysler Pacifica
There's still more accolades that will surely come to the new 2018 Chrysler Pacifica, but most recently it was named Highest in Initial Quality in the 2017 J.D. Power Initial Quality Study – and we think the 2018 Chrysler Pacifica will earn the same award this year. But, don't let awards take away from the experience of trying for yourself. You can test drive today the latest Chrysler Pacifica today.
Your Pacifica Test Drive Awaits
Most days go by without excitement, but you'll find yourself and family talking a lot more when you buy, lease or trade-in to pick up the 2018 Chrysler Pacifica. Before summer vacation starts make sure you have the modern minivan to allow your whole family to be cool, safe and ready for all kinds of adventures.
Hollywood Chrysler Jeep
Come in for your own test drive at Hollywood Chrysler Jeep and get your hands on a new Chrysler Pacifica. Our professional team is here to help out with showcasing any of our vehicles, new or pre-owned. If you have any servicing needs, our servicing department is ready to help you out. With a simple appointment, we can begin to get ready for your vehicle repairs or scheduled maintenance. We look forward to seeing you soon!
Hollywood Chrysler Jeep is located just outside of Miami, and we have a great selection of Chrysler and Jeep vehicles. Visit us at Hollywood Chrysler Jeep for a test drive of the brand new Chrysler Pacifica today.