2018 Jeep Grand Cherokee Towing Guide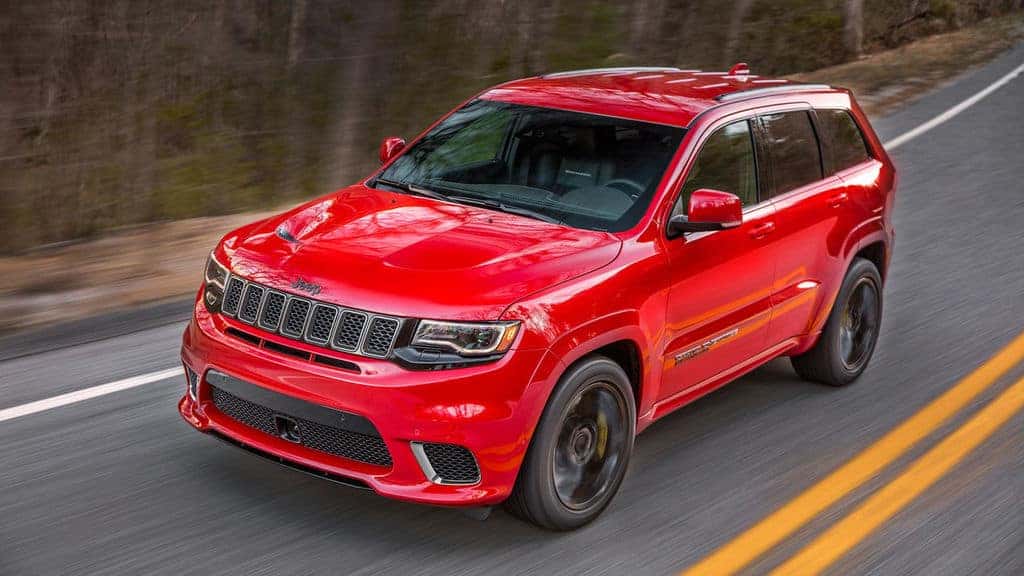 Among the many vehicles in the SUV market, few have the ability to take you on an adventure like the 2018 Jeep Grand Cherokee. The 2018 Grand Cherokee is rated 4.9 out of 5 by Cars.com, and it has exceptional features, including great towing capabilities.
The Jeep brand prides itself on being able to explore and drive where you want, while being able to tow up to 7,200 pounds along the way. We'll show you all you can expect to gain within the various engines and models available today.
3.6-liter V6 Engine Towing
Almost all Grand Cherokee trims come standard with a 3.6-liter V6 engine paired to an 8-speed automatic transmission that produces 295 horsepower and 260 lb-ft of torque.
The 3.6L powertrain gives the Grand Cherokee Laredo, Laredo E, Altitude, Overland, Hiigh Altitude, and Summit trims a a maximum payload capacity of 3,500 pounds. The Grand Cherokee Trailhawk has a higher max towing capacity of 6,200 pounds and the Grand Cherokee Sterling Edition and Limited trims have a max towing capacity of 7,400 pounds. Additionally, some trims are also available with a Trailer Tow package which provides additional towing capacity.
5.7-liter HEMI V8 Engine Towing
Buyers that want a more powerful engine can opt to upgrade select Grand Cherokee trims (Trailhawk, Sterling Edition, Overland, High Altitude and Summit) with the available 5.7L HEMI V8 engine. The 5.7L HEMI V8 engine produces 360 horsepower and 390 lb-ft of torque. The 5.7L engine gives the Grand Cherokee Trailhawk, Overland, High Altitude and Summit a maximum towing capacity of 6,200 pounds. When the Grand Cherokee Trailhawk and Summit are equipped with the 5.7L HEMI V8 engine and the Trailer Tow package, they have a maximum towing capacity of 7,200 pounds.
Maximum Towing – SRT Engines
Whether you're going up steep trails or high mountains and need some serious power to make the journey, it's a lot easier with the 6.4-liter HEMI V8 engine. With 475-horsepower and 470 lb-ft of torque, drivers appreciate the tremendous power and performance of the Grand Cherokee SRT. The Grand Cherokee SRT provides 7,200 pounds of towing capacity and a max payload capacity of 1,350 pounds, this Jeep all types of towing jobs. When not towing, the Grand Cherokee SRT is fast and it accelerates from 0-60 mph in 4.3 seconds.
The most powerful Grand Cherokee is the Grand Cherokee Trackhawk and it is equipped with a supercharged 6.2-liter V8 engine. The Grand Cherokee Trackhawk has a maximum towing capacity of 7,200 pounds. As the most powerful Grand Cherokee option, the Grand Cherokee Trackhawk is also the quickest. The Grand Cherokee Trackhawk accelerates from 0-60 mph in 3.5 seconds, completes a quarter-mile in 11.6 seconds and it has a top speed of 180 miles per hour. There's not much that these higher trims lack, not just in strength, but speed and overall performance.
Where You'll Find Jeep Ahead of the Competition
If you want to test drive the latest 2018 Jeep Grand Cherokee, stop by Hollywood Chrysler Jeep. We know the Jeep brand and can inform you on more tips about how to make your next adventure even easier. Want to experience which Jeep Grand Cherokee trim is best for you? Our staff has the knowledge to answer your important questions.
Check out our large selection of Jeep Grand Cherokee models. We are located in Hollywood, Florida, which is between Fort Lauderdale and Miami and best of all, Hollywood Chrysler Jeep is open seven days a week for both sales, trade-ins and servicing.