2020 Gladiator Wayout Concept Embodies the Jeep Spirit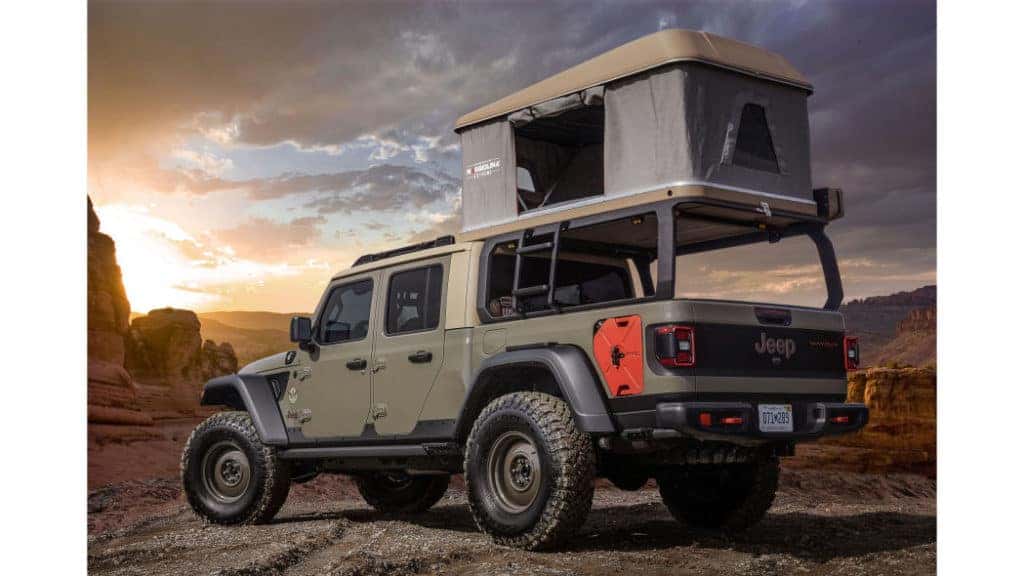 Details differ from person to person, but by now we've heard countless tales of the van life movement – a movement that has grown exponentially over the last 10 years. Van life enthusiasts are always on the lookout for vehicles that suit their needs while on the road. Oftentimes the costs of an RV are detrimental to van lifer's dreams, and they often turn to van conversion companies or to sellers of DIY conversion materials. Sometimes it's even van lifers themselves that often create small businesses to fill unexpected needs for those that are also on the road.
Speaking of van lifers, at the 53rd Annual Jeep Easter Safari the brand introduced the Gladiator Wayout Concept and this thing is like an overlander's dream. Fair warning: Jeep will not be manufacturing this outfitted Gladiator for the masses as it's a one-off concept for the Easter Safari only. On the other hand, readers will be happy to learn that there is some good news: much of the gear that makes this Gladiator so special is available from Mopar and many other aftermarket outlets.
So what does the Gladiator Wayout offer? The concept boasts a two-inch suspension lift, cool steel wheels on 37-inch tires, an engine snorkel in case intense water fording is encountered, and a big winch on the front bumper. Those who wish to stay the night will be feeling right at home thanks to the cool pop-up tent that Jeep added to the concept's roof. The tent works just like a pop-up RV, the roof cranking up with ease. There's even a quick-release awning that spans the rear half of the Gladiator, creating a shaded outdoor space perfect for relaxing. The ultimate luxury lies in the bed that's fitted with a shelf system that even includes a snazzy space where campers can mix drinks etc.
According to journalists reporting from the Easter Safari, this Gladiator Wayout concept completely eclipses any other automaker that tries to come up with similar concepts. No matter what outfitting fancy shenanigans automakers come up with, a Jeep is still a Jeep. The Gladiator Wayout is the ultimate camper life vehicle – and it would make for the most perfect #wanderlust pictures of any camper lifer's dreams.
Follow Hollywood Chrysler Jeep on social media as excitement for the arrival of the 2020 Gladiator ramps up. If you're interested in outfitting your future Gladiator or existing Jeep vehicle, The Jeep Experts at Hollywood Chrysler Jeep will be more than happy to help. With a department dedicated to lifted and outfitted Jeeps and authentic Mopar parts in our service department, The Jeep Experts at Hollywood Chrysler Jeep have got your back.
Photo Source/Copyright: Jeep