The 2020 Jeep Gladiator Is Here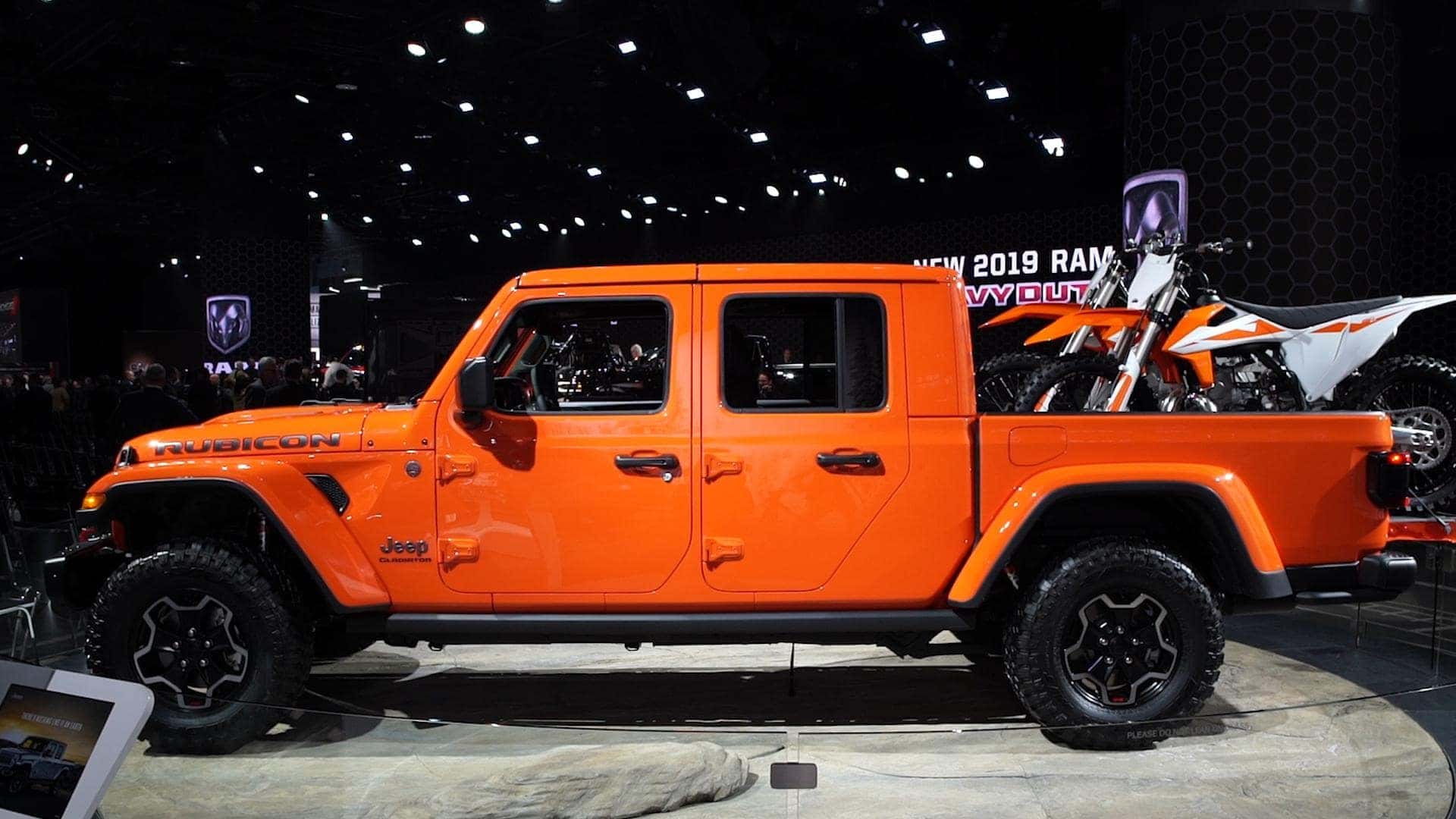 The year 2020 is still a couple of months away but the hype for the line-ups that are out for next year is impressive. Here are a few, such as the 2020 Chevrolet Corvette (mid-engined), the 2020 Ford Bronco and the 2020 Jeep Gladiator. Here's what Jeep enthusiasts can look forward to with the 2020 Jeep Gladiator.     
Before a name was chosen, Jeep was contemplating on naming the new vehicle Scrambler. Does it look like a Scrambler to you? The name needed to represent what the vehicle is and what it can do, and they decided on an old favorite.  
After 30 years, Jeep is officially pulling the name 'Gladiator' out of retirement and this vehicle doesn't only share the new Wrangler's platform but it also shares the overall styling too. Jeep is not only putting the fun on functional for the Gladiator, but it also has that tough-guy exterior look going for it and the engineering to make it run well. If you think that this is just a tow rig, Jeep wants to remind you of the Gladiator's roots.         
IN THE INSIDE:
The Gladiator is taking a lot of the design from the Wrangler such as the roof and doors can come off, and the windshield folds down. You'll also see familiarity in the hood, doors, fenders, and powertrains and with a four-door cab and five-foot bed, the pickup can stretch more than four feet longer than a two-door Wrangler. It's available on all four trim levels: Sport, Sport S, Overland, and Rubicon.   
The Gladiator's powertrain will be similar to the SUV as well. It'll have a 3.6L Pentastar V-6 with 285 horsepower, and 260 lb-ft of torque is standard (but don't be fooled this baby can haul up to 7,650 pounds, according to motor1.com), and it's also the only available engine at l. As for engine options you can choose from the standard 6-speed stick or the 8-speed auto transmission.   
Buyers will want to opt-in for the eight-speed automatic transmission. If they are looking to go eco-friendly, they will have to wait for the next-generation 3.0-liter EcoDiesel turbocharged V-6 engine with start/stop which will be available in 2020 with the eight-speed, throwing 260 hp and 442 lb-ft of torque. The plug-in hybrid is expected to launch in 2020.  
The towing volume is aided with the claims that it's the most massive brakes in its class. It will help if you've got the five-foot bed attached to the Gladiator's 1,600-pound payload capacity. The Gladiator has 84:1 crawl ratio, 11.1" of ground clearance, lockable Dana 44 axles, front, and rear and 30″ of water fording.
The taillamps available are positioned to allow for open access to the bed, and power-locking tailgate can be terminated in three positions and still maintain cargo securely. As for organization and versatility, there are under-rail bed lighting, integrated tie-downs, an optional covered external power source, and available cargo management systems provided. Unfortunately, LED light is only available on Overland and Rubicon vehicles. Gladiator pickups will receive body-welded, body-color sport bars with integrated front occupant grab handles.   
4X4 SYSTEMS:
There are two 4×4 systems available: the Command-Trac is standard on Sport and Overland with a two-speed transfer case. Rubicon's come with the Rock-Trac 4×4 system and with heavy-duty axles lockers and locking differentials. The truck has Dana heavy-duty axles, front, and rear axle lockers, limited-slip differential, sway-bar disconnect, 33-inch off-road tires, steel bumpers, tow hook in the back, winch in front, and lights to help you see.    
"There is tremendous demand for this unique vehicle from our loyal Jeep customers and pickup truck buyers everywhere," said Tim Kuniskis, head of Jeep in North America, as is stated to autoevolution.com. "Born from a rich and proud heritage of tough, dependable Jeep trucks, Gladiator combines rugged utility, versatility, and functionality resulting in the most capable mid-size truck ever."
The 2020 Gladiator goes on sale the second quarter of 2019, and it has a starting MSRP of $37,000 (plus destination fee).  
See for yourself if a Jeep is a right SUV for you with The Jeep Experts at Hollywood Chrysler Jeep.
Photo Credit: consumerreports.com