2021 Jeep Wrangler 4xe Racks Up the Accolades Before it Even Launches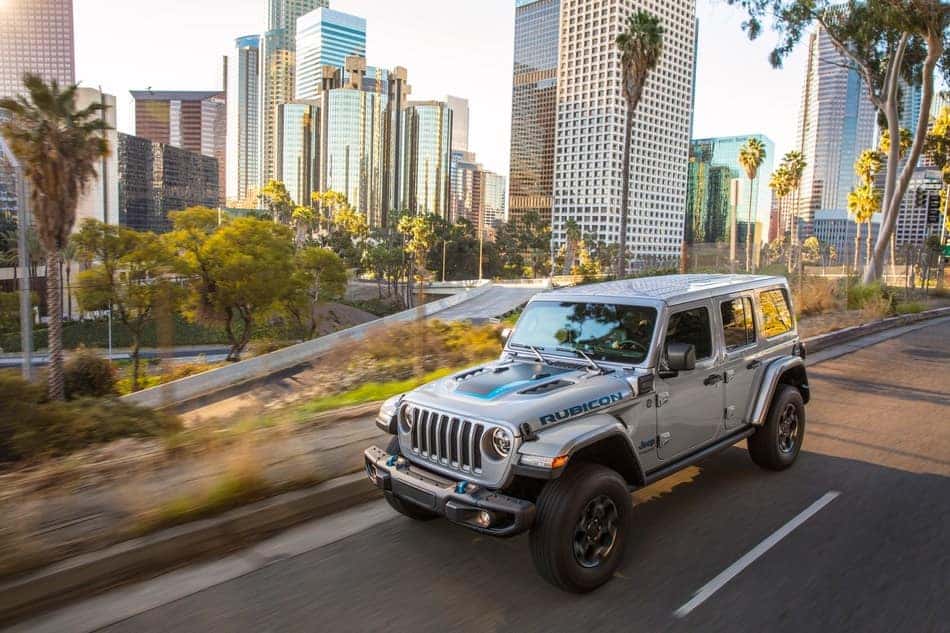 Not too long ago, the 2021 Jeep Wrangler 4xe earned top honors from Green Car Journal as the 2021 Green SUV of the year. Now, the model's been named the Hybrid Technology Solution of the Year by AutoTech Breakthrough Awards program. Jeep's global name for its plug-in hybrid electric vehicle technology is 4xe, the bit that's now added on to distinguish a Wrangler that's running on a plug-in hybrid powertrain. With up to 25 miles of nearly silent, electric-only, and zero-emission propulsion, the 2021 Jeep Wrangler 4xe is an all-electric daily driver and a commuter-friendly vehicle that doesn't induce range anxiety. Additionally, it's also the most capable and eco-friendly off-road Jeep vehicle to date — all wrapped up in the open-air freedom and "Go Anywhere. Do Anything" attitude that Jeep is known for.
"The Jeep Wrangler 4xe reaches a new audience by creatively mixing advanced propulsion with a staple in the off-road world. It is this combination of technology without sacrificing the core capabilities of the Wrangler that has earned the vehicle our Hybrid Technology Solution of the Year award," said Bryan Vaughn, President of Auto Tech Breakthrough Awards.
The 2021 Wrangler 4xe arrives with the most advanced powertrain ever placed under the hood of any Jeep vehicle, with its 2.0-liter four-cylinder turbocharged engine that's accompanied by two electric motors, one high-voltage battery pack, and paired with a TorqueFlite eight-speed automatic transmission. Drivers enjoy instant torque thanks to the electric motos, while the powertrain as a whole offers them a seamless, start-stop, fuel-saving operation of the engine. Efficiency is the name of the game and the Jeep Wrangler 4xe maximizes its efficiency with an estimated 50 miles per gallon equivalent (MPGe), a total driving range of nearly 400 miles, a 0-60 mph time of only 6.0 seconds, 375 horsepower, and 470 lb-ft of torque. An electric lifestyle can finally be paired with a vehicle that delivers unrivaled 4×4 performance, and benchmark off-road capability thanks to the 2021 Jeep Wrangler 4xe.
Drivers can tailor the powertrain to best suit each driving experience as they can choose from the E Selec mode buttons on the instrument panel. Hybrid is the default mode in which power comes from both the engine and electric motors. Electric mode is exactly what it sounds like, with power coming strictly from the battery until it is depleted, while eSave mode prioritizes the traditional engine, thus saving the battery charge for later use. Of course, all Jeep Wrangler vehicles must be Trail Rated and the 4xe is no exception as it features a full-time two-speed transfer case, 30 inches of water fording capability, a fully articulating suspension, and solid front and rear axles. The Jeep Wrangler 4xe will go on sale globally at the beginning of 2021 and will be assembled at the company's Toledo Assembly Complex in Ohio.
Have questions about the Jeep Wrangler 4xe? Reach out to The Jeep Experts via Hollywood Chrysler Jeep social media and they'll be sure to clear any questions you might have. In the meantime, if you're itching to go off-road check out the Jeep Wrangler and Jeep Gladiator inventory and schedule your test drive at Hollywood Chrysler Jeep today!
Photo Source/Copyright: Jeep