4 Ways to Increase Water Fording Capabilities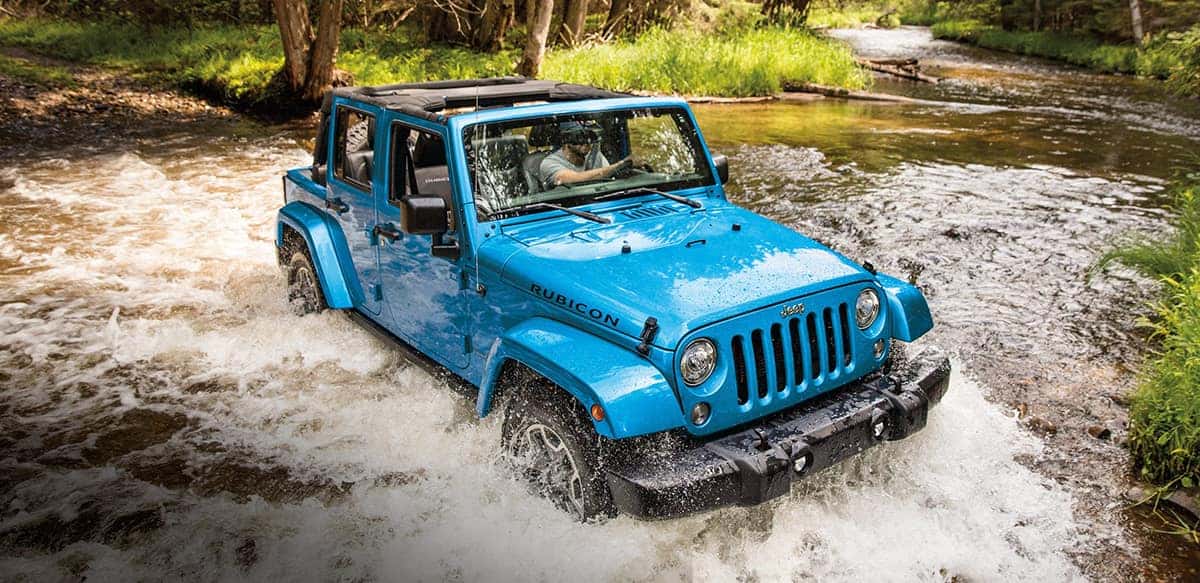 Jeep vehicles are known for providing drivers the opportunity of adventure because they are capable of handling nearly any terrain. But what about water fording? If you hit the trails often enough, sooner or later you'll have to cross water. From small streams to creeks, you'll want to cross a shallow part in the water. Let's examine some of the more common pitfalls and tips to know if you're ever water fording with your Jeep vehicle.
Make Sure Your Vehicle Is Off-road Capable
Before you go anywhere off-road and even think about going through water, you'll have to prepare with a lift kit to raise your ground clearance. You should also install skid plates to ensure your Jeep's undercarriage is protected from any rocks, random objects or hidden stones before entering water or going off-road.
Check Your Jeep Breathing Tube Locations
Before heading out on the trails, in an area you feel could have some water crossing, know what your Jeep looks like under the hood. Lift your hood up, identify the breather tubes for the rear and front axles, automatic transmission as well as the transfer case. These tubes are designed to relieve pressure in the system, if the tubes are submerged under water, the water will enter the system and contaminate the fluids used to lubricate the gears. That's a big no-no!
Upgrade the Hoses of Your Jeep
So now that we've covered the basics, the next step to water fording is if you're planning on driving your Jeep into any level of water, you should extend any breather hoses with tube extensions. There are companies online that offer kits that come with everything you need. You can stop by our service department to get the job done easily or also buy most of the parts separately and extend them yourself. If you plan on extending the factory hose or if you plan on replacing everything, you don't need the mender. First step is to be sure to buy small hose clamps to secure all the ends. Next, extend the hose either with the kit or your own method. Raise them as high as possible and ideally work them towards the air box. Once you've located a good spot, secure them in place. If you are routing them to the air box, it's important to first remove the air box and properly seal all the holes and seams to prevent any water from entering through the bottom or sides.
Be Sure to Keep Water Out of Your Engine
If you are still looking to drive through water more than a foot high, adding a snorkel is the next step. A snorkel system will extend your air intake, often up to the Jeep's roofline. This greatly increases its ability to submerge your Jeep in deeper water. You'll find a wide variety of snorkels at our parts department. It may look silly, but this could be the difference in making sure your Jeep's engine is able to stay running and power you to where you have to go. There's nothing worse than literally flooding your engine. Make sure you have the proper adjustments before starting your ride over water.
Know Your Jeep's Water Fording Capabilities
So, your vehicle is fitted and ready, you've gotten out to make sure your Jeep won't fall into any deep water or any danger if the ground underneath caves. A second check to make sure your Jeep vehicle isn't going into water deeper than 19 or so inches. If you've extended your Jeep's breather hoses, the new point of depth changes to the end point of the new hoses or the air box, if they were installed at the air box instead. If you've installed a snorkel the depth is theoretically now increased to the snorkel inlet. Don't come close to the edge on this. Once the water reaches that level, the engine will be completely submerged, potentially destroying sensors and electronics that make your Jeep run properly.
How To Cross a Body of Water
Once the Jeep's capability is determined, ensure that the water you plan on crossing isn't too deep. Any more than 19 inches is probably too deep, that's less than 2 feet. Also, keep in mind aside from water depth, see about floor stability by walking into the water and identify if there are obstacles sticking out of the water that are in the path ahead. Underneath tree trunks or foreign debris could potentially deal heavy damage to your Jeep's underbody or ruin your tires.  Remember, not every element is visible while crossing and you are often doing so blindly. Ask others who know the trail if there's an alternate route if you don't feel comfortable going through the water.
It's best to cross along the shallowest point where the water probably isn't as deep and the floor isn't as soft. If your Jeep tries to cross through the middle, this could lead to muddier conditions that you could get stuck in. Continue at a slow, but steady pace until you cross. After you're out of the water, keep the engine running and allow the water to fall out of your Jeep after crossing. Check that the brakes are still working. If water came into the cabin, lift the carpet and remove the drain plugs, so it could properly drain. Once everything has drained, do a walk through to inspect any damage that might have occurred while crossing. When you are comfortable there is no significant damage and the Jeep is safe to drive, you can continue on the trail ahead. You've now successfully water forded!
Where To Get Your Own Adventurous Jeep
 Every Jeep can be made special with unique customizable pieces and additions that every Jeep owner will love and make safer when going off-road or over any streams of water. With the most versatile configurations and ability to transform into the vehicle you want, for any of  your adventures, there's no shortness of fun with a Jeep vehicle.
If you need any more reasons to want to a Jeep, come and see our collection for yourself at Hollywood Chrysler Jeep. For all things Jeep, we're the name to trust. From our wide selection of new and preowned to our professional servicing department. No task is too small nor too large for us to handle. We look forward to making your experience a spectacular one.