5 Reasons Why Owning a Jeep Wrangler JL Makes Sense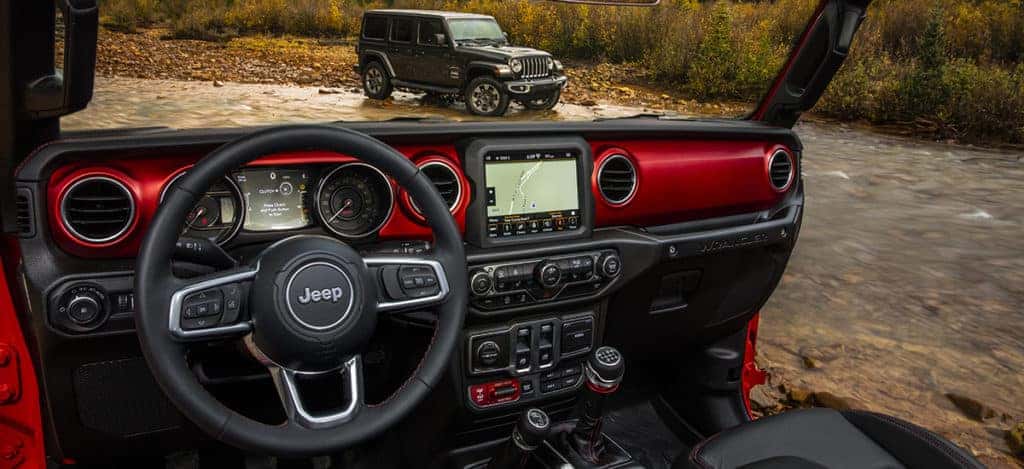 Photo credit: Jeep. All-new 2018 Jeep® Wrangler JL Sahara (top) and All-new 2018 Jeep® Wrangler JL Rubicon (bottom)
Among the many reasons that Jeep Wrangler JL owners love their ride, we'll go over our favorite five reasons. (There's many more reasons, but we'll let you find out your own when test drive the Wrangler JL.) From the ability to go on adventures nearly anywhere to the unique capabilities each Wrangler JL gives owners, we're ready to showcase this outstanding ride. Let's get right into it!
The Jeep Wrangler JL is the Latest Wrangler Around
The all-new 2018 Jeep Wrangler JL was first introduced this year (2018). Being the latest and greatest Wrangler is no small feat! This new Wrangler has a total of four available trims; the Wrangler Sport, Sport S, Sahara and Rubicon. Deciding on which trim is easy as they all have their perks and the Sahara trim is the only one that isn't available as a 2-door model. All trims provide remarkable control and benefits that will make driving one a fantastic experience.
After all, this is a vehicle with a rich history and this all-new generation has refined all the best aspects of owning a Jeep Wrangler while minimizing the few cons of owning one today. Owners of the Jeep Wrangler JL Rubicon trim can expect heavy-duty 33-inch tires and an 84.1:1 crawl ratio to ensure your vehicle can handle the off road like no other vehicle! The powertrain options consist of a turbocharged 2.0-liter DOHC engine with eTorque optimization and direct gasoline injection or a 2.6-liter V6 engine with variable valve timing for optimized performance. A new 3.0-Liter EcoDiesel V6 turbodiesel engine was announced, but it won't be available until later into the model year. (You'll have to wait for that.)  
Adventure, Adventure, Adventure!
To own a new 2018 Jeep Wrangler JL is to love adventure. The off-road trails await drivers of this spectacular vehicle. Built to handle the bumps, crafted to climb the steep angles and engineered to be your ticket to travel anywhere, the Jeep Wrangler JL has everything to handle traversing difficult terrain. From snow to dirt, muddy to bumpy, there's no stopping the latest Wrangler. The most ready off road vehicle trim is the Rubicon trim, which provides drivers with up to 30 inches of water fording ability with 10.8 inches of ground clearance to handle going over rocks and other obstacles quite easily.
Complete Accessibility
Available in either a 2-door convertible or 4-door convertible, owners can customize their experience from taking off the actual driver and passenger side doors to reshaping most of the exterior of the vehicle simply and easily. Even the windshield can be easily removed to provide total clarity while exploring in your Jeep. That accessibility is a huge reason why owners embrace the functionality the Jeep Wrangler JL provides.
Modern Technology + Entertainment
If you haven't driven a Jeep Wrangler JL, you might be surprised to find how well appointed the interior comes with a solid infotainment center that starts with the standard 5.0-inch touchscreen and push-to-start button in both the base Wrangler Sport and Sport S trims. A slightly larger 7.0-inch touchscreen comes with the Wrangler Sahara. An available 8.5-inch touchscreen with navigation is provided with the premier Rubicon trim and can be yours in the Jeep Wrangler JL. Infotainment has never been better than with the latest Jeep Wrangler. With access to your smartphone using Uconnect, you're set to have your eyes ahead on the road and answer any calls or texts easier than ever.
The Price Is More Than Affordable
Don't shell out your savings or future earnings towards a vehicle you won't embrace or enjoy driving every day. Many vehicles are boring and hardly the envy of other drivers; the all-new 2018 Jeep Wrangler JL is anything but either of those. Capture the eyes of adoring Jeep lovers and become a Jeep fan for life with the experience of owning one for less than you think. The starting price for a Jeep Wrangler JL is just $27,495 MSRP (plus destination fee) and at Hollywood Chrysler Jeep, we can help you finance a Wrangler JL should you need auto financing.
Your Jeep Home Away From Home
We welcome you to stop by Hollywood Chrysler Jeep today. We know the Jeep brand and all the perks of owning a Jeep Wrangler! Let our professional sales staff provide you with a test drive and provide tips about anything related to owning a Jeep.
Our fantastic selection of new 2018 Jeep Wrangler vehicles is second to none! We are located in Hollywood, Florida, which is between Fort Lauderdale and Miami. Best of all, Hollywood Chrysler Jeep is open seven days a week for sales, trade-ins and servicing. Look no further to gain the complete Jeep experience from your friends in Hollywood!