A Closer Look at the 3 New Engines Available on New Wrangler JL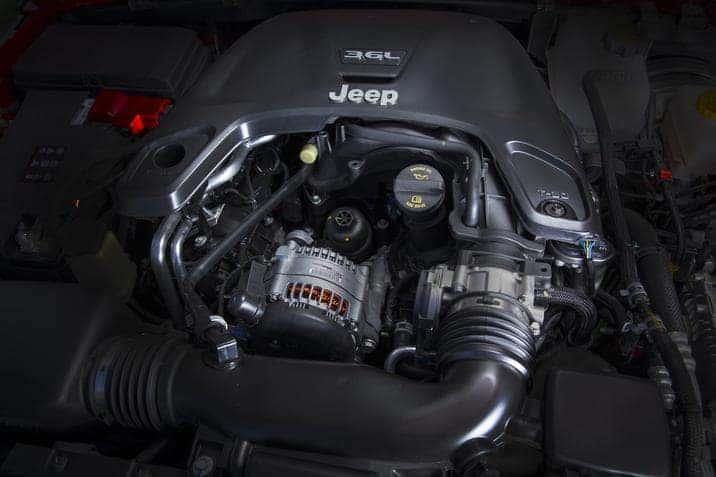 Jeep has always been great about offering customers plenty of ways to customize their Jeep Wrangler to meet their needs. The Wrangler JK was always available in several trmis ranging from off-road capabilities and equipment to price. While the all-new Jeep Wrangler JL may not be available in anywhere near as many trims as the Wrangler JK, customers now have the option of three engines, and to some that is more important than trims.
The available engines on the Wrangler JL include the return of the 3.6-liter V6 engine, and the addition of a turbocharged 2.0-liter four-cylinder engine and a 3.0-liter EcoDiesel V6 engine. Each of the three engines offer consumers something completely different, and that's definitely a practice that is pretty common in the truck world, and considering that a Wrangler pickup truck is slated to be released in the next few years, we can't say we're surprised.
While all three of the engines are pretty different from one another, one common thread among all the engines is fuel efficiency.  Both the 3.6L and 3.0L EcoDiesel engine are equipped with engine stop/start (ESS), a feature that conserves fuel by turning off the engine when it is idling, and the turbocharged 2.0L features a new eTorque system, which has a couple hybrid functions. Here's a closer look at the two new engines available on the all-new Jeep Wrangler JL.
3.0-liter EcoDiesel V6 Engine
The 3.0-liter EcoDiesel V6 engine is not new to FCA or Jeep, but it is new to the Jeep Wrangler. The 3.0L EcoDiesel engine is a great addition to the Wrangler lineup because it produces a lot of torque, which is something that is very helpful when rock crawling and towing. The 3.0L EcoDiesel engine will be paired to an eight-speed automatic transmission and together they produce a whopping 442 lb-ft of torque and 260 horsepower. In addition to the fuel savings from the engine's ESS, the engine will boost the Wrangler's fuel economy just by being a diesel engine.
Turbocharged 2.0L Four-Cylinder Engine
The all-new turbocharged 2.0L four-cylinder engine features eTorque technology, which provides a great fuel economy and a lot of torque. The 2.0L engine has best-in-class with 270 horsepower and 295 lb-ft of torque, which is more torque provided by the 3.6L V6 engine. The 2.0L engine has hybrid functions like auto stop/start, electric power assist, extended fuel shut-off, transmission shift management, intelligent battery charging and regenerative braking.
So far Jeep has not released any fuel economy averages for any of the three engines, but considering the improvements made with the vehicle's weight, aerodynamics and engine efficiency, we expect the new Wrangler JL models to have competitive fuel economies.
Want to try out a 2018 Jeep Wrangler?
Hollywood Chrysler Jeep has a huge selection of Jeep Wrangler models, so come by and test drive one today. We are open seven days a week and we have a very friendly and knowledgeable sales staff that will help you find a vehicle with the features you want and need and at a price you can afford.