Autonomous: What It Means For the Auto Industry and You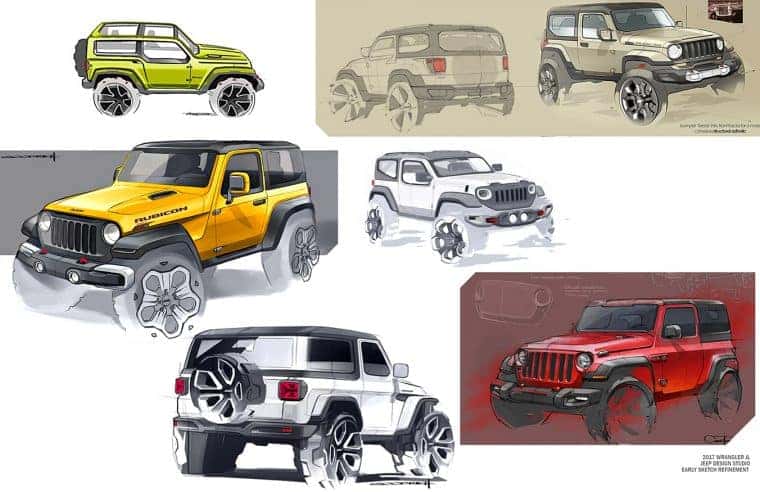 Photo credit: FCA
The future of automobiles is heading towards building autonomous vehicles. Jeep is one brand that has found a way to find success while slowly rolling out the latest technology being used across the auto industry, yet remaining a vehicle that stays in control with human hands. There's no Jeep we can see down the line that will attempt to take away the fun and control of driving a Jeep from the driver. Jeeps are all about providing adventure in total comfort.
But what does autonomous mean? How will this technology be integrated into retail vehicles? The next few years will see a larger development of vehicles that can do a lot of the driving for drivers, meaning drivers can worry less, especially in rush hour traffic.
The Way of the Future
Not long after the film Minority Report premiered last decade, wowing audiences by showcasing a future with self driving vehicles, people wondered when we would see that happen in real life. That was a future that seemed far, far away, but today we have reached the beginning of self-driving vehicles. Companies like Waymo have produced successful models that showcase the latest self-driving technology, and they continue the path towards implementing completely self driving vehicles.
Having an entirely safe autonomous vehicle is still in the distant future, but the chart for various autonomous features has been made. Jeep has its sights on including more self driving features with their recently announced five-year plan. Currently set to join the rank of Level 3 autonomous vehicles by 2021, Jeep is partnering with BMW to make this goal a reality.
Level 3 autonomous driving is hardly self driving, but it is a step closer towards autonomous vehicles. An upcoming 2020 Grand Cherokee will have Level 4 autonomous driving abilities that allow the driver to let the vehicle drive itself in certain situations. Level 3 is a distinct difference in comparison to Level 2, but drivers hoping for completely self driving vehicles will have to wait for the next decade for the most independent self-driving vehicles, Level 5 autonomous vehicles.
More About Those Autonomous Driving Levels
Vehicles where drivers have to perform all driving tasks like steering and breaking, would be considered a Level Zero Driving. To reach Level 1 automation, a vehicle needs to be able to provide Driver Assistance, like a vehicle that can tap the brakes if you begin to approach another vehicle traveling in the same direction. Level 2 is considered partial automation because the vehicle can assist drivers with acceleration and some assisted steering.
Levels 1 and 2 do not allow drivers to avoid paying attention to driving, whereas Level 3 and 4 autonomous vehicles have moments drivers can use to avoid having their hands on the wheels in certain conditions. Level 3 is conditional automation wherein the vehicle monitors the surrounding environment using sensors, and in some instances, the driver may leave most functions up to the computer, like braking with autonomous emergency brakes. Some Level 3 vehicles have been said to not need human assistance at speeds under 37 miles per hour, but it's still important for the driver to pay attention
Level 4 automation is high automation that is capable of braking, steering, and accelerating, as well as monitoring the vehicle and roads, and responding to traffic with proper turn signal usage. These features can only be used once the driver deems the road situations safe to use this mode. A vehicle with this level of autonomy would also be known as a semi-autonomous vehicle. Level 5, known as complete automation, is currently not available for retail, but that would be a completely driverless experience. No need for pedals, brakes or a steering wheel. The vehicle would be a moving pod to take riders to a destination, just like in Minority Report.
Upcoming Jeep Models
While we wait for Jeep to release their upcoming fully-electric and plug-in hybrid models, there's room for ultra fun vehicles like the upcoming Deserthawk trim to be introduced to multiple Jeep models. Crafted to be able to race over any terrain, including sand, the Deserthawk is a variation of the current Trailhawk trim, known for its focus towards rock crawling off-roading fun. Jeep is mixing up its variety of options for customers to include not only the same versatility it always has, but new technology infused as well. These upcoming everyday Jeep vehicles will benefit drivers much more than vehicles do today.
Part of the future for the Jeep brand includes the complete removal of diesel vehicles. Currently, diesel can be found in Jeep vehicles like the Cherokee, but there's been a focus towards building a strong electric vehicle fleet by 2022. The future for Jeep vehicles looks bright as sales for this year are expected to reach almost two million vehicles sold! That's a lot of Jeeps and for good reason. If you're looking for a vehicle that delivers fun while being ready for adventure, you'll see why Jeep is the perfect fit for both.
Test Drive the Newest Jeep Vehicles With Us
If you need any more reasons to fall in love with the latest Jeep vehicles, we invite you to come and visit our collection for yourself. For all things Jeep, we're the name to trust. From our professional service department that can help with any future modifications to our friendly sales team, you'll enjoy a wonderful experience at Hollywood Chrysler Jeep. Visit us to get vehicle maintenance or repairs done, even if you didn't buy your current vehicle with us. No task is too small nor too large for us to handle.
If you want assistance buying, selling or trading in your vehicle, come to Hollywood Chrysler Jeep. We look forward to making your experience a spectacular one!