Black Friday Event: Chrysler and Jeep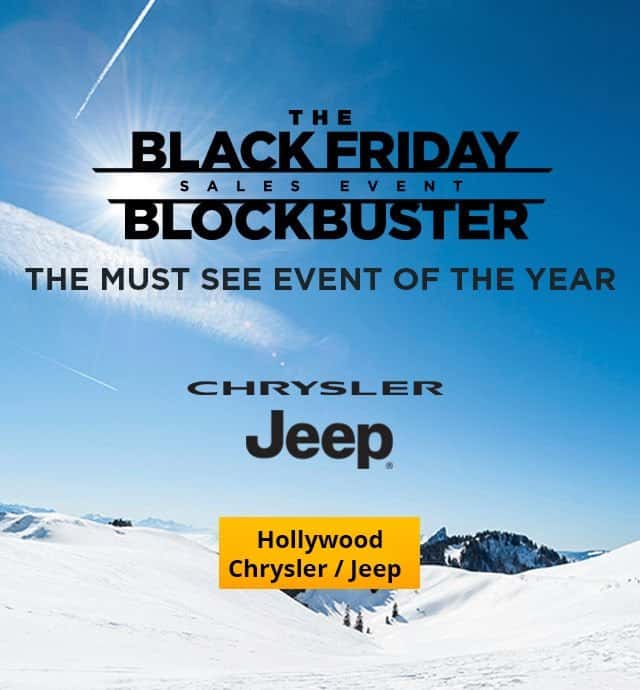 With Thanksgiving in a few days, the gift-giving holiday season is just around the corner. Whether shopping for the perfect Hanukkah or Christmas present — we all like big money savings. But the chaos, pushiness and early-morning schedule of discounted Black Friday shopping isn't for everyone.
Hollywood Chrysler and Jeep is offering Black Friday specials that last through Nov. 30 and give shoppers unbeatable deals on some of our best cars.
Chrysler models like the Chrysler Town and Country, Chrysler 200, and Chrysler 300, which was rated by J.D. Power Associates as the "Highest Ranked Large Car Initial Quality," are available for purchase at 0% APR financing for 75 months.
With winter fast approaching, a Jeep could be a great buy for safety and durability. Jeep is offering the same deal as Chrysler on the 2015 Jeep Cherokee Limited, Latitude and Trailhawk vehicles. Not only would a Jeep be a great buy for winter-weather but it was also recognized as one of the Best SUVs of 2015.
If you're on the market for a new car in the next coming months, purchasing a new car from Hollywood Chrysler Jeep before Nov. 30 could save you five years of interest on your car payments. We have several models available and you can view our inventory online or visit us in our store located at 2100 N State Rd. 7. in Hollywood, Florida.