Camping Accessories for your Jeep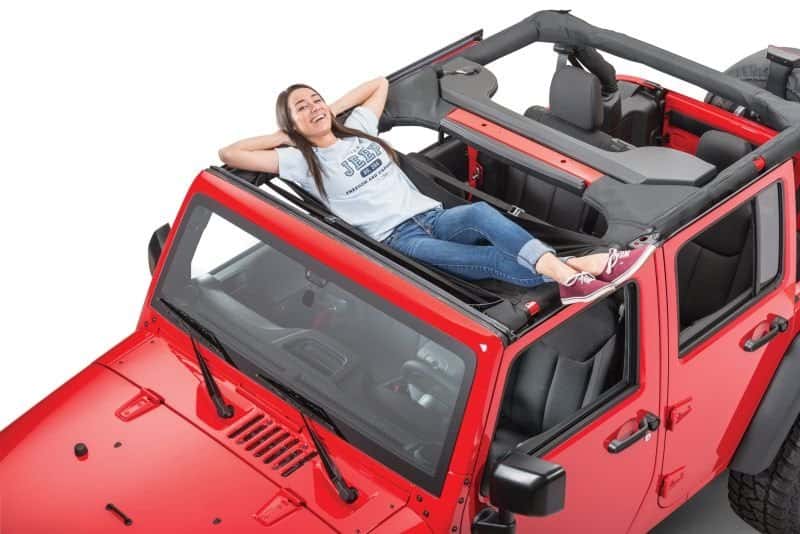 Jeep vehicles are the ultimate camping vehicles. They have the power, maneuvering and accessories to make any camping trip unique, enjoyable and memorable. A Jeep fitted with the right accessories, can bring you to the most remote locations and make you comfortable for a couple days to a few weeks. Below are three accessories made for Jeep vehicles that add a lot of comfort to campsite.
Jammock
Originally created for Jeeps, Jammocks are great accessory for anyone who goes camping with a Jeep Wrangler. A Jammock is similar to a hammock but uses the outer frame of a topless Wrangler as the supports for the hammock. Jammocks are easy to use and can be installed in under a minute. They are made of Cordura nylon, which is one of the strongest and most wear-resistant fabrics around so a Jammock will last for many, many camping trips.
Tents Specially Designed for Jeep
Mopar and other brands that are dedicated to creating vehicle accessories, have created tents complete with awnings and mosquito nets that are specially designed for Jeep models. The nice part about that is it allows you to easy access your Jeep and the valuables inside without having to leave the covered in space. Whether it's raining and you want to change, or you want to avoid the sun or mosquitoes, you can conveniently get what you need.
Want Jeep camping luxury?
Mopar has created two different camper trailers designed especially for Jeeps. Available as the "Trail" or "Extreme Trail" trailers, both units feature a queen-size bed, a sofa with storable table, a built-in aluminum cabinet, a 110-volt power supply and a premium canvas enclosure. Designed specifically for Jeep, these trailers won't be problematic on tough terrain and they are just as durable as a Jeep itself.