Car Comparison: 2016 Chrysler 200 + Chevy Impala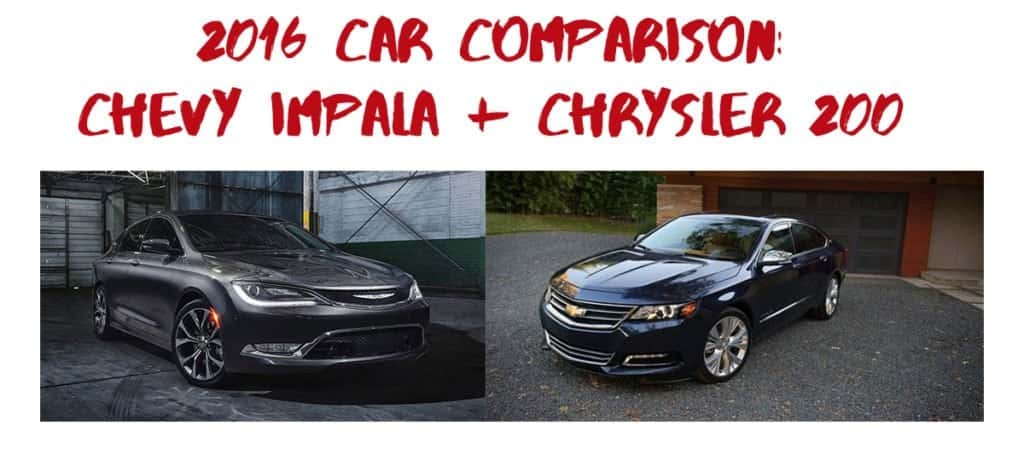 The 2016 Chevy Impala and Chrysler 200 are popular choices for full-size sedans. Both made by American car manufacturers, Chevy and Chrysler are popular brands throughout the states. For buyers looking for some quick insights on how both models compare, below is a comparison of engine specs, interior amenities, warranty as well as price between the most basic trims of each 2016 model — the Chrysler 200 LX and Chevrolet Impala LS.  
Engine Specs
2016 Chrysler 200 LX is a front wheel drive sedan powered by a 2.4-liter, I4 engine paired with a nine-speed transmission that can generate up to 184-horsepower. The 2016 Chevrolet Impala LS is also a front wheel drive sedan, but has slightly different engine specs. The Impala LS is equipped with a 3.5-liter, I4, six-speed automatic transmission and generates up to 196-horsepower.
Fuel Efficiency
While the Impala is slightly more powerful, the 200 is more fuel efficient. Drivers of the Chrysler 200 LX can expect about 26 MPG city and 36 MPG highway. In comparison to the Chevy Impala's 22 MPG city and 31 MPG highway, sacrificing 12 horses might be the right choice for people who are looking for a car that is powerful and more environmentally friendly.
Quick Look at Interior Features
At the interior, the Chrysler 200 LX has cloth bucket seats with a second-row bench seat. For entertainment, there is an AM/FM stereo, MP3 player and an auxiliary audio input. Navigation and communication are through an optional wireless cell phone hookup. The seats of the Impala are also cloth seats, except the driver's seat can be adjusted with powered buttons. Apart from the AM/FM stereo and the MP3 player, the Chevy has a satellite radio while navigation and communication are through the onboard hands-free system and wireless cell phone hookup.
Warranty and Price
In terms of pricing, the 2016 Chrysler 200 LX is priced about $5,000 cheaper. The starting MSRP of the 2016 Chrysler 200 is $21,995, while the 2016 Chevy Impala retails at $ 27,095. Both Chevrolet and Chrysler cars are backed by the same warranty — a three-year or 36,000-mile basic warranty and a five-year or 60,000-mile limited powertrain warranty.