Car Comparison: Chrysler 300 and Toyota Avalon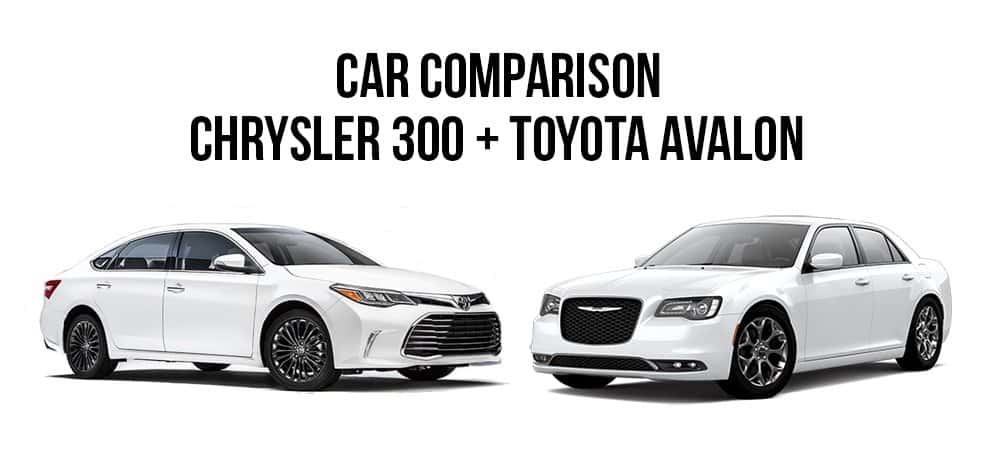 There are a number of options for car buyers looking for large family cars. Of all the options, the 2016 Chrysler 300 Limited and the 2016 Toyota Avalon XLE are two of the best equipped and best priced four-door sedans available. Both cars have great interior features and powerful engines.
Engine Specs
The Toyota Avalon XLE is equipped with a six-speed automatic transmission paired with a 3.5-liter V6 engine that produces 268 horsepower.The Chrysler 300 has a standard eight-speed transmission coupled with a 3.6-liter V6 engine that generates 292 horsepower — a bit more than the Avalon.
For city driving, the Toyota Avalon (21 city) has a slightly better fuel economy than the Chrysler 300 (19 MPG), but on the highway both cars receive 31 MPG.
Interior features
Chrysler has a spacious interior with an 8.4-inch display screen with crisp graphics and Uconnect Access Software. It also has heated beige and black patterned leather seats, and is fitted with Beats Audio System.
The Toyota, classified as a luxury sedan, has an ultra-modern and luxurious interior with a backup camera, a 7-inch screen, leather seats and Toyota's Entune audio.
Safety Ratings by the IIHS
The crashworthiness of the Chrysler 300 was marginal for small overlap front, and good ratings for the other four IIHS categories. The front crash prevention was rated as Superior. As for the Avalon, it received an overall good rating for all areas and an overall superior crash test rating.
Price
The Chrysler 300 has a starting MSRP of $32,015, making it only slightly less expensive than the Avalon's starting price of $32,650.
Warranty
Both cars have a 3-year or 36,000-mile basic limited warranty and a 5-year or 60,000-mile powertrain warranty. Additionally, Chryslers come with five years or 100,000 miles of roadside assistance.
Where can you get one?
For more information on the Chrysler 300, click here. Additionally, Hollywood Chrysler Jeep has a great selection of Chryslers. And, since we accept trade ins and used vehicles, we may also have a Toyota Avalon for sale. Come and test drive one today.