Celebrate 80 Years of Innovation with Mopar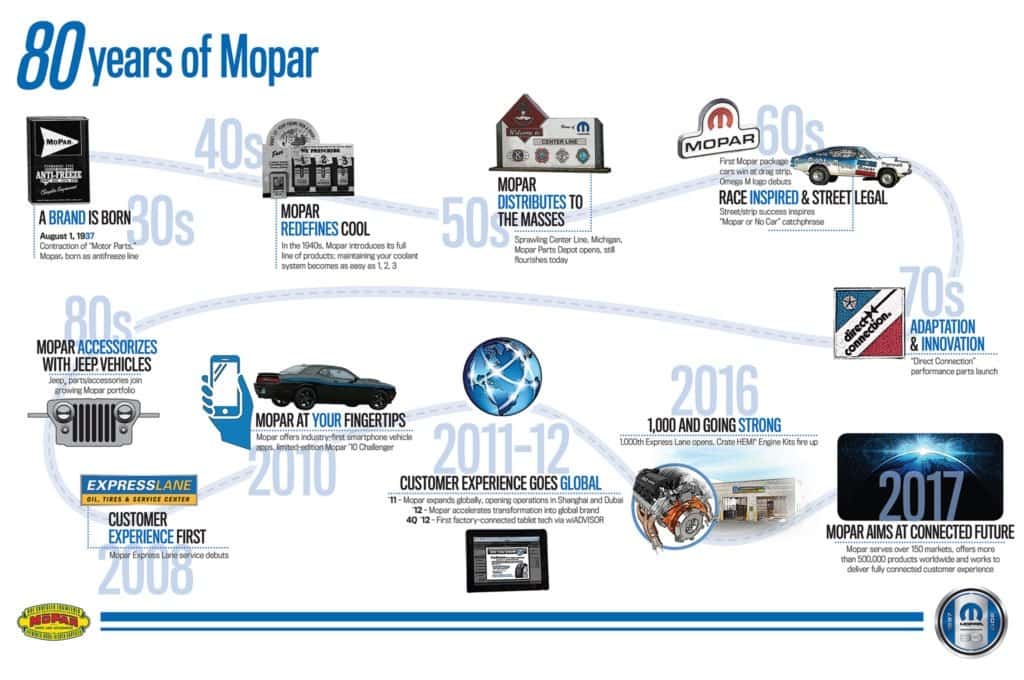 It's been 80 years since Mopar came into the auto market, and ever since it hasn't been the same. This year marks Mopar's 80th Anniversary, and they've come a long way. Today, Mopar is a do-it-all team ranging from custom auto parts to auto service.
Serving more than 150 markets and featuring over 500,000 performance parts and accessories for Dodge, Chrysler, Jeep, and Ram vehicles, Mopar has made a name for itself in the auto industry. Last year, Mopar was recognized by the National Hot Rod Association (NHRA) and won the Manufacturers Cup, they put together very stylish truck and SUV concepts and they are still creating new parts and tech to improve engines.
Have you noticed Wi-Fi hotspots popping up in vehicles? The new Hum by Verizon? Technology like that started with Mopar. They even have smartphone apps that can relay vehicle information to drivers. It's clear to see Mopar does a lot more than work with car products and auto parts.
Ever hear of Mopar Complete 360? It's a maintenance plan developed by Mopar for protecting vehicles and providing service to keep them running like new. It covers the entire vehicle, maintenance, wear and tear, and even provides towing and roadside assistance services. This isn't the only way to experience what Mopar can do for your vehicle. Many service centers around the country have Mopar working with them to tune-up cars, install parts, and more.
If you've been looking for ways to get the most out of your Dodge, Chrysler, Ram, or Jeep be sure to check out the Mopar Performance catalog. They have cold air intakes, catback exhausts, suspension kits, leveling kits, and a lot more. Be sure to check them out around August too, as they may do a little something special to celebrate 80 years. You never know.
A big thanks to Mopar for changing up the auto market in a big way.
Photo Source: automobilemag.com