Charging Your Chrysler Pacifica Hybrid in South Florida
Wow, hybrid and electric cars have really started to spring up around the auto industry. It seems like every brand is coming out with a hybrid, plug-in, or pure-electric vehicle concept whenever there's an auto show. Take the Chrysler Pacifica Hybrid for instance. Alternative fuel vehicles like this are gaining popularity, and although it's called a "hybrid", the Pacifica Hybrid is actually a plug-in, meaning consumers can charge up the battery independently of the engine. That raises one question though. Will people have trouble finding a place to charge up when not at home? South Florida is doing pretty well so far on that front.
Charging Station Growth
As it currently stands, gas stations aren't quick to install electric charging stations. After all, anyone who owns a gas station is making their money off the average consumer that pays to fill up their tank. No one buys a gas station to make pennies off of electric vehicles. However, that doesn't mean cities won't find the funds to install public charging stations.
Look at this chart.
According to the chart above, there were only 222 charging stations in South Florida in 2004. Back then, the main contenders in the EV and hybrid segment were Toyota and Honda until Tesla joined the fray in 2008. Just two years after Tesla entered the game, the number of charging stations more than doubled to a total of 510 charging stations in South Florida.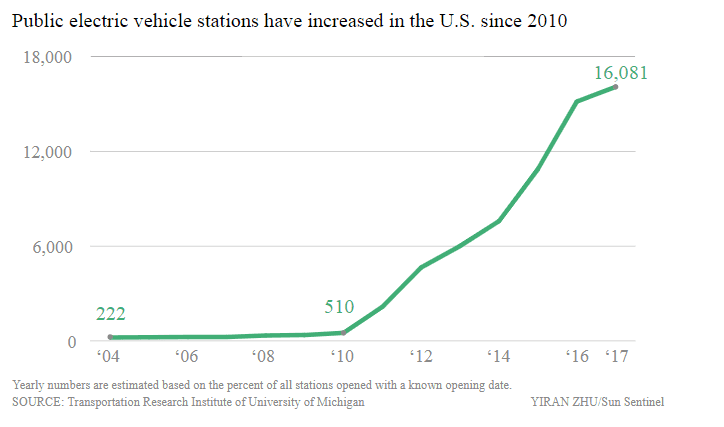 Now (2017), there are more than 16,000 charging stations in South Florida. The city of Fort Lauderdale has 13 charging stations. West Palm Beach has seven in total. Consumers can find at least five in each of the following cities – Boynton Beach, Pompano Beach, and Hollywood. Dania Beach has four, and many more are sprinkled around the Miami area (Miami Beach, Downtown Miami, and North Miami).
How to Find Them and Charging Times
Let's say you're driving around in the Chrysler Pacifica Hybrid. There are plenty of alternative vehicles to choose from today, but with Chrysler working with Google on the self-driving hybrid car project, we think the Pacifica is the perfect example for going green at the moment. Especially since the Pacifica Hybrid has a range of 566 miles with a full tank of gas and a full charge, consumers need not fret too much about where to find a charging station.
For those of us in South Florida, there is one for sure website to check out for finding charging stations. It's the Sun Sentinel (bit.ly/2xtnCBZ), with an interactive map that only needs an address to find charging stations near you. If a news website isn't your bag, there's mobile apps like PlugShare and exclusive services like ChargePoint (also available with an app). Of course there's always Google Maps and the Yelp app, too. If driving the Pacifica Hybrid, Uconnect Access can also offer customers remote access to the vehicle's state of charge, charge status updates, the ability to schedule charging, and charging station locations.
As noted above, although the Chrysler Pacifica Hybrid is called a "hybrid," it's actually a PHEV, or plug-in hybrid electric vehicle. Unlike hybrids, PHEVs have a battery that is large enough to power the vehicle without relying on the engine – but that also means that the battery needs to be recharged.
The Chrysler Pacifica Hybrid has a Level 1 (120-volt) charging port that can be plugged into any wall outlet at home and fully recharge the Pacifica Hybrid in 14 hours. To recharge the vehicle faster, users can get a Level 2 (240-volt) charger and fully recharge the vehicle in two hours. Level 2 chargers are available at almost all public charging stations and they can also be installed at home.
Alternative fuel vehicles have become more practical with the growth spurt in charging stations around South Florida and the nation. They're easy to find with a simple mobile app. If driving in a popular vehicle like the Chrysler Pacifica hybrid, you can charge overnight while you sleep or get going in as little as two hours. Can anyone really argue about that? Chat with us on social media and let us know your thoughts about the Chrysler Pacifica hybrid or other alternative fuel vehicles.
Photo Source/Copyright: Sun Sentinel and miamilakesautomall.com