Chrysler and Disney/Pixar Join Forces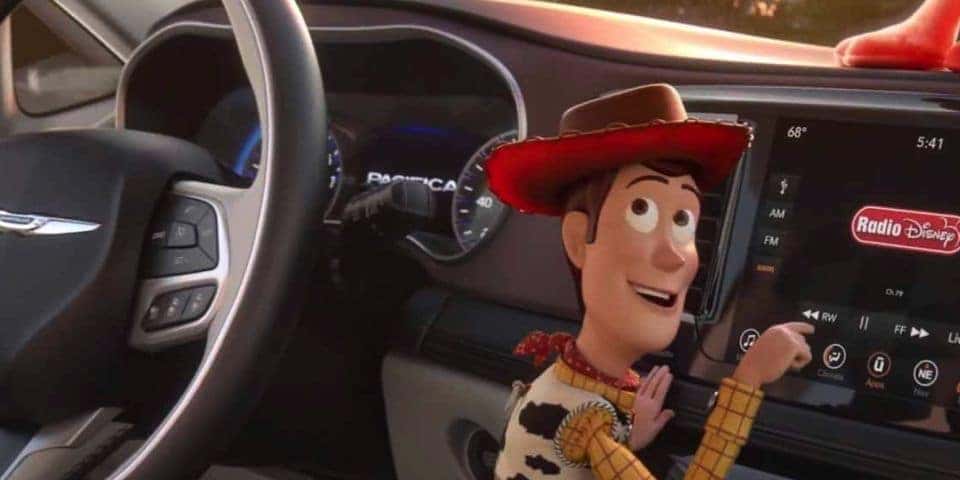 Disney and Chrysler have teamed up for the upcoming release of Toy Story 4. In what's to be a series of ads leading up to the release, the film will be promoted along with both the Pacifica and Pacifica Hybrid. Various 30-second ads will star the iconic cartoon characters from the franchise, including Space Ranger Buzz Lightyear and Sheriff Woody. Oftentimes, crossover advertisements feel forced and can come off as awkward, but this just-released one works quite well.
The first commercial features characters from Toy Story 4 having their very own (and not to mention animated) dance party in the back of the Chrysler Pacifica. Music and Lights are included as you'll be able to see below. The ad does a perfect job showcasing the Pacifica's interior perks such as the handy built-in Stow 'n Vac vacuum cleaner, Stow 'n Go seating that can be seamlessly stored under the floor at the press of a single button and two large screens behind the front seat headrests that showcase the minivan's infotainment system.
Many car buyers are leaning towards crossovers and SUVs as the automotive market continues to revolutionize and adapt. However, both the Pacifica and Pacifica Hybrid are hits with families as both models have plenty going for them. Powered by a 3.6-liter Pentastar V6 engine and two electric motors that work in tandem, the Pacifica Hybrid offers an all-electric range of 33 miles total and an EPA fuel economy rating of 84 MPGe. This isn't to say that the non-hybrid variant of the Pacifica is not fuel efficient, in fact, the Pacifica offers fuel economy ratings as follows – 19 mpg in the city, 28 mpg while on the highway and a combined fuel economy rating of 23 mpg.
The adorable partnership is a no-brainer, both the 2019 Pacifica and Pacifica Hybrid are perfect vehicles for any Disney-supporting North American family. The Pacifica is an important player for Chrysler in the North American market as it sold a total of 118,322 units in 2018, making it one of Chrysler's best-selling models. Rumors are circulating that an all-wheel-drive variant is on the way for the lineup, but the automaker has yet to confirm anything. Chrysler does not comment about any vehicle that's currently in production. Toy Story hits theaters on June 21 (2019), but the 2019 Pacifica and Pacifica Hybrid are available at Hollywood Chrysler Jeep ready for you to schedule your test drive! No disco dance lights or toys included.
Browse the 2019 Chrysler Pacifica and Pacifica Hybrid inventory at Hollywood Chrysler Jeep and find the minivan that best suits your needs. Follow Hollywood Chrysler Jeep on social media to stay up to date with the latest Chrysler news.
Photo Source/Copyright: Chrysler