Pacifica Hybrid is a Not-Boring Minivian for a Not-Boring Family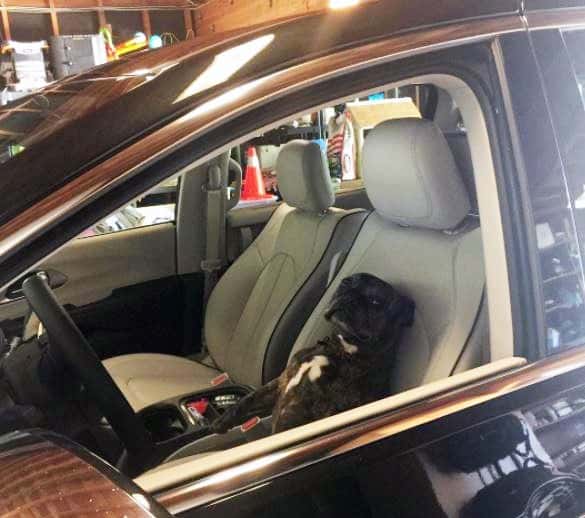 Out of all of the people Chrysler should and could have picked for their Chrysler Pacifica and Pacifica Hybrid campaigns, it's Courtney Jaedtke, but they didn't. However, Jaedtke recently bought the Chrysler Pacifica Hybrid and it's a pretty perfect match, here's why.
Demographic
Chrysler has been saying that the Chrysler Pacifica and Pacifica Hybrid is "not a boring minivan" and it is meant to break the "soccer mom" stereotype and well, that is Jaedtke, check her out on Instagram at @napkinapocalypse. She is a 30-something mom and she is far from boring. Jaedtke is a creative mind with a background in animal training and she is also the wife of professional surfer, Dane Reynolds. While Reynolds stays busy surfing, Jaedtke stays busy with animals, her French bulldog, Pam (Instagram: @PamLovesFerrariBoys), and raising their young, growing family of one boy and soon-to-be-twin girls.
Environmentally Friendly
Jaedtke is an animal lover and she is passionate about the environment, so the spacious Chrysler Pacifica Hybrid that has a fuel economy of 84 MPGe is perfect for someone who needs to be able transport a growing family as well as the clothing shipments from Pam's brand (yes, the dog has a clothing brand), but doesn't want a large gas guzzler to do it. Oh, and she lives in California, so it definitely meets all of California's environmental regulations and incentives.
Spacious
Not only does the Pacifica Hybrid have room for three kids, two parents and some animals, but it also has plenty of room for Dad's surfboards. Whether in the cabin or on top of the minivan, the Chrysler Pacifica Hybrid is large enough to fit a family, luggage and surfboards on their way to a weekend getaway.
Makes Parenting A Little Easier
Unlike SUVs, which have the space for a growing family, the Pacifica Hybrid has a variety of helpful features that make being a mom and dad just a little bit easier.
Hands full but need to open the doors for your kids? The Pacifica Hybrid has electric sliding doors and trunk, so opening doors with hands full is as easy as pushing a button on the key fob.
The Pacifica Hybrid also has Stow 'n Go seats, so when Mom and Dad need a little extra cargo space and the second-row seats are not in-use, they can fold the seats into built-in floor storage compartments for extra cargo space.
Uconnect Access makes it possible for users to check on their vehicle (battery levels and other functions) as well as turn their vehicle on and cool it off before getting into the vehicle.
The Pacifica Hybrid has excellent entertainment options. It's available with dual screens to play movies, TV shows and games and keep the kids entertained on long road trips.
Maybe next time, Chrysler will give her a new Pacifica for free. If you want to check out the Chrysler Pacifica and the Pacifica Hybrid, check out our Chrysler Pacifica inventory online.
Photo Credit: @PamLovesFerrariBoys Instagram photo