Chrysler Pacifica and Kango Partner Up for Rideshare Service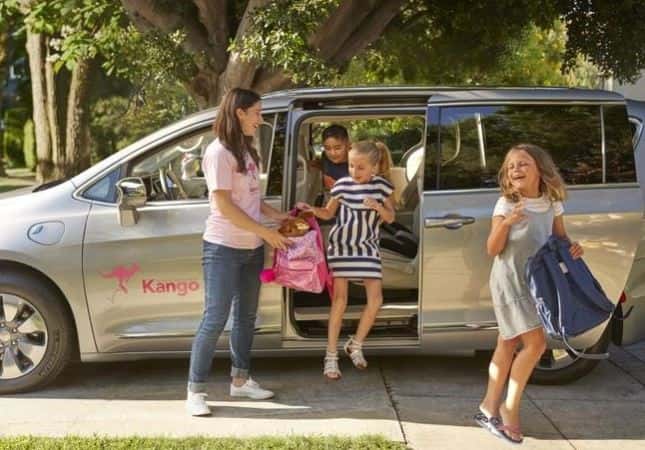 For the first time, Chrysler Pacifica Hybrid and app-based Kango have come together to provide reliable and safe rides for children in preschool all the way up to high school. In this first-of-a-kind partnership, the Chrysler brand is making a fleet of new Chrysler Pacifica Hybrid available at an affordable lease price to qualified Kango drivers. Not only does the new initiative promote safety for children, but it also promotes fuel efficient vehicles.
Founded by CEO and Silicon Valley startup veteran, Sara Schaer, and Kango CTO Kaliyuga Sivakumar, Kango is a safe on-demand service that offers rides to busy families. Available in six counties in the San Francisco Bay area, Kango has offered thousands of rides for kids of all ages, including parents and nannies.
"Kango is excited to partner with Chrysler to makes its new Pacifica Hybrid minivans available to our eligible drivers," Schaer said. "In addition to being a green vehicle with the best mileage of any minivan, the Chrysler Pacifica Hybrid will help us meet the growing demand for shared carpool rides for groups of kids going places. Drivers save money on gas. Kids are delighted with the minivan's kid-friendly features. It's a win for everyone."
In order to be qualified to be a Kango driver and caregiver, candidates are required to have previous childcare experience, a clean background and have a good driving record. Additionally, potential Kango Divers are Trustline-certified, fingerprinted, screen in person, which has led Kango to win "Best Uber for Kids" in the San Francisco magazine's 2017 best of San Francisco award. For the little ones, Kango provides car and booster seats which adds an exceptional convenience factor. Kango also provides pre-scheduled and same day pickup and allows parents to meet the driver beforehand for added peace of mind.
"Parents and children today are busier than ever and often need to be in multiple places at one time. The Chrysler brand is focused on providing transportation solutions for families to make their lives easier," said Tim Kuniskis, Head of Passenger Car brands – Dodge, SRT, Chrysler and FIAT, FCA – North America. "The Chrysler Pacifica is the ultimate family vehicles, and with the addition of the Chrysler Pacifica Hybrid, it's now the most fuel-efficient family vehicle. Together with Kango, we will make it easier for parents to manage conflicting priorities at work with the knowledge that their kids are being transported to their activities in a safe environment."
What makes the Pacifica Hybrid an even more incredible option for parents is the fact that the Chrysler Pacifica is kid-friendly. It comes equipped with the largest dual touchscreens of any family car and built-in games and apps with available Uconnect theater system, so those early mornings won't seem so bad. Another convenient feature is the size of the Chrysler Pacifica, which makes car-pooling and multiple pickup and drop-offs easier for the driver and passengers alike.
"Overall, Kango is so excited to be working with Chrysler to delight our customers with a best-in-class ride experience, and to advance the future of safe, environmentally friendly transportation for families," Schaer said.
Interested in test driving a Chrysler Pacifica? Come visit Hollywood Chrysler Jeep located in Hollywood, FL or check out the available inventory on our website.
Photo Credit: FCA Media Site