Coolest Jeep Concepts at Moab Easter Week
Jeep enthusiasts, like us, look forward to one event every year more than any other, the Moab Easter Jeep Safari. In addition to thousands of Jeepers getting together, Moab Easter Jeep Safari is when all the latest Jeep concepts are showcased each spring.
Ranging from unique looks to colors, all of the concepts have their own speciality and purpose. Aside from looking cool and being the ultimate off roading Jeep vehicles that we would love to get our hands on, we wonder which ones will hopefully end up in full scale production down the line. Here's what was revealed at this year's event.
Jeep 4SPEED
Pictured above, the Jeep 4SPEED concept is the flashiest among the 7 concepts that were introduced at the 2018 Moab Easter Jeep Safari. If Jeep had a roadster vehicle, this is exactly what it would look like. Complete with their new 2.0-liter turbocharged 4-cylinder engine, no roof, rear seats or even doors, this vehicle is the ultimate outdoor Jeep vehicle. While the Jeep 4SPEED has some elements of the Jeep Wrangler, the concept model is a lot lighter and taller,  and it offers more than two inches of ground clearance in comparison to standard Jeep Wrangler models. The concept is complete with Dana 44 axles, while 18-inch monoblock wheels are shod in 35-inch BFGoodrich Mud-Terrain tires.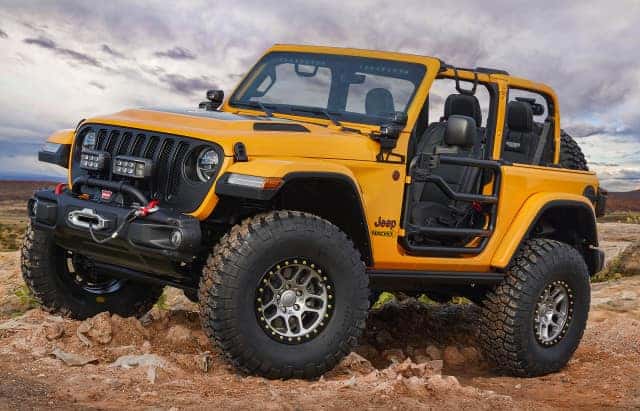 Nacho Jeep
This is an idea that might not get off the ground, simply due to how outrageous this concept is, but what a name and sight to behold in the Nacho Jeep. The exterior of the Jeep is bold, and it's the color of nacho cheese (hence the name), and there's no lack of imagination with this creation. A Mopar upgraded vehicle with every part seemingly replaced from top to bottom from the Mopar brand. Take the 17-inch beadlock wheels shod in 37-inch off-road-rubber, thicker and wider rock rails. Additional LED lighting sets that serve many purposes from the rear are unique. Driver's can set the rear LEDs to communicate trail positions or inform other drivers behind them, providing a useful tool for a range of situations.
Jeep B-Ute  
Among the odder concepts, this concept looks like its covered in additional armor or padding with its black on metallic black exterior and interior colors, almost like when the Batmobile puts its shields up in the classic 1989 Batman film. The Jeep B-Ute concept is a compact Jeep vehicle that resembles the Jeep Renegade, and its exterior is complete with a roof rack and rock rails and the model is powered by 2.4-liter 4-cylinder engine. Set with a 1.5 inch lift on 17 inch wheels, the Jeep B-Ute is one of the highlights of this year's crop of concepts.
Jeep J-Wagon
The J-Wagon looks like a typical Jeep Wrangler Rubicon that keeps the same stock ride height. This concept keeps the Wrangler Rubicon black grille, has a snorkel included and looks like any Jeep you'd see on a lot somewhere. Unfortunately is the only concept that truly doesn't separate itself with anything truly special, but the same can not be said about the next Jeep concept pictured below.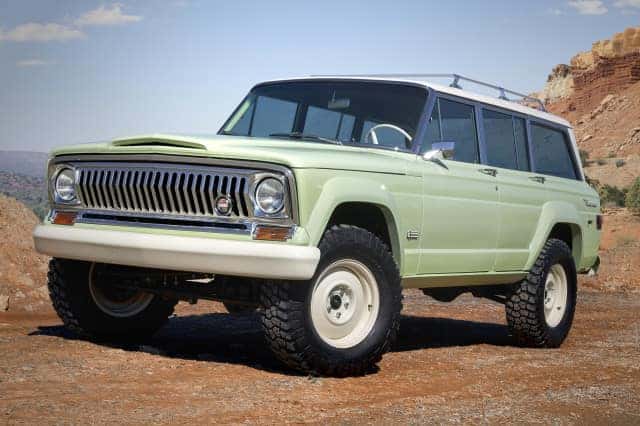 Jeep Wagoneer Roundtrip
The greatly improved return of the Jeep Wagoneer in the form of the Wagoneer Roundtrip. This classic Jeep vehicle was once a popular choice through its run in the early 1990s. The choice of a light mint green invokes a vintage feel, complete with the boxy look and large, elongated grill that stands up on oversized 17-inch steel wheels. This Jeep concept catches the eye as a ridiculous ride that looks like it came straight out of Pleasantville. If you wanted to go on a picnic literally anywhere, this monster is capable of taking you there. The 5.7-liter Hemi V8 engine, front and back Dana 44 axles with lockers keep the Jeep agile over any terrain. Beefy 33-inch BFGoodrich Mud-Terrain tires only add to the ability this concept has to go the distance of anywhere a driver desires.
Jeep Sandstorm
With a unique look and bright orange color, this Jeep concept packs a 6.4-liter V8 engine with 6-speed manual transmission. Built to tackle rocks and sandy desert terrain, this concept has an outstanding set of 39.5-inch BFGoodrich Krawler tires on 17-inch beadlock wheels and long-arm four-link front suspension and bypass shocks.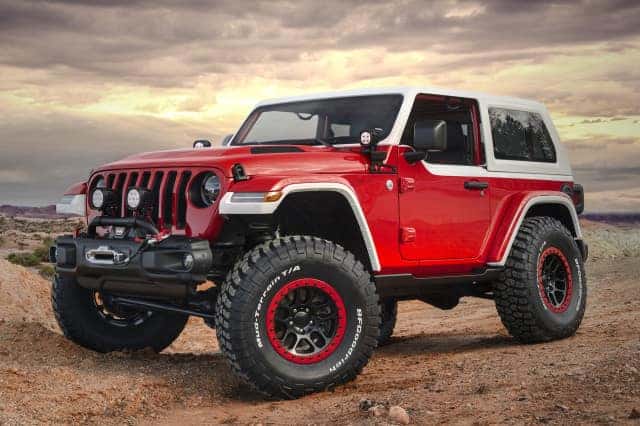 Jeep Jeepster
Among all the concepts, this one might steal the spotlight as the most over the top. With inspiration from the 1966 Jeepster and the original steel frame, this Jeep concept has half doors, the Rubicon's fender flares and extra lights on the A-pillar with a two inch lift and 37-inch BFGoodrich KO2 tires. The bright red color with red trim around the 17-inch beadlock-capable wheels compliment each other.
Where You Can Drive the Latest Jeep Vehicles  
For a chance to drive a Jeep vehicle that's currently in stock and ready to go for a test-drive, stop on by Hollywood Chrysler Jeep today. Our line-up of new and used vehicles will entice you and make it hard to decide on which vehicle you'll want most. Let our professional A-team staff ensure you go home with a Jeep you'll love. Whether you buy, lease or have a trade-in for us, we're happy to help you.