Dana Expands its Lineup of Aftermarket Axles for the Jeep Wrangler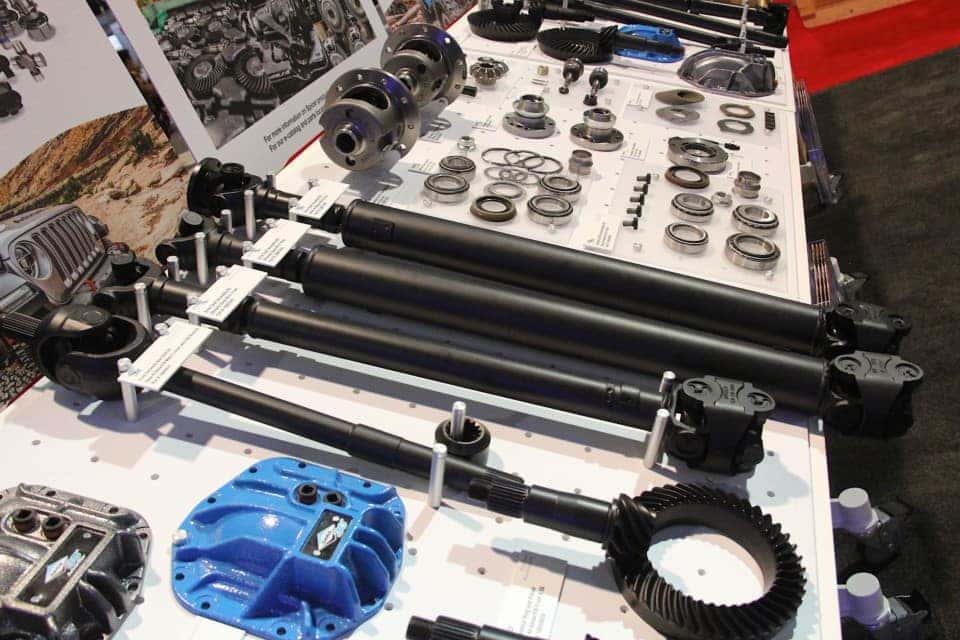 Dana Incorporated, an American worldwide supplier of drivetrain technologies, recently participated in the 2018 SEMA show where the company announced that it is expanding its line of aftermarket Dana axles and Spicer drivetrain components for the current generation Wrangler. The line of available axles now includes Ultimate Dana 44 AdvanTEK® front axles and the Ultimate Dana 60 front and rear axles. Additionally, Dana Inc. also offers Spicer® performance nodular iron differential covers, bearing kits, expanded gear ratios, double cardan drive shafts, and chromoly axle shafts as part of its line of available aftermarket upgrades.
While at SEMA, Mark Wallace, executive vice president and president of Dana's Commercial Driveline Technologies and Aftermarket stated that "Dana is utilizing its more than 115 years of drivetrain knowledge to be the first to market with an exclusive range of aftermarket drivetrain products for the current generation Jeep." Besides the above-mentioned additional offerings Dana also plans to expand the line to include gearing options and performance options for those off-road enthusiasts that are seeking to take their Wrangler vehicles to the next level. When it comes to such a customizable vehicle like the Wrangler it definitely pays to be the first to offer aftermarket parts – oh, and Dana's 115-year history of delivering quality products certainly can't hurt.
Ultimate Dana 44 AdvanTEK Axles
These axles are bolt-in replacement upgrades for the front axles on the current generation Jeep Wrangler. They come in different ratios – 4.56, 4.88, 5.13, and 5.38 – in order to accommodate the varying tire sizes. The axles feature:
Direct bolt-in axle assembly for compatibility with original equipment components
Thicker 9.5mm axle tube
Nodular iron differential cover with extra ribbing for added strength
Thicker ¼-inch steel mounting brackets
Chromoly axle shafts
High clearance carrier design with a ½-inch increase of ground clearance
Ultimate Dana 60 Axles
These axles are also bolt-in replacement upgrades for front and rear axles on the current generation Jeep Wrangler. They come in different ratios – 3.73, 4.10, 4.88, and 5.38 – to also accommodate different tire sizes and are equipped with an Eaton E-locker – an electronic, selectable differential specifically designed for high-performance off-road applications. Additional features of these axles include:
Full-float design for greater load-carrying capacity
Nickel chromoly steel axle shafts
An enhanced carrier with Spicer performance ring and pinion gearing
Improved heavy-duty brakes with a plug-and-play antilock braking system
Additional Aftermarket Offerings
Like we mentioned earlier Dana also offers Spicer performance nodular iron differential covers that are mated to front and rear Dana 44 AdvanTEK axles and are available in two finishes – blue or gray. Spicer master overhaul and standard differential rebuild bearing kits for these same axles are also available.
The Jeep Experts here at Hollywood Chrysler Jeep know that aftermarket parts can easily become confusing to tackle on your own, but the upside to this is that they're more than capable and willing to help with all of your aftermarket needs. Schedule a service appointment online today or reach them via phone at (954) 251-0943.
Photo Source/Copyright: offroadxtreme.com