Don't Get Stuck Off-Roading in a Jeep Wrangler with These Mods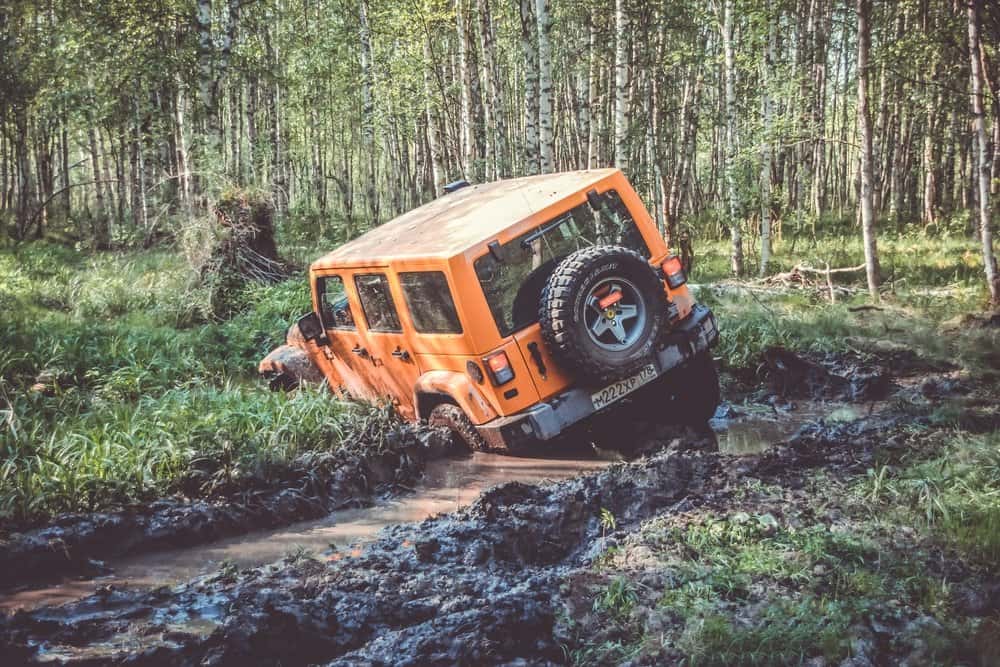 Getting stuck off-roading is never fun, especially in a new Jeep Wrangler. Not to mention, getting stuck can damage the underside of the vehicle, and mud or water can get into the exhaust, which could possibly get into the engine, as well as a variety of other issues. Of course, sometimes getting stuck just happens, but here are some mods for your Jeep Wrangler that will decrease the chances of you and your Jeep from getting stuck.
Tires + Lift
Adding a big set of mud tires and a lift kit is one of the best ways to decrease your chances of getting stuck off-roading. Adding tires and a lift kit can range anywhere from $900 to a couple thousand dollars. However, if you plan on mudding or going through water in your Jeep Wrangler, the money you spend will be worth it. The higher the ground clearance the deeper a vehicle can go in mud and water without flooding your Jeep's engine. Also, the increased ground clearance increases departure, approach and breakover angles and it is great for rock climbing.
Engine Performance
Adding horsepower and torque is another great way to try to prevent getting stuck in the mud. One way to add horsepower is doing an engine swap for a bigger engine, but that can be costly and void the manufacturer's warranty. Other ways to increase your Jeep Wrangler's horsepower include a performance chip, modifying the vehicle's exhaust, adding headers, and adding on a cold air intake or a supercharger.
Lighting
Do you go off-roading at night? What looks like a puddle could turn out to be a deep rut or maybe you didn't see that big obstacle in the way and next thing you know, you're stuck. The standard headlights on a Wrangler might not provide enough light when off-roading at night, so adding more light with a light bar or getting brighter headlights can be very helpful.  
Winch
In some cases getting stuck is unavoidable and a winch is almost always going to help you free your vehicle. A winch has a rope or chain (comes in various sizes and strengths) with a claw at the end for hooking. The winch device is secured on the front of the Jeep. So, to get pulled out, all you need to do is hook the chain/rope to another vehicle's tow hooks, or to a tree and pull yourself out. Very simple, affordable, and easy!
We don't just have you covered on Jeep advice, we also have you covered when it comes to purchasing a brand new Jeep Wrangler or any other Jeep model. Check out our Jeep Wrangler inventory at Hollywood Chrysler Jeep here.
Photo source: Shutterstock