Enter to Win a 2018 Jeep Cherokee Trackhawk or $50,000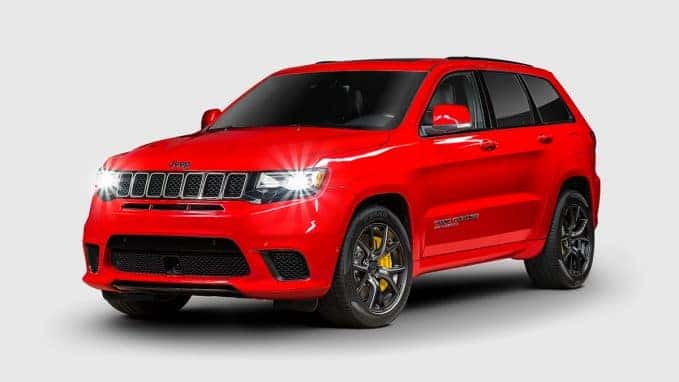 Imagine being the proud owner of the most powerful production SUV ever manufactured without even having to purchase it. Well, TRI Industries NFP, a nonprofit organization specializing in the employment of people with disabilities, is giving people the unique opportunity to choose between winning a Jeep Grand Cherokee Trackhawk or $50,000 cash, while making a difference at the same time!
The Prize
It's no secret that the Jeep Grand Cherokee Trackhawk is the most powerful SUV ever manufactured, and with its AWD capability it can outperform even the most prolific muscle cars. Equipped with the same 6.2L Supercharged HEMI V8 engine as the Hellcat SRT Challenger and Hellcat SRT Charger, the Trackhawk offers the feel of a sports car while providing the features and conveniences of an SUV. But this is not just a Grand Cherokee with a Hellcat engine. With an upgraded transmission, additional cooling systems, a stronger rear differential, and a significantly strengthened driveline, the Trackhawk has plenty to separate itself from the classic Grand Cherokee. Crafted for world-class handling from each of the five performance tuned dynamic drive modes and boasting Brembo brakes with six-piston calipers. All you have to do to win this modern automotive masterpiece is enter to win.
The Contest
In order to win, a donation must be made to support the mission of TRI Industries. Each donation provides donors with a number of tickets to be entered into the drawing. Donation levels can range anywhere from $30 to $2,500, where the cost per ticket decreases while the number of bonus tickets increases.
Donation Levels:
$30 – 5 Tickets (+1 Bonus Ticket)
$50 – 8 Tickets (+4 Bonus Tickets)
$100 – 20 Tickets (+8 Bonus Tickets)
$150 – 30 Tickets (+15 Bonus Tickets)
$250 – 50 Tickets (+30 Bonus Tickets)
$500 – 100 Tickets (+75 Bonus Tickets)
$1,000 – 200 Tickets (+200 Bonus Tickets)
$2,500 – 550 Tickets (+550 Bonus Tickets)
If 707 horsepower seems like a little too much to handle, contest winners can always choose to take home the optional $50,000 cash prize instead. The drawing will be held on February 19 at 5 p.m. CST. Be sure to use Promo code "AGH" for double tickets and visit here for more information and contest details.
The Cause
TRI Industries NFP is a premier employer of Americans with disabilities and is a leading supplier of AbilityOne® and Triumph Brand remanufactured imaging supplies. Each ticket purchased to win directly supports the daily operations of TRI Industries NFP. One hundred percent of the drawing contest net proceeds will assist TRI Industries in their mission to employ individuals with severe disabilities and help them reach their full potential and live fulfilling lives.
We would love to see who is going to participate in this wonderful opportunity, so be sure to let us know if you entered to win the Jeep or the $50,000 on our social page. Good luck!
Photo Source/Copyright: Autoguide.com