FCA Infotainment System– Uconnect + Uconnect Access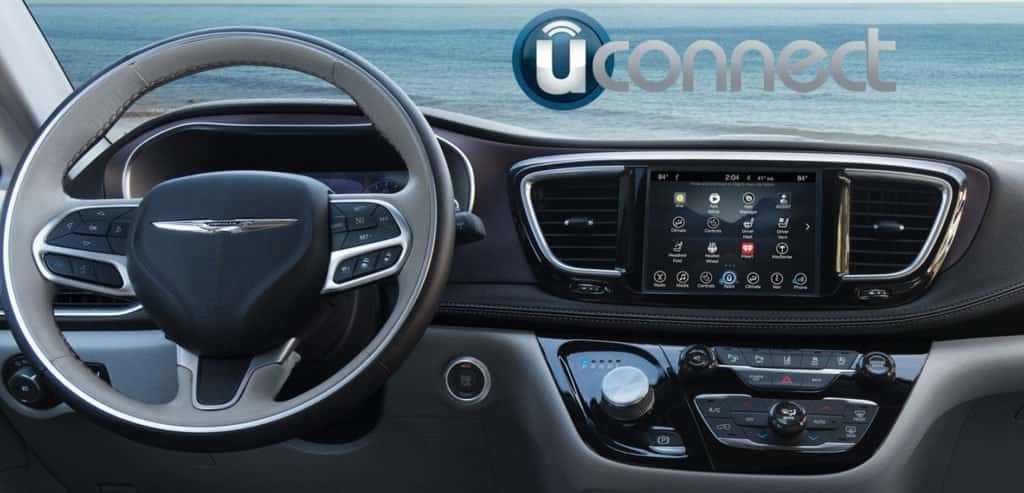 It seems all car brands have their own infotainment system these days. They're pretty nifty and can do lots of things, from entertainment to providing the driver with important info about their car's performance. One of these you may have heard about on more than one occasion, especially if driving a FCA brand vehicle. Their infotainment system is known as "Uconnect".
Uconnect in a Nutshell
Fiat Chrysler Automobiles is an automotive group that houses several car brands including, Fiat, Chrysler, Jeep, Dodge, and Ram. All of these brands use Uconnect, an infotainment system that offers its users access to music, games, car diagnostics, navigation, and can even use some well-known apps like Yelp!
Uconnect Features
There are many versions of Uconnect, but the top three you'll hear of are Uconnect 5.0, Uconnect 8.4, and Uconnect 8.4 NAV and each has a range of features.
Most Uconnect systems will come with a touchscreen respective to its number. For example, cars with Uconnect 5.0 will also have a 5-inch touchscreen. Uconnect 5.0 is the most basic of the three, and looks like a standard stereo system, with a touchscreen, that offers AM/FM radio stations, an auxiliary/USB media hub, speed-adjusted volume, and various phone functions. If a vehicle has Uconnect, then it may also have Uconnect Bluetooth Command, a subsystem that gives the driver the ability to make calls and read and dictate texts simply by using verbal commands.
Typically, up to ten phones can be paired to the Uconnect system, and a unique available feature is wireless charging stations to avoid the need for a cable. In addition, to practice safe-driving, aside from voice command, Uconnect can silence all cell phone activity, directing calls to voicemail automatically and disabling text and other phone notifications. It's a great feature for those of you who have teen drivers on the road. Other significant features are steering wheel mounted audio controls, a ParkView rear back up camera, and access to SiriusXM Satellite Radio.
Uconnect 8.4 has all the features of its predecessor, Uconnect 8.4 comes with an 8.4-inch touchscreen and SiriusXM Satellite Radio. Users that want all of the possible Uconnect features will want their vehicle to have Uconnect 8.4 NAV, which comes standard on some vehicles, but is an available add on for others. Uconnect 8.4 NAV has navigation capabilities and other features, including HD Radio, Bluetooth streaming audio, SiriusXM Traffic updates, and local information such as places to eat, the weather, and places of interest. Both systems may opt in for Uconnect Access.
The crème de la crème as it were in the world of Uconnect is Uconnect Access. With a subscription to Uconnect Access, a new world of technology opens up. Subscribers can personalize their system, start their vehicle from almost anywhere if the vehicle is equipped with remote-start, set up their next location in their vehicle's navigation system before even entering the vehicle, remotely lock and unlock the vehicle, and even find their parked vehicle using the "Vehicle Finder" app. Uconnect Access users also receive vehicle diagnostic reports, get emergency assistance, and even a 3G Wi-Fi hotspot.
Looking for your own car with Uconnect? Check out our inventory for a new Chrysler or Jeep vehicle.
Photo Source/Copyright: chrysler.com; motogurumag.com