Fiat Chrysler plans to expand factory capacity to build new Jeep models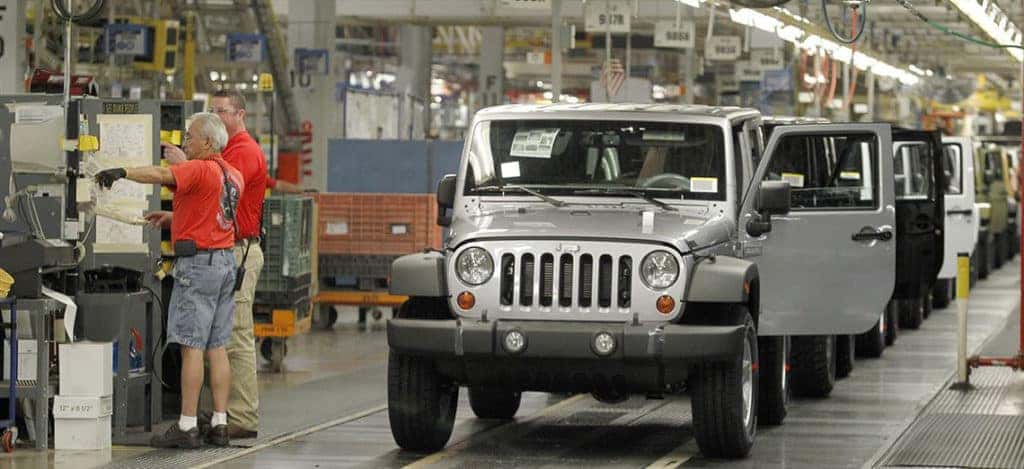 Fiat Chrysler Automobiles (FCA) plans on repurposing two facilities in the states of Michigan and Ohio to expand manufacturing for two Jeep models. It's an exciting development since the announcement of the 2020 Jeep Gladiator Pickup Truck in the LA Auto Show.
CNN.com reports "Fiat Chrysler may revive a shuttered Detroit factory, signaling the automaker wants to expand its American manufacturing — as competitors scale back their US operations". The new factory, which will be retooled for the new three-row version of the Jeep Grand Cherokee and other sport-utility vehicles, will create over 2,000 new job opportunities in Warren, Michigan. That number may seem small but the facility in this location will presumably have many existing Fiat Chrysler employees from its Jefferson Avenue assembly plant across the street.
The factory will be located in the newly renovated Mack Avenue facility and it'll be the first auto assembly line to open in Detroit in over 27 years. The company will invest over $1 billion to move the truck production from Mexico to Detroit.
But FCA won't open just one location. It is reported by the LA Times that they will open another location in Toledo, Ohio. "A factory complex just to the south in the Toledo, Ohio (area), will also get new equipment to build the new Jeep Gladiator".
These new factories will be the manufacturing site for the three-row Grand Cherokee, which will be the third seven-passenger model, the 2020 Jeep Wagoneer and Grand Wagoneer which will be joining the Jeep's lineups in the coming years. The company is also making a big investment into its Warren Truck Assembly plant in Warren, Michigan so that it could produce the upcoming models, in addition to RAM HD pickup trucks.  
Many may be wondering how the new expansion can bring more employment in the wake of General Motors announcing in December of 2018 that they "would lay off 15% of its salaried workers and shut five plants in North America, including one in Motor City," as is stated on clickondetroit.com
In the same statement, GM also stated that "this closure is part of a grand scheme plan to slash cost by $6 billion a year by the end of 2020 as the company looks to retire most of its sedan models, which have waned in popularity, in favor of SUVs". In the wake of GM's job-slashing, FCA is giving one-time $2,000 bonuses to 60,000 U.S. workers.
"It's only proper that our employees share in the savings generated by tax reform and that we openly acknowledge the resulting improvement in the U.S. business environment by investing in our industrial footprint accordingly," CEO Sergio Marchionne said in a press release.    
The idea to move the Jeeps production from Mexico to Michigan was made possible after the Republicans in Congress passed the tax reform overhaul in December of 2017. The law lowered the corporate tax rate from 35% to 21%.
CHANGE IS COMING
Fiat Chrysler has been working hard in the last three years to reorganize its United States manufacturing operations in a bid to produce more trucks and Jeeps in response to the growing consumer demand for larger, roomier vehicles and the plummeting of sales in the compact and midsize cars.   
In a nytimes.com article, it was reported that the sudden interest in SUVs over compact cars has left auto manufactures in a bit of a standstill. Manufacturers are scrambling to make more trucks while cutting production at their car factories.  
"There's definitely a trend that has just obliterated the need for making cars the way automakers used to," said Jessica Caldwell, an analyst at edmunds.com, an auto-data website. "Fiat Chrysler is one of the early movers on this".  
MODEL & PRICE
There aren't a lot of details out on trim specifications for the jeeps that will start being built in these new factories, available in 2021 or 2022 (dates have not yet been decided) but the rumors are that Jeep's product plan "indicates the SUVs will arrive before 2022. The model that will be for sale before 2022, is above the current Grand Cherokee model, which means there would be even more room inside for occupants to get comfy. Fully optioned Grand Wagoneers would reportedly carry a six-figure price, making it the most expensive factory-offered Jeep ever".
Until these new models arrive, come see for yourself if a Jeep is a right SUV for you at our Hollywood Chrysler Jeep.    
Photo Credit: toledoblade.com