Fiat Chrysler Voyager Close Kin to the Dodge Grand Caravan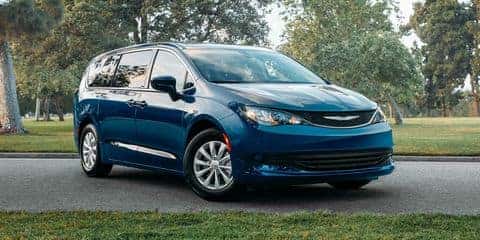 While the production of the Fiat Chrysler Voyager is still in the planning, automakers are betting that it will keep buyers from purchasing the entry-level Dodge Grand Caravan. In the United States, pricing is going to fall close to the outgoing Grand Caravan. The Voyager will start in the US at $28,480 (plus destination fee), which is cheaper than the Grand Caravan in the US at $28,535 (plus destination fee). 
"They [FCA] had to backfill that gap," said Joe McCabe, president of AutoForecast Solutions LLC. "The Grand Caravan has been an excellent product for them. It fits a specific consumer at a reasonable price point, and Pacifica was viewed as a much higher-priced, higher-technology minivan. 
The risk they could face is consumers walking away from that; it may turn minivan consumers to look at non-Chrysler brands for their next purchase. FCA unveiled the Voyager in June, a minivan that is targeted for budget-conscious families. The Voyager will cover the lowest trim levels on the Chrysler Pacifica, and it's expected to replace the Grand Caravan, which will not be sold beginning May 22, 2020. This information is based on data from AutoForecast Solutions, which is a U.S.-based global forecasting and consulting firm. 
Voyager production was to begin at 'FCA's Windsor, Ont., minivan plant in August, alongside the Grand Caravan and Pacifica but that's all speculative. Chrysler has said it that it would start selling the Voyager in the United States in the fall. FCA has "not announced timing," a company spokeswoman wrote in an email to Automotive News. 
It appears that FCA is sticking with its two-minivan strategy. Sales of minivans have been falling in the United States with consumers gravitating toward crossovers. The carmaker had pursued a two-minivan strategy since the 1984 model year since Chrysler created the modern minivan segment when launching the Plymouth Voyager and Dodge Caravan. 
THE TWO-MINIVAN STRATEGY:
Dennis DesRosiers, an industry analyst, said that FCA had had little choice but to continue with its strategy. The automaker could have risked losing more customers to its competitors and also a significant amount of money in overhauling the Windsor, Ont., plant where the minivans are built. The automaker has spent about $1 billion on the plant improvements. 
"Did they have a choice? 'That's the first thought that comes to mind," said DesRosiers, president of DesRosiers Automotive Consultants Inc. in Richmond Hill, Ont. "What other options did they have? It would cost a couple of billion dollars to gut the plant and put something else in there, and a lot of time."
SO IS THE VOYAGER THE NEW CARAVAN? 
It remains to be seen whether the automakers would be able to capture Grand Caravan buyers with the new Voyager, and that's important for FCA. The Grand Caravan has accounted for about 60 percent of 'FCA's minivan sales in the United States. Some consumers, like those in Canada, are generally more cost-conscious than American buyers, DesRosiers said, which makes the Voyager crucial to FCA in Canada. 
"'It's a no-risk strategy in a segment that is in difficulty," DesRosiers said. "A less risky strategy is probably wiser. The Pacifica was a high-risk strategy in that segment, and it 'hasn't worked out that well. So 'they're de-risking, which is a smart move on their part." 
The 2020 Chrysler Voyager in the United States will be offered in two trim lines. The L and LX. There is An LXi trim line that will be provided to fleet customers.
See for yourself if a Chrysler is a right SUV for you at Hollywood Chrysler Jeep. 
Photo Credit: caranddriver.com