Four Great Places to Off-road in Florida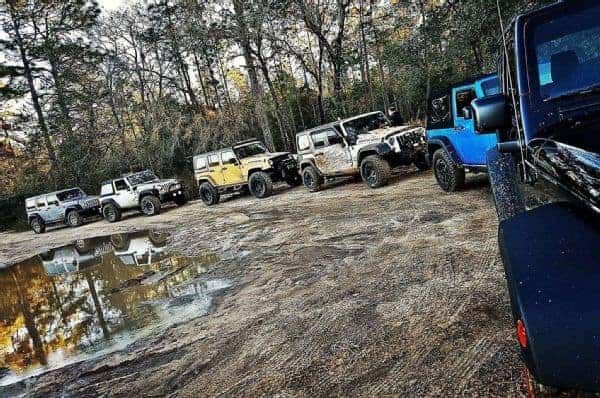 Florida may feel like it's the land of sand and sun, and not really synonymous with the types of terrain people commonly associate with off-roading – but nothing could be further from the truth. Jeepers need not worry, there are plenty of places in Florida that will make for a wild Jeep adventure. Whether it's mudding or off-roading that they're interested in, Jeepers will be happy to know that Florida offers many courses – varying from those for beginners to more challenging trails.
Hard Rock Off-Road Park
The Hard Rock Off-Road Park is located in Ocala, FL and includes areas for dirt bikes, ATV and 4×4 vehicles. What's great about this park is that Jeep and other off-road-ready vehicles have been given their own area to play in. The off-roading track includes big climbs, a rock garden and many wet and dry trails for Jeepers to let loose on. This terrain uniquely tailored to off-roading is open seven days a week, from 10 am – 5 pm, and a cost of $25 per day, per vehicle and $5 per passenger over 16 years of age. Camping is also available for those interested in stretching their adventure over the course of a few days.
Big Cypress National Preserve
Less than two hours away from South Florida, Big Cypress is located in Ochopee and borders the area near Everglades National Park – and is the closest we can get to off-roading in the lower half of the state. Off-roading in Big Cypress is more about using 4×4 off-road capabilities to reach places unknown than it is about crazy adventure. Off-roading is heavily regulated on the preserve, and common off-road vehicle operation involves driving to and from designated fishing and hunting trails, wildlife observation, transportation to campgrounds and to any private property within the area. Racing, mudding, and any other type of activity intended to challenge the vehicle and inconsistent with exploring the grounds is prohibited. Off-roaders will also need to apply for a permit (valid for one year) with the National Park Service before heading out.
Redneck Mud Park
The name may sound silly, but this park in Punta Gorda offers plenty of thrills. With two separate areas for trails, four other areas strictly designated for mudding, massive camping areas and even onsite concessions, this park has got all bases covered. Jeepers will be thrilled to know that ATVs have their own designated area and won't be intruding on the bigger off-road trails. The on-site buggy and car wash available adds convenience to the property and will let Jeepers return home with a clean ride. Adventure enthusiasts looking to conquer some of the best mudding and off-road obstacles in the Sunshine State should look no further – the Redneck Mud Park is where it's at!
Osceola National Forest
Osceola National Forest is located near the border with Georgia and includes over 200,000 acres of pine flatwoods and hardwood swamps. Just like the Big Cypress Preserve, this national forest is also subject to very specific rules and regulations for off-roading. This forest includes a 28-mile scenic trail, plenty of hiking trails, horseback riding trails and off-roading trails for licensed vehicles only – that means no dirt bikes or ATVs allowed! Off-roading here is more about exploring the unknown than it is about challenging the vehicle, average speeds don't climb higher than 20 mph, and the biggest off-roading obstacle may come from a downed tree.
Not ready to hit the trails yet? Hollywood Chrysler Jeep has plenty of new 2018 Jeep Wrangler vehicles in stock – perfect for you to get started on your next adventure. If you're not a fan of the iconic Wrangler and would like a little more luxury while on the trail, the 2018 Jeep Compass Trailhawk will get you there.  
We also specialize in lifted Jeep vehicles – ideal for off-roading and mudding!  Click here to learn important things you should know before adding a lift.
Photo Source/Copyright: fourwheeler.com