Four Things We Love About the Jeep Gladiator Mojave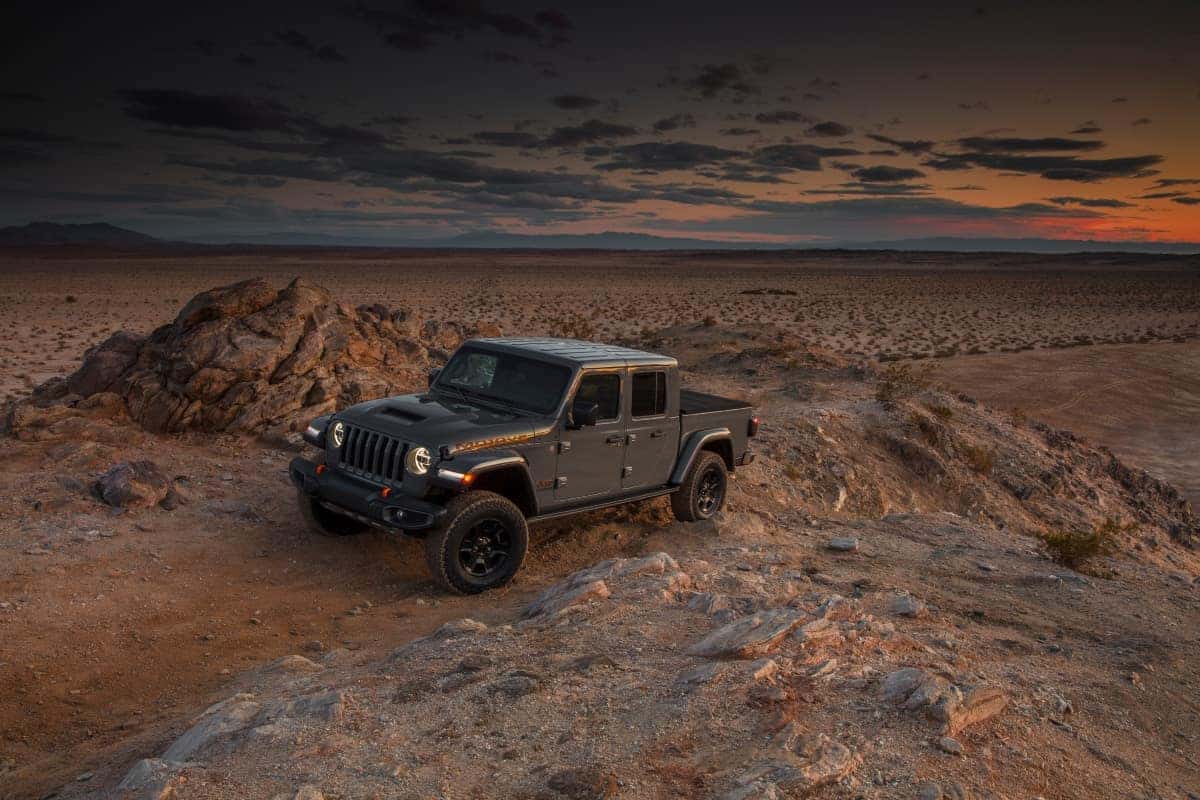 Jeep's penchant for the outdoors is evident in its designs, specifically with the Wrangler and Gladiator models. Trail Rated badges are taken seriously by the automaker — they're not just handed out. While some critics find that Jeep rarely steps out of its comfort zone with its designs, the all-new Jeep Gladiator Mojave is evidence to the contrary. Not only does Jeep incorporate all of its off-roading expertise in the design, the brand also borrows a page from the successful Ram 1500 TRX model and delivers a breath of fresh air with the Gladiator Mojave.
Intended as a desert runner, the Gladiator Mojave takes things even further with a Desert Rated badge designation— the first of its kind in Jeep history. This thing was designed to tackle dunes, dust, and much more; all at high speeds. Here are four things we love about this segment disruptor!
Built With a Purpose
Although the Gladiator Mojave follows the same path as Jeep's popular Rubicon and Trailhawk trims, this pickup stands on its own thanks to its Mojave-specific features. Buyers will find orange aesthetic accents, 2.5-inch Fox shocks, along with a slew of mechanical changes that make the Mojave trim a much better suitor for desert terrain. Jeep enthusiasts will appreciate the Gladiator Mojave as a long-overdue complement to the brand's off-road offerings. The previously mentioned 2.5-inch shocks, along with this Gladiator's extended wheelbase, make for one of Jeep's most stable vehicles — both on paved roads and off the beaten path. Additionally, the standard 33-inch tires do a lot of the work when it comes to absorbing trail humps and bumps.
Mojave Interior
On the inside, the Gladiator Mojave features aggressive front seats complete with integrated upper bolsters that hold occupants in place. The seats are available in cloth upholstery or leather. Both materials feature accent orange stitching and embroidered Mojave logos as well. There are two interior color options — Black and Steel Gray, while the leather-wrapped steering wheel features an aggressive design complete with a rim section for extra grip.
Mojave Exterior
The Jeep Gladiator Mojave has a one-inch suspension lift, giving it a more aggressive and prominent appearance. On the heavy-duty performance hood of the Mojave model, there's a unique decal, as well as a center scoop, orange tow hooks, and unique exterior badges. The 2020 Gladiator Mojave rides on 17 x 7.5-inch wheels and features Jeep Performance Parts step sand slider side rails between said wheels. Buyers can upgrade to the forward-facing off-road camera for a clearer view when driving off the beaten path.
Wins Out When it Comes to Efficiency
When faced with its most challenging competitor, the Ford Raptor, the Jeep Gladiator Mojave saves buyers an average of $500 annually in fuel costs according to the EPA's rating and calculations. The Gladiator Mojave is powered by a standard 3.6-liter Pentastar V6, yielding 285 horsepower and 260 lb-ft of torque. Buyers can enjoy an EPA-estimated fuel economy rating of 17 mpg in the city, 22 mpg on the highway, and a combined 19 mpg. For comparison, the Ford Raptor comes with an excessive twin-turbocharged engine that's not really focused on traversing terrain, but on dune-running instead.
Explore the 2021 Jeep Gladiator Mojave here at Hollywood Chrysler Jeep. If you have any questions, our resident Jeep Experts can get you sorted out. Check out the latest Jeep inventory here at Hollywood Chrysler Jeep and schedule your test drive today! Follow Hollywood Chrysler Jeep on social media to stay up to date with the latest Jeep news and offers.
Photo Source/Copyright: Stellantis