Freedom to Explore with Jeep Trailhawk Trims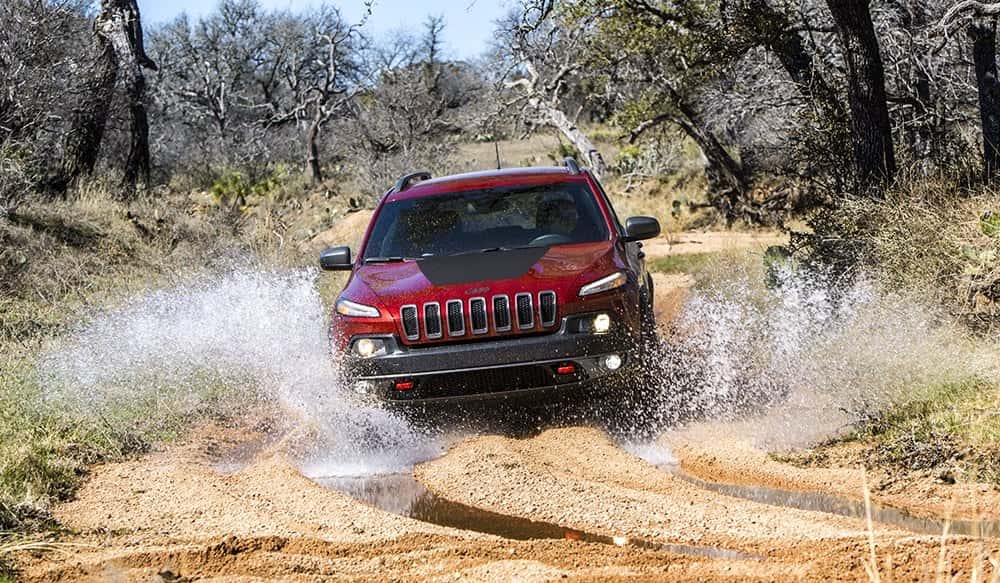 Do you want to have more freedom to explore? Then check out the Jeep Trailhawk trims. Equipped with enhanced off-roading systems, durable equipment and a 4×4 drivetrains, the various Jeep Trailhawk trims will help you drive from the highest peaks to the lowest valleys and everywhere in between.
There are four Jeep Trailhawk trims, the Jeep Renegade Trailhawk, Jeep Grand Cherokee Trailhawk, Jeep Cherokee Trailhawk and Jeep Compass Trailhawk. The Grand Cherokee Trailhawk and the Compass Trailhawk were introduced for the 2017 model year, while the Cherokee and Renegade Trailhawk trims were previously available in 2016.
Each Trailhawk trim has a "Trail Rated" badge, which means it can perform in five off-road performance categories: traction, ground clearance, maneuverability, articulation and water fording. To help each Trailhawk trim perform well in each category, Trailhawk models have special off-roading systems, suspensions, tires, and exterior equipment.
Ground clearance is an important aspect when it comes to off-roading because rock crawling, water crossing and driving on rocky terrains and uneven roads can cause problems when a vehicle is low. So to add a few inches between the bottom of the vehicle and the ground, Jeep Trailhawk models have special suspensions, larger tires and bigger wheels than the other trims.
However, in case the bottom of the vehicle does touch the ground, Trailhawk models have a variety of protective skid plates to protect the vehicle's systems from damage. Various skid plates include a transfer skid plate, fuel tank skid plate and front suspension skid plates.
Another unique off-roading system that gives the Jeep Trailhawk trims an advantage is the Selec-Terrain system. Selec-Terrain gives the driver the option to program the vehicle into one of five modes, Auto, Snow, Sand, Rock and Mud. Each driving mode has special settings that will help the Jeep maneuver in those road conditions.
Additionally, the Jeep Trailhawk trims can be easily recognized because they have the Trailhawk red tow hooks. There is one tow hook in the rear and two tow hooks in the front and they are an excellent and easy way to help a fellow off-roader out of the mud when they are stuck.
In need of a Jeep for your journey? Check out the Hollywood Chrysler Jeep inventory here.