Gearing up With a Jeep Wrangler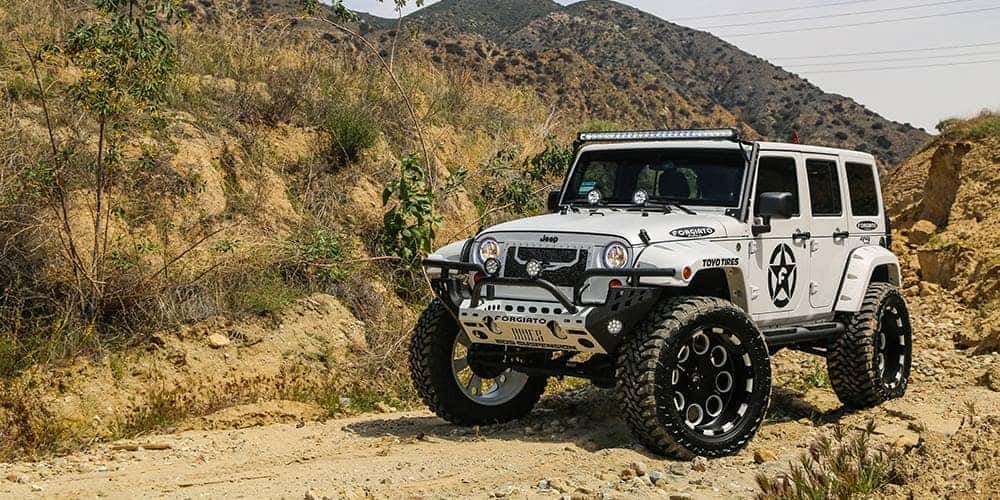 Off-roading is like a national pastime for Jeep owners, but the terrain can definitely take a toll on the vehicle over time. Wear and tear is to be expected, but there are accessories that can slow down or even prevent damage that can occur while off-roading. American Expedition Vehicles (AEV) is a Michigan-based brand that has been offering customization and after-market parts to consumers for the past twenty years. They specialize in outfitting the Jeep Wrangler and Ram 1500, 2500HD, and 3500HD vehicles for the world's hardcore off-roaders.
Picture this: a Jeep Wrangler clad with the best off-road gear and accessories – best wheels, lights, suspension etc. The rear of the Wrangler – behind the driver and passenger seats- is replaced with a camper, making the Wrangler into a small RV. This is the kind of stuff that AEV specializes in, and it's off the chain levels of impressive.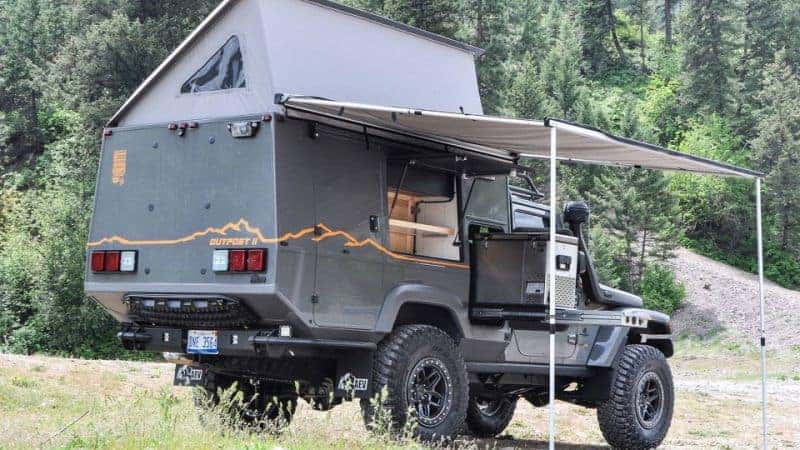 The camper, named the Outpost II,  fits two adults, and has an indoor-outdoor kitchen with a steel stove, a 50-liter refrigerator complete with a freezer, a water heater, air heater, and LED lighting. As if all these features weren't impressive enough, the Outpost II even has solar panels! Additional features on the Outpost II include parts from AEV such as front and rear bumpers, a ⅘-inch suspension, a snorkel with a pre-filter, Borah Beadlock Wheels, and a 5.7-liter HEMI engine.
We've got good news and bad news for consumers that may be interested – the bad news is that sadly this vehicle is a one-off. However, there's no need to despair. Mopar, the parts, service, and customer care organization within Fiat Chrysler Automobiles (FCA) can definitely help customize a vehicle. Mopar designs hardcore parts that have been specifically tailored and quality-tested to help vehicles rise to the toughest off-roading challenges.
Mopar offers lift kits that increase off-road articulation, boost ground clearance, and added control when venturing off the beaten path. Other performance parts like wheels are engineered to accommodate wide and aggressive off-road tires without any frame interference. Engine components like a bolt-on system that allows cool outside air to flow through a cone filter directly into the intake manifold, causing an increase in both horsepower and torque – both essential for a proper off-roading experience, are also available.
Here at Hollywood Chrysler Jeep not only can we supply the vehicle – fresh off our new 2018 Jeep Wrangler inventory, but we can also help with the addition of a lift kit. Our service department specializes in installing new lift kits, upgrading existing ones, and supply the proper wheels and tires to match – all from Mopar. This type of vehicle modification requires a professional and we recommend you check out our handy guide about lifted Jeep vehicles here to learn a little more.
Our service department is now open on Sundays for your convenience. If you've got any lingering questions about how to best equip your Jeep Wrangler for your next off-roading adventure don't hesitate to contact us at 954-350-0096 or schedule an appointment online! If you don't own a Jeep Wrangler just yet, our doors are wide open waiting for you to come and get behind the wheel for a test drive.
Photo Source/Copyright: AutoEvolution.com/AEV