Hollywood Chrysler Jeep Local Events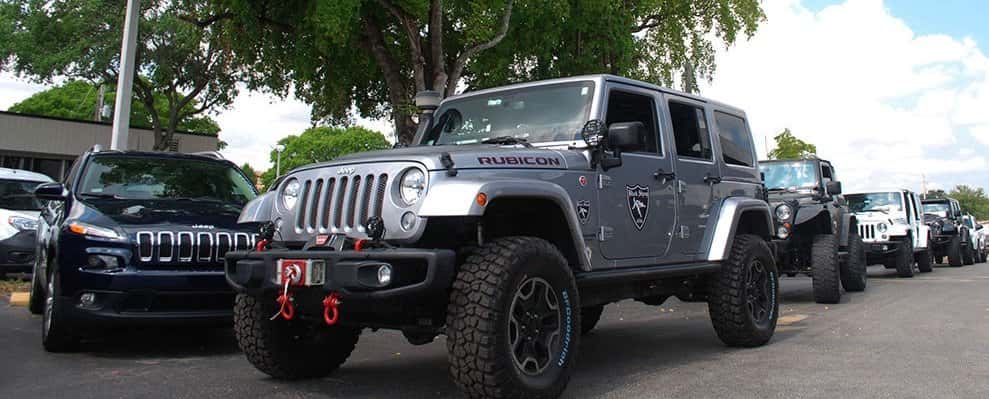 Hollywood Chrysler Jeep is one of South Florida's most awarded Jeep dealers. We have a huge selection of Jeep models and all of the latest Chrysler models, including the all-new 2017 Chrysler Pacifica. Hollywood Chrysler Jeep loves to be a part of the local community, so we are always looking to get involved. Each year, we have events going on at the dealership, Miami and Fort Lauderdale, so check out where you might have seen us or may see us in the future.
New State-of-the-Art Facility Built for Customer Satisfaction
Hollywood Chrysler Jeep is currently under construction for the renovation of the showroom. Construction should be done this winter!
Dina B. from KISS 99.9 Free Monthly Giveaways
We are lucky to have Dina B. from KISS 99.9 visit Hollywood Chrysler Jeep once a month and giveaway free donuts, baseball tickets to Florida Marlins games and other free stuff. Dina B. also drives a Jeep Wrangler that she purchased from Hollywood Chrysler Jeep. If you want a Jeep Wrangler, you can search our available Jeep Wrangler inventory here.
Jeep Club Meetings
Every other month the South Florida Jeep Club comes by the dealership for their monthly Jeep club meetings. Members enjoy pizaa while they talk Jeeps and plan Jeep events. It's always great to see Jeep clubs at the dealership.
Go Topless Day
May 14 from 10 a.m. to 1 p.m. at Hollywood Chrysler Jeep
Go Topless Day was started as a way to celebrate the beauty spring and remind everyone to take the top off their Wrangler because winter is over! Jeep clubs and dealerships across the nation hold gatherings, trail rides and organize events to bring Jeep enthusiasts and Jeep owners together to enjoy the temperate weather.
This was our first Go Topless event at the dealership and we were happy with the turnout. Black Sheep 4x4s had an excellent group come out to the dealerships. We were so impressed with their custom Jeeps and love seeing them around town. California Custom Sport Trucks also brought out the exclusive Jeep Wrangler Guy Harvey Edition to show support. The Jeep Wrangler Guy Harvey Edition, is a special Wrangler trim that combines the natural lifestyle of Jeep owners with the marine aesthetic of famed marine artist, Guy Harvey.
Next year's event details will be coming soon!
Fort Lauderdale International Auto Show and Ticket Giveaway
March 24-27 at the Broward County Convention Center in Fort Lauderdale
To assist Fiat Chrysler America (FCA) at the Fort Lauderdale International Auto Show this year, Hollywood Chrysler Jeep partnered up with nearby University Dodge, to display the FCA brands, Jeep, Chrysler, Dodge and Ram at this year's Fort Jeep Go Topless event at Hollywood Jeep with Black Sheep 4x4sLauderdale International Auto Show.
Hollywood Chrysler Jeep displayed two exclusive Jeep models. In conjunction with the social media promotion, the Jeep Renegade Dawn of Justice Special Edition, which was specially created and used in the new Batman and Superman film, will be present for attendees to get a first look. The Jeep Wrangler Guy Harvey Edition was also on display in the auto show as well.
Held on the same weekend of the debut of Batman v Superman: Dawn of Justice, a movie which partnered up with Jeep and Dodge, both dealerships gave away free movie tickets and $100 gift cards to auto show attendees.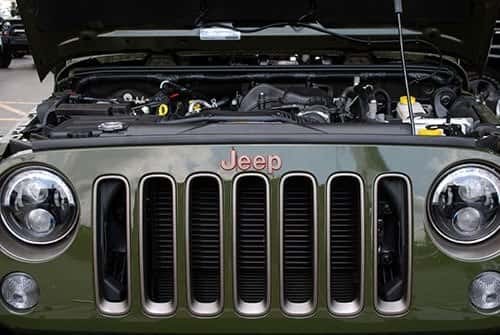 Newest Jeep and Chrysler Models
2017 Chrysler Pacifica and Pacifica Hybrid
Chrysler has been making a lot of news with their all-new 2017 Chrysler Pacifica. The new Pacifica features a variety of convenience features and one of the nicest interiors on a minivan. The Pacifica is one of the most fuel efficient minivans on the market, and in 2016 or 2017 Chrysler will release the Pacifica Hybrid, the first hybrid minivan ever. You can view our 2017 Chrysler Pacifica inventory here.

Jeep 75th Anniversary Edition Models
This year is the 75th year of the Jeep brand and they are celebrating with special-edition Jeep trims on the lineup. Each Edition is marked with special 75th Anniversary logos, and unique bronze accents on the rims, rails and interior. Each model is available in a green hue, but there are a variety of other colors available too. You can search our available Jeep 75th Anniversary Edition models here.
Jeep Renegade Dawn of Justice Edition
Specially made for the movie, the Jeep Renegade Dawn of Justice Edition, is a limited-edition Renegade model that has a bold appearance. One of the coolest features on the special Renegade trim are the removable MySky panels giving drivers and passengers a view of everything above the Jeep. The Jeep also features unique Dawn of Justice badging, black rims and a custom interior. You can view our Jeep Renegade Dawn of Justice Edition inventory here.